Day trips you don't want to miss
| | |
| --- | --- |
| Date: | 23 August 2017 |
| Author: | Brielle |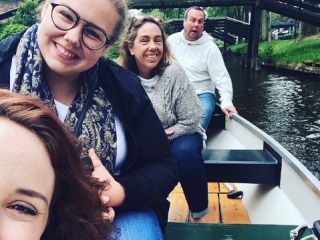 Although there is always something to do in Groningen, there are also some day trips you shouldn't miss out on. The Netherlands is relatively small and easy to travel around. My housemates and I would get group train tickets and take trips to Amsterdam, Rotterdam, Utrecht, and more. Each trip showed us another side to the Netherlands.
Amsterdam: Throughout the year I have been to Amsterdam a total of six times. Each one different. My first time in Amsterdam I went quite spontaneously with a few of my housemates. We met up with another roommate there and just hopped around and went to a few pubs. The weather was not the best though--rain. And a lot of it. However, each time I have gone back to visit Amsterdam I have had new experiences with different people. As the capital of the Netherlands, it's a city you shouldn't miss seeing. Amsterdam has something for everyone. Whether you want to go sightseeing, to museums, new restaurants, or anything else then Amsterdam has it. Being only two hours away by train, it is a trip you shouldn't miss.
Utrecht: I had heard from a friend that Utrecht was a beautiful city to see. With that thought, I decided to buy a train ticket with a friend and head down there for a weekend. We went for tapas and drinks and then wandered into an Arts festival and a concert. Our night was not planned out, but the festival was amazing and gave us a glimpse at the nightlife in Utrecht. The city was filled with students and performing artists. On another trip, I went back with my family for a night, and we had dinner and drinks on the canal. Utrecht has continuously surprised me every time I have visited. The city is not too big and not too small and is still a popular student city. All in all, Utrecht is a fun and lively city that I would definitely visit again.
Rotterdam: While friends had told me about Rotterdam, I really didn't know much about the city. With that in mind, a friend and I decided to take a day trip to see the city. Being the second-largest city in the Netherlands, Rotterdam was quite large and much more modern than other cities I had visited. We took a short trip and went for drinks and shopping. While I only spent a short time in Rotterdam, it was still worth the visit. You'll easily recognize the differences in architecture. The city boasts larger skyscrapers, not the typical Dutch houses you see in Groningen. As a historical city and one that rivals Amsterdam based on its size, it shows a slightly different side to the Netherlands.
Giethoorn: When I told my parents I was thinking of studying in the Netherlands, one of the first things my mother told me was to go to Giethoorn. I'm not even sure how she knew of the town. It's a small town, known for its canals--a Venice of the Netherlands so to speak. When I first took a trip to Giethoorn, I actually went with my mother. We had lunch at a bed and breakfast and then went on a boat ride where we navigated the canals. The town really is beautiful. I ended up going back with a friend. It was quite a spontaneous trip. We got up early and decided to rent a car and go. The second time around, the weather was a lot better, but the trip was similar. We rented a boat, got drinks and food, and walked around the town for a bit. The town itself is small and not the most accessible by public transport. However, during my first month in Groningen, ESN offered a day trip excursion to Giethoorn. Make sure to look out for this trip again because Giethoorn is well worth the visit.
During your studies, you'll find that Groningen is a bustling student city. There is always something going on. There are concerts, student associations, pub quizzes, ESN activities, and festivals. While I have loved and enjoyed I have spent here, it's also great to be able to travel easily to other cities. The Netherlands is an amazing country, and there is so much to see here. I still have many more cities to go--next on the list is the Hague and Maastricht. If you have a break between classes, or a free weekend make sure you take a trip outside of Groningen and explore all that the Netherlands has to offer.
Comments