Celebrating the Holidays in Groningen
| | |
| --- | --- |
| Date: | 28 November 2017 |
| Author: | Brielle |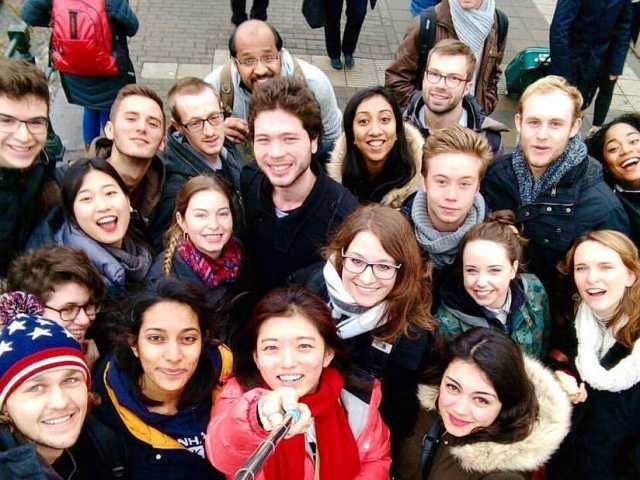 When I was an undergraduate student in Pennsylvania, USA it was just a few hours drive to my home. I had the opportunities to go home for Thanksgiving, Christmas, Easter, or any random weekend I desired. However, now that I am abroad I don't have that option. When I booked my flight to the Netherlands, I knew that I would not be visiting home. It wasn't until I moved into SSH and met my housemates that I realized it was not necessary to go home to experience the holidays. My house became a small family, and we all shared the holidays with each other.
First holiday in the Netherlands: Halloween. While many of us were familiar with Halloween, not all of my housemates had celebrated before! We went for all the classic traditions--we carved pumpkins, and dressed up and had a little Halloween Party. Costumes ranged from masks and makeup to me being in a Ghostbusters suit.
Soon, we were all getting ready to celebrate Thanksgiving. There were only three students from the United States including myself, but our housemates still came together to put on a Thanksgiving dinner. Everyone pitched in and made a traditional dish from their home countries. I was extremely grateful for my housemates coming together to celebrate a holiday for us and it really showed me that I did not need to be home to be around family.
All in all, Thanksgiving was a success. Everyone got to experience something a little bit new whether it was the holiday itself, the traditions involved, or just new food from new places. I tried homemade pierogies, latkes, curry, casseroles, South African bobotie, and more.
When the semester started to wind down, we knew it was almost Christmas. Although many of my housemates were choosing to spend Christmas at home, we still all decided to have a small Christmas party together and do secret Santa! We all picked out names out of a hat, stuck to our agreed upon budget, and went on a search for gifts. I still never found out who my secret Santa was, but they certainly knew me well enough to get me a set of beer glasses. And of course, no holiday at Moesstraat would be complete without a dinner. While I was offered many homes to visit, I decided to stay. But soon, my housemates began to leave and the house was a bit more empty, but not without the holiday feel. We had a small Christmas tree and random decorations up around the house. When Christmas Eve finally arrived, we held another dinner, except this time, we celebrated Hanukkah! It was great to experience new holiday traditions.
Although 2016 was coming to an end, those of us left in Groningen decided to celebrate New Year's together. We got dressed up and walked into the city where Groningen came together to countdown to the new year. We met a lot of people that night, but most importantly we went into 2017 the same way we went into 2016--together, except this time we weren't in such a new place. By now, we had been in Groningen for 4 months. We had together and shared the holidays with each other.
Throughout my year in Groningen, I became a family with the people I lived with. I learned about new cultures, languages, traditions, holidays, and more. I would not be able to replace the experiences I had here. While I missed my family along the way, I would not take back these memories or experiences for anything. It was completely worth spending my holidays in Groningen. I didn't feel alone, and I didn't feel like I missed out on the holidays. If anything, these were some of the best holidays I had ever had.
Comments