Honours College: for those that want a bit more
| | |
| --- | --- |
| Date: | 30 August 2017 |
| Author: | Peter |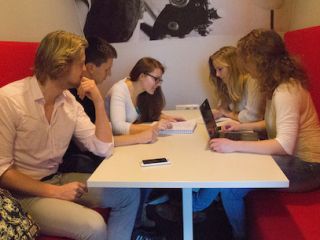 Not long after I got my first taste of the University of Groningen, I decided to apply for the Honours College, a programme designed to add extra depth and breadth to the regular study programme. Four years later, the Honours College is responsible for some of my best learning experiences.
A few months in my first year at the UG I got the fateful email: I did well in the first round of exams and I was formally invited to apply for the Honours College. It didn't take me long to decide and it looked like a great opportunity. If it didn't work out, I could always go back to my regular study programme. An online application and an in-person interview later, I got the long-awaited message: I had been admitted to the Honours College!
In its simplest form, the Honours College is about adding extra courses, both broadening and deepening, to your study programme. Broadening courses take you to other faculties and let you get a taste of other fields of study. Deepening courses stay in your own field and let get a greater understanding of it. Together will about twenty other students from my faculty, my Honours career started with both formal and informal introduction events. Going bowling together and making friends with the other Honours students was a great experience. For the formal opening ceremony, all Honours students from all faculties (There were hundreds of us!) came together in the Great Hall of the Academy building for the official opening by the Rector Magnificus. He spoke about the importance of motivated students and how they contribute to the University, both with good study results and actual research. It's not often that I get to visit the Great Hall and it was an awe inspiring and very motivating moment to be there and I felt very strongly that I was part of the academic community of the UG.
After the official kick-off, the Honours programme started. In addition to the regular Honours courses, the Honours College organised workshops on debating, writing and effective teamwork and leadership. One of the first workshops I took part in was the debating course. It taught me to think quickly, and to articulate my thoughts clearly, by doing speech and thought exercises and by analysing famous speeches. Apart from the challenge, it was really fun to do all kinds of speech games in class, like trying to talk about a single subject without saying "" or repeating yourself.
Other workshops focused on effective teamwork and leadership. About half of these workshops were aimed at theory, teaching us about leadership styles, personality types and so on. But what I most enjoyed in these workshops were the practical assignments For the teamwork course, we were assigned into groups and we had ten minutes (!) to make a short marketing video for an everyday item in the room, such as a pen or a backpack. Before we knew it, we filled five minutes with discussing ideas, and there was barely any time left to actually film the thing! We laughed a lot and had a lot of fun with it, but it also taught us about how to effectively work together, otherwise working on a task with more people just makes it harder.
Near the end of the Honours programme, all Honours students got together to organize a grand festival: the Petrus Camper Festival. In groups, we prepared presentations or other activities for guests to attend. My group, made up of students from all faculties, was in charge of putting together a pub quiz. It sounds easy on paper, but finding balance between too specific and too easy questions turned out to be a real challenge. After a lot of meetings, emails and rewriting (we immediately had a chance to apply what we learned in the teamwork course!), we managed to gather enough questions and trivia and organize them in quiz-ready categories. When the festival came, we had a great time, both watching the research and results from other presenting our very own quiz.
Looking back, my time at the Honours College offered me more than just extra knowledge. I developed valuable skills for my career, such as effective speaking, organising and working together. When I have a job interview, I use the methods I've learned in the workshop on effective interviews. I'm much more confident speaking before an audience and more effective at working in groups. On top of that, I got the chance to make friends with other motivated students, who I'd otherwise never have met. If you get the chance to apply for the Honours College, don't be afraid to take up the challenge!
Comments