5 tips for Open Day success
| | |
| --- | --- |
| Date: | 30 January 2018 |
| Author: | Selma |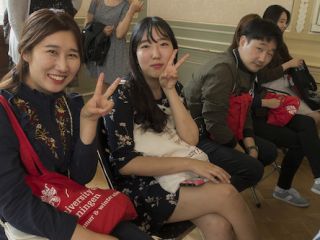 University Open Days can be a great asset in making a decision on where to study. During the open day, you can get all the information you need about the programmes you are interested in as well as get a feeling for the student life in the city you are interested in. In order to help you make the most out of Open Days, we've gathered five tips for you.
Attend presentations
During the Open Day in Groningen there will be several sessions especially for international prospective students with information on studying in Groningen, applying for accommodation and admission requirements. These sessions are a good way to get feel for the University and to think of what specific things you'll want to know.
2. Make friends with current students
The information fairs will be full of current students that are helping out at a booth. Ask them about their student life, how they found accommodation and how they like the university. Their experiences will help you make an informed decision AND you may make your first friend in Groningen.
3. Ask away
Look up your programme of choice and think of 2 or 3 questions to ask at Bachelor booths. That way you can really compare different programmes and know what studying that specific programme will entail. Thinking of questions also mean that you can impress us! Here are some questions you can start with, but feel free to ask us anything!
What will my days look like?
Can I go on exchange within this programme?
Which jobs will I be eligible for after graduation?
How much is the course load?
How many hours per week will I be studying, in class and in seminars?
4. Discover the student societies
Student life is far more than studying and classes; they say University is the time of your life (and they're totally right if you ask me!). Groningen is well-known for its many student societies and associations from choirs and debate teams, to ESN; they will be present at the general information fair. If you are unsure about why you should join an association, read all about student-blogger Odile's experiences.
5. Make your own Groningen plan
What's important to you in student life? Is it the party-life, associations or sports (or all of it)? While you're in Groningen you might as well make sure to enjoy some of the hotspots (check out what hotspots Lilia recommends). We post a weekly blogpost with our party and event tips, so be sure to check out what's happening around the time you are visiting. I recommend going to the Poelestraat to see some of the bars, climbing the Martinitower and having dinner in one of our many student restaurants.
Bonus tip: The University beyond the Open Day
Can't make the open day or want to visit again to learn more? The University organizes student-for-a-day events during spring. For a day, you'll be tagging along with a student who is studying the programme you're interested in. You can ask questions, attend lectures and experience what it's like to be a student in Groningen. If you can't make the open days or student-for-a-day events, but you do want to visit the University, you can always request a student visit - the University staff is happy to show you around on a time that suits you.
The University of Groningen hosts several Open Days for prospective students. The Open days in 2018 are February 2nd, April 14th and November 9th. During Open Days you can speak with current students, ask your questions to our staff and get a feel for Groningen. We'd love to see you there! If you are not able to attend, check out our VirtualUG platform to get a sense of Groningen! #OpenDayUG
Selma
Comments