Spring is coming: 6 activities you shouldn't miss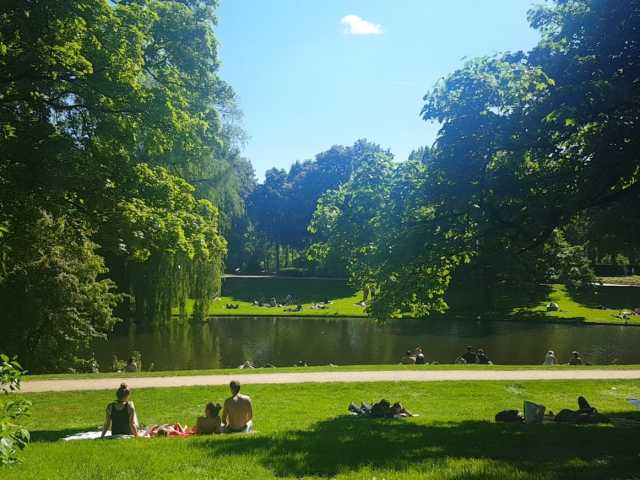 Having survived the 'Beast from the East' I think that all of us are very happy that the Weather is finally warming up as Spring is well and truly on its way. As an international student growing up in Kenya, a country without seasons, I was really excited for my first Spring in Groningen and I was not disappointed there was an air of excitement, everyone was that little bit more cheerful and there were flowers erupting into bloom everywhere, tulips were cheap at the market and I could finally walk outside without the need having to wear about 10 layers of clothing. After living in Groningen for two and a half years here are six things that I like to do in the Spring!
Every year on Good Friday (March 30th) the whole city of Groningen is decked out in plants and flowers. The annual flower market is a time when all the farmers and florists from around Groningen come into the city and sell their plants. I always love to walk through the city centre on this day surrounded by the sights and smells of Spring. I almost always end up buying some new plants for my room even if I'm not looking for any but I can justify it because plants really do make the best pets (science!) If you would like to go to the Bloemenjaarmarkt, have a look at their official website for all the details.
During the spring is the best time to visit this secluded garden. It's the perfect place to get a slice of that spring time feeling. Last Spring I strolled around and I was impressed by the immaculately groomed flower beds and the shaded walkways. The Prinsenhof gardens are also a great place for a cute Spring date or the perfect spot for your newest Instagram post.
Groningen has got a few really lovely parks where you can go and relax in the sunshine or have a picnic if you are feeling really adventurous (and you're sure it's not going to rain). Noorderplantsoen is always a popular spot with Dutch and International students alike and is my personal favorite place to hang out whenever its warm. There's also the Stadspark, where you can go for a walk or a jog around the little lake. There is a small petting zoo so if you're an animal lover definitely go and check it out. There are some really funky looking goats and a lot of deer that are more than happy to take a selfie with you


Cycling is such a large part of life in the Netherlands and Groningen is no exception: almost all students have a bike and use it daily but we hardly ever go on a bike ride just for the sake of it. In the area around the city of Groningen, there are several easy and beautiful bike rides that are a really fun and energetic way to spend a sunny afternoon. Most of the bike routes are pretty relaxing so you don't need to worry about your fitness level. Because it's the Netherlands (probably the flattest country on earth) there aren't any hills to worry about either. I've been a couple of the bike routes and it is a cute way to get to see a bit more of the countryside around Groningen. As an international student, it was really lovely to see some of the small and picturesque villages and old buildings in the province.
Most of you probably already know that there is a local farmers market on the vismarkt every Tuesday, Friday and Saturday but in the Spring it's the best place to pick up some fresh local produce as well as some cheap Tulips to brighten up your room and make you feel those Springtime vibes. I would recommend making a fresh and delicious salad to get you feeling healthy and happy especially if you're trying to reach your summer body goals.
Terraces and outdoor areas
The best thing about the Spring is of course the luxury of being able to sit outside in the sunshine again. There are loads of nice places around the city to enjoy being outside, from the restaurants and bars along the Poelestraat and on the Grote Markt to the outdoor area of the Academy Cafeteria to the roof terrace on the fourth floor of the UB. I always find that making that extra effort to sit outside during the spring is always a great way to catch some vitamin D which is going to make you feel instantly ten times happier.
What do you like to do in Groningen during the Springtime? Let us know in the comments!
Comments