Travel Blog: Weekend Away?
| | |
| --- | --- |
| Date: | 20 February 2018 |
| Author: | Natasha |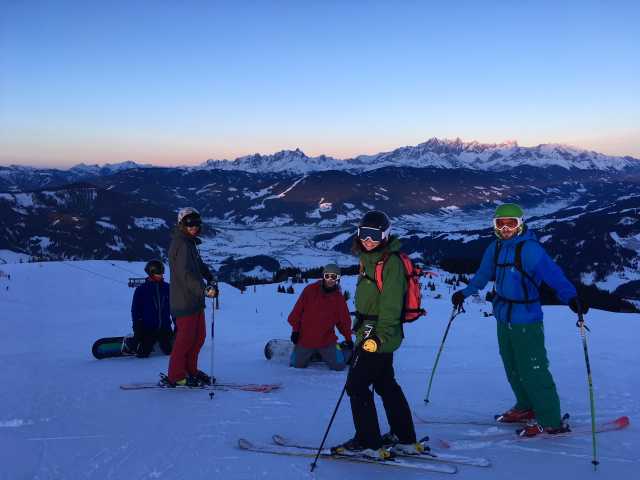 Hey guys! My name is Natasha and I'm from the UK. I've been living in Groningen for three and a half years now. I'm currently doing my bachelor's degree in International and European law at the UG and will be starting my masters next year. As I write this, I'm travelling back from Austria after a weeks ski vacation with my family - managed to get some cheap train tickets and so met my parents and sister down in Salzburg! Travelling from Groningen is pretty easy, and can be cheap if you do your research: there is an airport in Groningen, as well as good train and bus connections.
The airport in Groningen flies to a few destinations, such as the UK, Germany, and several holiday resort destinations in Southern Europe. The other airports in the Netherlands, such as Amsterdam Schiphol, Rotterdam and Eindhoven fly to lots of different places, and your best friend in these circumstances is a comparison website - some of these airports are more of a hassle to get to, but the price differences can be astounding!
Whilst Groningen might not be the biggest city in the Netherlands, there is definitely plenty to be getting on with! You can check out some of our other blogs to see the kinds of weekend activities you can get up to, and places you can see in the city and surrounding province. But on those weekends where maybe there isn't that much going on in Groningen or you fancy a little getaway, the rest of the Netherlands (and the rest of Europe for that matter) is on your doorstep! A great thing about the Netherlands as a whole is that the country itself is relatively small, and so travelling from A to B is easy. It takes around 2 hours to get from Groningen to the Amsterdam or Utrecht, and 3 to get to the Hague. As an International and European law student, the Hague is a place of great interest to me, with the International Criminal Court and International Court of Justice being based there. Furthermore, there are beautiful beaches close by, like Scheveningen!
The Netherlands is a country full of canals, beautiful architecture and cobbled streets. Travelling to and experiencing these places is part of what makes Groningen such a fabulous place to live. After experiences the hustle and bustle of Amsterdam, you'll appreciate Groningen even more. My favourite other cities in the Netherlands are Utrecht and the Hague. I have friends who live there, and so I go and visit them relatively often. Being shown around a city by someone who lives there makes the experience so much better because you get off the beaten track and get to see their favourite places!
In October I spent a long weekend travelling throughout the Netherlands and Germany going to different gigs each day which was an amazing experience. I went to go see Grizzly Bear in Utrecht, Lorde and Khalid in Cologne and Astrid S in Amsterdam. It was a fantastic weekend, especially as I got to see some of my favourite artists in such a short period of time. Growing up in the countryside in the UK meant that everywhere always felt really far away - I couldn't just pop to London or anything. Also, travelling to continental Europe was more hassle, and now that I live here I sometimes forget that Germany is only an hour away.
Groningen is a very multicultural and international city, and the majority of my close friends here are not Dutch. This fact means that we all get to travel to see each other and visit each other's hometowns. I have travelled to several of their hometowns to visit them in Hamburg, Aarhus, Helsinki, Oslo and other cities. I went to Hamburg with a big group of friends and we went around the Christmas Markets, which was such a stereotypical German experience which I can definitely recommend. Helsinki is another city where I have spent a lot of time - a few of my close friends are Finnish and I'm so lucky to go and visit them as much as I do! I have been to Finland both in the winter and summer and it's one of my favourite countries to visit.
I have worked as a ski instructor for around 5 years now, and have travelled down to Austria by plane, bus, train or car multiple times in the last couple of years, usually for less than €100 return! As I said before, it's sometimes easy to forget that we are so close to Germany, so checking Bremen airport and others close by can sometimes save you loads of money!
The city of Groningen itself is wonderfully cute, but can sometimes feel a bit small and so to be able to get away can be a blessing! Visiting friends or experiencing different cities, whether within the Netherlands or across the rest of the world, can be a nice study break so take advantage of the opportunity!
Let me know where you've travelled to in the comments!
Natasha
Comments