#MyUGStory: Lilia
| | |
| --- | --- |
| Date: | 16 November 2017 |
| Author: | Lilia |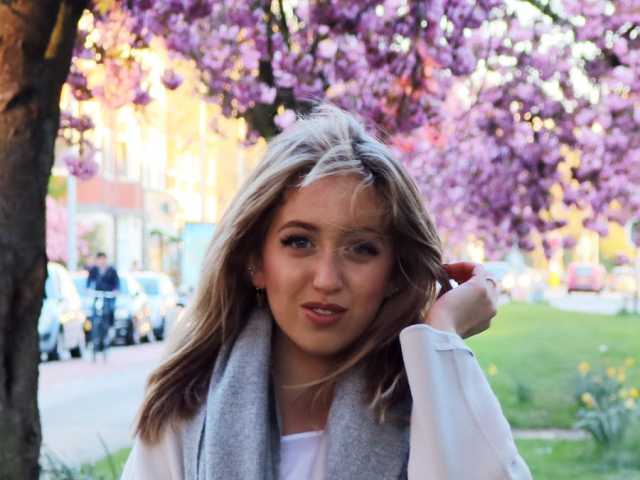 Hey guys, thanks for tuning in to this video. My name is Lilia and in this video I'll talk about the University of Groningen and why I chose to study here.
So in today's video I am going to be talking about my home university, which is the University of Groningen. I want to talk specifically about what made me choose the University of Groningen and what my experience was, the positive and the negative things.
This video can be helpful to you if you are thinking about going to the University of Groningen as well or you're just researching universities in general.
Now, this video is in collaboration with the University of Groningen, which I'm very excited and very proud about. So, yeah, let's start!
Let's start at the beginning. So, in my last year of high school (for the Dutchies who are wondering, I did gymnasium), it was time to start searching for a university to continue my education at. I was already quite sure that I wanted to study Law or Philosophy, but I had no idea at what university. I actually went to one of the open days at the University of Groningen.
I remember walking out of the train station and I just immediately fell in love with the city. And for that was one of the biggest reasons why I chose this because I immediately felt at home. The atmosphere in Groningen is just something I have never experienced in any other city. It looks like a city, you have all the shops that you want: the bigger ones, the smaller ones, you have nice architecture.
However, the atmosphere of the city is village like. It's very and safe and there are a lot of students everywhere so the whole city kind of feels like a campus. So, it's not like you have a campus where you hang out all the time, it's just the whole city centre feels like your campus and that was definitely one of the things that made me fall in love with Groningen.
That's definitely a big tip that I can give you when you are looking for a university: make sure that you like the city where the university is at, because a university could the highest rates or whatever, but if you don't feel at home in that city, you're not going to feel happy and you're not going to feel motivated to do your schoolwork and to actually succeed at your degree.
So I definitely think it's important to not only look at ratings of universities but to also look at just the vibe of the city and the people that are there.
Speaking of ratings, the of Groningen does have a good rating and of course ratings are important too. You know, you have a degree, but the university is not very well rated, that can be a problem if you're looking for a job later. The of Groningen is actually the number one general university in the Netherlands, so that's really good if you're thinking about studying in the Netherlands. I also had a good rating when it came to their Law faculty, and what I also really enjoyed was that they were the only university in the Netherlands that had a separate faculty for Philosophy. So, those were things I also kept in mind when I decided to go to the University of Groningen.
I also want to talk about an aspect that was quite negative about the University of Groningen for me personally and that was the fact it was very far away from my home. I used to go to school in Alkmaar, which is in the province Noord-Holland, which is three hours by train to the University of Groningen, to Groningen. So I had to move out immediately after finishing High School because I couldn't travel for six hours by train every day to go to class. So I moved out and I didn't have a very good experience in the first year of living on my own. I moved into a house with seven roommates, which was quite a big difference because before that I used to live together with my mom alone, that's it, I don't have any brothers or sisters. So from moving from a house with people moving to a shared room with seven others, was quite, you know was quite the challenge for me. So, I definitely really struggled with that, like having my own personal space. The other thing I also really struggled with was the fact that I moved so far away from home I didn't know anybody. Like literally no one from my school even went to the University of Groningen, I was the only one in my whole year. So, there were literally no people that I knew in that city and I was also really motivated for my school and grades and wasn't really motivated on like partying and things like that. So I definitely felt quite lonely in my first year.
For me personally, this really changed once I started doing the honours college because there I found my friends with kind of the same motivation and ambition as I had. And later on I just got to know more people and I definitely found lovely people that I can call my friends, but it was definitely a struggle in the first year. So that is something you definitely should keep in mind if you move far away from home where you don't know anybody, the first year can be challenging.
Professors at the University, they are people that are going to help you succeed in your degree. And it's very it's very important that you have professors that are good at their job and want to help you and just be very professional and intelligent I guess. And from my personal experience, the professors here were always very open for questions and after class, or after the lecture, I could always come to them and ask about things that I didn't understand during the class or the lecture. I also never got the feeling that I couldn't approach them or anything. They were always very happy to answer my questions. It never made me feel like I was less than them. Like, it can be quite scary to talk to a professor and especially if you don't understand something. I was always treated with respect instead of as a newbie and somebody that doesn't know anything.
We even have a prize winner that is teaching Chemistry: Ben Feringa. He won the prize, so it's pretty awesome that I am studying at a university with prize winner. Even though I'm not doing Chemistry, I still feel like a part of it in some kind of weird way.
With all this being said, the biggest reason for me to go to the University of Groningen was I just knew. I had this feeling when I walked out of the Groningen station and I saw the city, and then I walked to the city centre to the beautiful Academy Building. I had this feeling that I don't know, I belonged here. It maybe sounds fake, but feel like everyone kind of experiences that. Because choosing a university won't be completely rational. I mean we people are irrational people, it's very important to also listen to our emotions.
Especially if you want to do good, because if you are in an environment that you don't like, even if you have the perfect study on paper for you, with the most interesting courses and stuff, you're still not going to feel at home and going to feel motivated and passionate to study. You're not going to work as hard as you can. For me it was when I saw the University of Groningen, I just knew that I need to study there and I never regretted it. So, definitely listen to your intuition when you're choosing a university as well.
Another thing that I think is great about the University of Groningen is the fact that they have a lot of exchange possibilities. Right now I'm in Washington DC and I'm studying Law at the George Washington University. This was all possible because of the exchange programmes the University of Groningen has with the George Washington University. And to be honest, I've been here for two, no three months already and this has definitely been one of the best experiences in my life and I'm so grateful to be able to have done something like this. Even though I didn't initially plan on studying abroad, I'm very glad that the University of Groningen actually had this possibility. So also look for a university that has great relationships with foreign universities, because it definitely broadens your horizons and is also great for CV as an experience.
I hope this video was helpful for you guys. If you have any questions about the University of Groningen, or maybe things that I didn't discuss, let me know in the comments down below and I'll try to get back to you. Thank you so much to the University of Groningen for collaborating with me, it's pretty cool to be able to collaborate with your own home university that is already 400 years and the second oldest university in the Netherlands. So, I feel pretty to be honest. So, if you're in the process of also picking a university, to study at or to go to on exchange, give this video a thumbs up. Don't forget to subscribe to my channel, that would mean a lot to me. And, yeah that is the end of this video. Thank you for watching this video, I hope you enjoyed it and good luck with the rest of day. I'll see you later! Bye guys!
If you like to more content from Lilia, check out her youtube channel.
Comments