Exams are over – take a break and go on a day trip
| | |
| --- | --- |
| Date: | 14 November 2017 |
| Author: | Joey |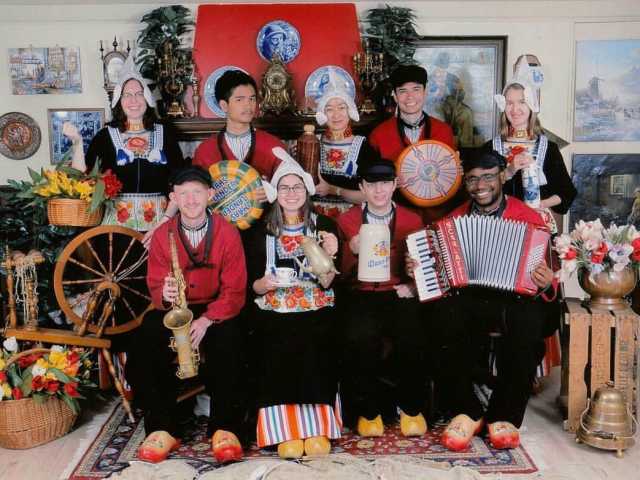 Happy days: the first exam period of the new year is over! The abundance of stress and lack of sleep has ended and no matter how your exams went, you deserve a break. So what are you going to do to celebrate? You can catch up with your friends; spend an entire day eating popcorn and watching Netflix; or even begin studying for the new block (yeah right)!
But you know what I recommend? Take a day trip! One of the benefits of the Netherlands being a small country is that you can easily go to most of it and back in a single day. I don't mean the standard city trips to Amsterdam, Utrecht or Rotterdam either – there are tons of smaller places in the Netherlands which are super nice to visit.
So are you ready for the best way to celebrate the end of exams? Grab some friends and take a trip to one of these 4 awesome (but also kind of weird) places:
Volendam
Volendam is a village not far from Amsterdam. You can go there all year round to check out the beautiful harbour, try the freshly caught fish, and take a semi-embarrassing photo of yourself in traditional Volendam clothing (just don't share it like I have done here… you will regret it if all of your friends find it!)
Afterwards you can check out the Cheese Factory, where they will show you how the cheese is made and let you taste a ton of different types – as a cheese lover, my friends had to drag me out before we missed our bus back to Groningen when I went there.
Giethoorn
Giethoorn is often described as the 'Venice of the Netherlands'. It is a super beautiful town with a ton of pretty canals and bridges. There are lots of little cute places to get coffee and lunch before you head out on a boat on a tour of the canals. When I went, I was feeling extra adventurous so my friends & I hired some boats and rowed along the canals, but of course there is the risk that you will fall in and all of the people on the tour boats will take pictures of you in the water - luckily this didn't happen to me, unfortunately it also didn't happen to my friends.
One awesome thing about Giethoorn is you can only access is by boat, so there are no cars or buses going through the town. This makes it the perfect place to get away from the city and properly chill for the first time in weeks.
Efteling
Need some thrills in your life after countless hours in the UB and staring at the orange walls of the Aletta Jacobshal? Regardless of your answer, you should take a trip to Efteling. Efteling is a theme park with a bunch of hair-raising roller coasters and other attractions to keep you busy for the entire day. My friend described it as 'Disneyland, but creepy', so it is definitely an interesting place to check out!
Although it is a theme park partly focused on kids, you can just leave your more immature friends in that area and check out some of the exciting rides and attractions geared towards adults (sorry if I have worried you slightly by reminding you that you are in fact an adult now).
Pieterburen Seal Sanctuary
If you don't want to travel too far in the Netherlands, you can check out Pieterburen Seal Sanctuary for a shorter day trip. Located around 45 minutes to the north of Groningen, a day trip here will leave you enough time for dinner and some drinks with some friends in the evening once you return.
The Pieterburen Seal Sanctuary is exactly as it sounds – a place where they help ill, weak or beached seals before releasing them back into the wild. You can spend a nice day out there basically looking at seals and taking awesome photos for your Instagram page to make your friends jealous back at home. I was lucky and managed to get a selfie with a seal, although sadly everybody thought the seal looked cuter than I did.
Sometimes it's nice to take a break from the busy student city that is Groningen. A nice day trip somewhere else always helps me recharge for the new block and the return of my social life after exams. In your time here you will spend some awesome days or weekends in the big cities, but it's also great for you to experience some more Dutch culture at the smaller, less internationally-known destinations around the Netherlands. Now that exams are done it is the perfect time to check out one of these places and explore everything that this small but awesome country has to offer.
Have you been to a place in the Netherlands that I haven't mentioned here, or have a funny story from a day trip as a student? Let us know in the comments!
Comments