Summer festivals: the blog team review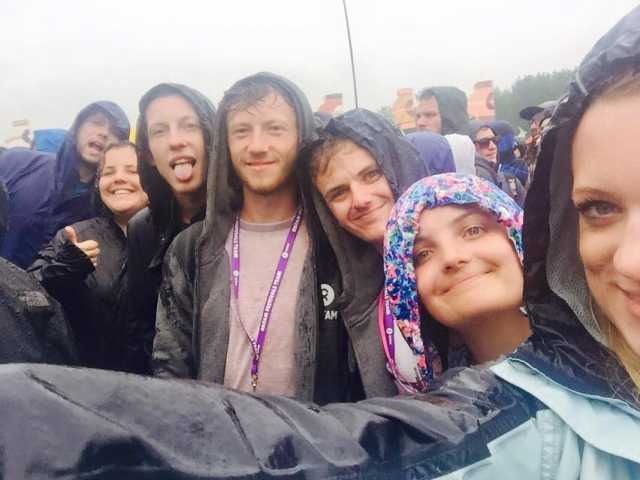 Summer is here! For me, that means only one thing: festival season is upon us. Back when I was finishing high school, I used to spend my summers at different festivals as a volunteer. I have been in love with festivals ever since - the atmosphere, the music, the camping - everything about them is awesome! In this blog post, the rest of the blog team & I have outlined the favourite festivals that we have been to, and some that we wish we had.
For your viewing pleasure, we have divided it up into Groningen, The Netherlands, Around Europe, and Worldwide. Enjoy!
In Groningen
Noorderzon (Chill, Music, Arts, Theatre) - 23 August-2 September - Joey
In August, the Noorderzon festival takes place in the beautiful Noorderplantsoen. I've been each year that I've been in Groningen, and I must say, it is the chillest way to spend the last few weeks before the study year starts again. There is live music; random theatre, comedy, and other weird performances littered throughout the festival; and the best part - a tonne of food stalls. If you are here in August - go to Noorderzon! Oh yeah, and it's free.
Eurosonic Noorderslag (Up & Coming artists, Indie, Rock, Pop) - 16-19 January - Joey
I'm jumping the gun a tad with this one seeing as this festival takes place in January, but it is 100% worth it. Eurosonic is a festival at different venues in Groningen for upcoming artists (for example, in previous years Bastille, Dua Lipa, and Crystal Fighters have played). I went with a friend of mine last January and saw some really nice artists that I am now recommending to everybody I meet - like Bad Sounds, Youngr, and Superorganism.
It's also super nice that the festival takes place around Groningen, so we could bike or walk to the different venues and didn't miss out on anything! It's also amazing to sleep in your own bed after a busy evening of watching live music ;).
Paradigm Festival (Techno, DJs) - 10-13 August - Sinead
The Paradigm community is an interesting one: their community is based on the fact that you can experience freedom without destroying the environment. These ideals are embedded in the Paradigm Festival itself. Most of the building and designing of the location is done by volunteers from all walks of life: Dutch; international; students; parents; grandparents; second-cousins-twice-removed; etc. This makes it a Groningen festival like no other!
Taking place in the grounds surrounding an old sugar factory (known to Groningers as the Suikerunie Terrain) there is plenty of space for you to enjoy the techno music, world-class class DJs, and maybe even some Berghain resident DJs, again!
In the Netherlands
Lowlands (Pop, indie, Hip-hop) - 17-19 August - Sinead
For three days in August, the free state of Lowlands arises in the middle of The Netherlands, near the famous Walibi Theme Park. This incredible festival hosts no less than 55,000 people and 12 stages in three main areas. They have something for everyone, offering a wide range of only the best music, film, stand-up comedy, visual arts, and street (festival?) theatre.
Lowlands boasts over 250 different acts and performances, dozens of restaurants, and a large market with everything from clothes to record stores to a barber shop to relaxing rooms. It even has its own radio station! Some of their acts this year include Kendrick Lamar, James Bay, Bonobo, Gavin James, and Tom Odell.
I have been to more than ten festivals across three different countries and I have never been to a festival with toilets as clean as Lowlands. Yes, I did just say that: clean toilets, at a festival! Overall, it's hard to deny the wide range of music, art and media that LowLands produces and can cater to every taste. Unfortunately, tickets for Lowlands 2018 are sold out! *sadface*
Ruigoord: Landjuweel (Hippie) - 25-29 July - Selma
Ruigoord is Amsterdam's cultural free haven - squatted by hippies and artists. Ruigoord village has people living in it, several restaurants and tea gardens, and even a church. The people of Ruigoord host several parties, events, and festivals throughout the year. Landjuweel is Ruigoord's biggest festival consisting of a magical mix of music styles (think LOFT-vibes), campfires and that artisanal feel. Really it's the Burning Man of the Netherlands although much smaller and far less sunny, and I'd recommend it 10/10 - if you are into a serious hippy vibe. Ruigoord is a relatively cheap festival option - with enough (vegetarian) food options. Remember, Fortuna Favet Fatuis - Fortune Favors Fools.
Into the Great Wide Open (Nature, Art, Culture) - 30 August-2 September - Jorien
Into The Great Wide Open is a popular festival on one of the Dutch 'Wadden' islands: Vlieland. Music is the main focus, but it is the location - in the middle of nature on perhaps the most beautiful of the five Wadden Islands - that makes the festival special. The festival is made up of (surprisingly) edgy programming, visual art, film and plenty of peace and space to enjoy them.
Around Europe
Glastonbury Festival, UK (Music, Arts, Culture, Theatre, Basically everything) - Not happening this year :( - Joey
The mother of all festivals. I've been to Glastonbury twice, and it was honestly an unforgettable experience. The first edition was hosted in 1970 and attended by 1,500 people, with tickets for only £1. Since then, it has grown to over 100,000. When I went, I saw Kanye West call himself the 'greatest living rock star on the planet' (entertaining in itself), saw headliners like The Chemical Brothers, and slightly lesser known artists (at least outside the UK) such as Courteeners. Aside from live music, I just walked around, chilled by the famous Glastonbury sign, and watched random comedy and theatre performances. In the night, my friends and I went to the 'nightclubs' and just roamed around the festival site. Unfortunately, there's no Glastonbury in 2018 to let the farm where it is held rest for a year. But you should put it on your list to go for the years after!
Bestival, UK (Indie, Alternative, Pop) - 2-5 August - Joey
Bestival may be the best (I tried not to use it but I couldn't help it) festival that I have been to. The atmosphere is so relaxed, with a parade through the middle of the festival, and a bunch of different kinds of artists to go see. There's a lot of non-music related stuff going on, such as hammocks to nap in, 'the world's biggest bouncy castle', and a massive fireworks display to close off the festival.
Also - before the festival site moved from the Isle of Wight (boo), they did a thing that if you swam there from mainland England you could attend for free… but no way was I ever going to try that.
Northside, Denmark (Alternative, Rock, Indie, Pop) - 6-10 June - Ellen
This was my very first festival and I went for 3 consecutive years! I've always volunteered which is 1. A great way to meet new people and 2. Free festival ticket! It has always been a really amazing experience and I've seen amazing artists such as the Wu-Tang clan, Lukas Graham, David Guetta, Iggy pop, Flume, MØ, Alt-J, and many more. Plus, you get to see the awesome country of Denmark! Unfortunately, this festival has just happened... so maybe you can put it on your list for next year.
Summer Jam, Germany (Reggae, Chill) - 6-8 July - Selma
Summer Jam is a reggae festival in Cologne, Germany - hosted at the Fühlinger Lake. It's crowded yet has a "chill" vibe. You have to withstand living in a constant smoke smog around you - and the festival is somewhat expensive when it comes to food/drinks - but it's line-up of very well known artists is great - such as Nas, Damian Marley, and Chronixx and when it gets too hot you can swim in the clear water of the lake to cool down (better than showers, although shampoo is not allowed so after a few days…. myeah).
Worldwide
Clockenflap , Hong Kong (Music, Arts, Electronic) - 9-11 November - Ellen
This one again is a bit of a stretch to add it into your summer plans as it is in November, but if you happen to be in the area (perhaps you're going on exchange?), definitely check it out! It is a music and arts festival that celebrates local, regional and international artists with various different activities like movie concerts, silent discos and lots of art installations.
Future Music Festival, Adelaide, Australia (Pop, way too warm for a Brit) - Joey
When I was in Australia, I got to experience the Aussie festival culture - which is very different from what I was used to. I expected camping for several days, not showering, getting away from the real world for a few days. At this festival, that was definitely not the case. It's only one day, so it seems everybody went in their best outfit, and it was like 40 degrees, so it was definitely not a good idea to be outside all day. It was an experience, and I saw some really nice artists like Phoenix and Tinie Tempah, but I personally much prefer the way we do it in Europe. Apparently, this festival doesn't happen anymore - but if you are ever in Australia, you should consider checking out the festival scene.
Festival Bucket list
Unfortunately, we haven't been to every festival that we want. So, last but not least, here is our festival bucket list - the ones that have (so far) gotten away!
What was the best festival you have ever been to? What festival would you never return to again? Feel free to let us know in the comments!
Comments