Liberal Arts and Sciences at the University College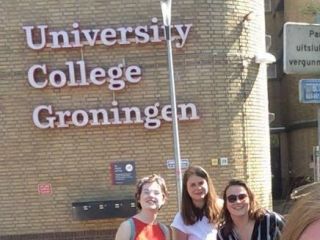 Whenever I tell people that I study Liberal Arts and Sciences at the University College Groningen (UCG), I am met with puzzled looks- "Liberal Arts and what??" Certainly, the all-encompassing name of the degree, "Liberal Arts and Sciences", is a tricky one to explain. How do I tell people that I currently study biopsychology, programming and history, while working on a project on the arts in healthcare?
What is the University College?
The UCG is a separate faculty of the University of Groningen. At the UCG, you're allowed to take a broad range of subjects and specialise later. As a UCG student, you also do a project alongside your modules which provides a practical side to the course. The emphasis is on small-scale learning, which not only makes it more interactive, but it also helps to create a strong sense of community. This community vibe is reinforced by the fact that, in the first year, all of us live together in the SSH building, Frascati. We are always kept busy there, between work, projects and the various activities organised by our study association, CAERUS.
Making my Major
In your first year, you can try out a broad range of subjects, from economics to biochemistry. Apart from the fact that 40 of your credits must be within your major, you are free to explore. This is useful if you are uncertain about what you would like to pursue; trying out different things has already given me a clearer idea of where I stand. It's also great if, like me, you are interested in too many things and want to keep learning about them all!
In the second year, I can narrow my focus to what I'd would like my major to be in. I can choose which major I'd would like from the ones offered (eg "Brain Behaviour Culture", "Health and Life Sciences") or propose a free major to the board of examiners. This is where I can select courses from UCG and RUG to fit a structure that interests me, and if the board approves it I'm good to go! There is also the possibility of doing a double major, which means taking an extra 40 credits each year in a field other than your chosen major.
Project Work
The moment you set foot in UCG you can be guaranteed to hear the word "project" everywhere. This is another aspect unique to University College. Every student has a project running alongside the academic core. This is supposed to provide a more practical side to learning. Right now, I am working on a project in collaboration with the University Hospital, UMCG. We are trying to organise a photography exhibition titled "Helping Hands", featuring the hands of nurses with quotes from them about their work. We were asked to do this as the hospital experiences problems with staff burnout among nurses. Hopefully, this project can give some praise to nurses, who are not always given enough recognition for their hard work.
I was delighted to get the opportunity to take part in this as it pairs arts and healthcare, two fields I am greatly interested in. As part of the project, we had to research arts in healthcare and staff burnout among nurses. I also learned about life in the hospital from shadowing a nurse for a day in UMCG.
Community Feeling
My favourite thing about UCG is the sense of community. It is a small faculty with only around 300 students. We have our own kitchen which gets pretty crowded around lunchtime as people wrestle to get the good pans. This came as a blessing during exam time as we could all escape the study landscape to cook and forget about exam stress.
The study association, CAERUS, often organises parties for us. Because it's a relatively new association, we are still forming committees. With a few friends, I formed a Charity committee and we have organised several events at the college.
As a first year, I am obliged to live in a student housing building, Frascati with everyone else in my year. I was initially worried about living with the people I study with... would we get sick of each other? Luckily, it's been fantastic and really contributed to making our year into one big family. Of course, there are always downsides to communal living. I share my kitchen with 11 others and we recently discovered that all our cutlery was disappearing to a mouldy hiding spot under the shelves.


Create our Own Structure
University College can be difficult to explain to others, as it's a pretty new concept in Europe. The way I like to think about it is that it gives a free reign to people who are curious about everything. Of course, we still have to adhere to certain guidelines and make sure we take the right subjects for whatever masters we might be interested in. Our study advisors can help us with this, as different masters have different prerequisite courses that we need to consider.
This freedom has really benefited me so far, as not only did I learn about a wide range of subjects, but I also was able to figure out where I would like to specialise. Before coming to uni I was a bit confused about what I should study. The idea of settling down to one field was a bit daunting to me as I simply couldn't narrow down my interests. Now, I have been able to try out all sorts of subjects and am working towards creating a free major in neuroscience. It takes some planning to work with the freedom you are given at UCG, but it's totally worth it if you are someone who likes to create their own structure!
Comments