Nature Escapes
| | |
| --- | --- |
| Date: | 06 February 2018 |
| Author: | Iman |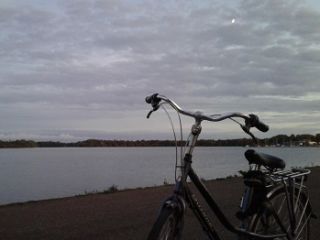 One of the things I enjoy most about Groningen is the nature it has to offer. Being a city kid you rarely ever get to be in nature- if there are a few trees we'll call it a forest. So, when I came here I was pleasantly welcomed by the smell of fresh grass and soil and unfortunately sometimes horse manure. But, what I've come to find is that you could literally cycle for less than 10 minutes in any direction and you will find nature spaces all over the city. Here are some of the top picks.
One of my favourite places in Groningen, I've been here countless times; it's a large open lake, with sand and a beautiful view. No matter the weather, it's always gorgeous and serene. It's A 25-minute cycle or 15 to Hoornsemeer which it's linked to. I recommend going for sunrise or sunset you can get a good panoramic view and it's pretty silent except for the occasional early morning jogger. Winter is great-a-time as any to visit as it's not as packed as, In summer it tends to get quite full of people swimming and getting their tan on. You never know what you may see when visiting, I've seen people doing parkour on the climbing apparatus, a ladies exercise class and occasionally, the local windsurfing team riding the waves. If you venture further into the trees, you may see some brown bulls grazing and signs leading to nearby towns Eelde and Haren. Much further down, there's a windmill called 'De Helper' considered a monument and certainly a sight to see. There's plenty to do here If you wish: there are campsites available, fishing streams, you could even hire a boat and sail across the lake. Or if you'd rather just take a moment to breathe, you can picnic and simply read.
The Stadspark is a beautiful space, engineered by Jan Evert Scholten, designed by Leonard Springer and J.A. Mulock Houwer. It's A brief 8-minute bike ride from the Central station not far from the centre at all- 25 minutes if you care to walk. It's known to host the bevrijdingsfestival, which is the liberation festival; And Kingsland festival- celebrating freedom and the King. In the past, it has played host to famous acts such as The Rolling Stones and Tina Turner. And when it's not full of people and music it's a peaceful park, a standout point would be the deer enclosure and petting zoo home to a variety of animals. In addition, there are occasional horse racing events and a camping ground for travellers who want to stay a little longer. A perfect place to visit on Sunday afternoon for a picnic or a stroll or when in need of a study break.
The name translates to the liberation forest. This place is a little further away but definitely worth a cycle- 25/ 30 min's from the station. Once you come here, you truly feel like you've left the city and stepped into a whole different reality. If you don't have the time or funds for a trip coming here would do the trick. It feels like the place swallows you up; there are long stretches of land and you barely see a soul. The path gets narrower and more obscure as you go along, and all you can smell is nature. The forest was built to commemorate the 50-year liberation of the Netherlands (1995) by the Canadian army and to show them gratitude 30,000 maple trees were planted there. There's an extremely long path with the maple trees either side it's honestly quite a sight. Whilst you are in the area, you should check out Kardinge, there's a ridiculous 37 meters high climbing wall with an 11-meter overhang- very daunting. If you're crazy enough to climb it I can only imagine the view would be insane. There are many other activities at the sports centre such as swimming, skating, rollerblading, there's a Dojo and various other sports activities available. I'd recommend coming here for a half day trip before you know it you've spent a good few hours deep in the forest.
This place is quite literally named star forest, as it used to be in the shape of a star; which had a central point extending in 8 different directions one of them being towards the martini tower before the government tax office blocked the view. In keeping up with modern styles, the old French symmetric style was changed to an English style landscape with small hills which were all the rage at that time- also similar to Noorderplantsoen which was being built around the time. This beautiful park is a very nearby to the centre, A short 6-minute ride from the central station towards the south of the city or an 18-minute walk. On the outside is a giant 7 figured monument to commemorate the Jew's who were killed in World War 2- by artist Eduard Waskowsky. You will notice 6 instead of 7 hands this is because the artist, unfortunately, died before he was able to finish the piece. It was left untouched on behalf of the wishes of his wife. In the summer there are concerts held in the dome there. Also, there are some other interesting sculptures you will notice upon entry. This is a great place to take pictures and get a little cultural back history it's not as large as the other parks featured- but still worthy of a mention.
This is easily the most popular park- named the northern public garden. Many of us cycle through it on our commute to Zernike. Another very central location, only an 8-minute ride from the station and a 10-minute walk from the university library. The Noorderplantsoen is one of the more busier parks. It's very long and narrow and curves around the old city. In the summer it holds the 'Noorderzon festival' which is an 11-day free theatre festival; there is also the 'plantsoen loop' which is a running event with around 500 runners. In the summer people often have barbeques, there are cute ice cream tricycles that ding along. Everyone's normally out sunbathing after uni/work in the summer attributing to it's a lively social atmosphere. There are spots of lakes/ponds with ducks and swans, which people feed. Further down there's a large beautiful fountain and café nearby. Runners, fitness groups, dog walkers, students, couples, the elderly, families… anyone and everyone comes here. You're more or less likely to bump into someone you know when coming by.
Whilst there are many more nature-spaces in Groningen, these are the main ones you must visit when in town. No matter the weather, the views never fail to be alluring and the atmosphere charming. Thanks for reading and let me know, where are your favourite places to go?
Comments