Lets have a coffee break!
| | |
| --- | --- |
| Date: | 06 January 2018 |
| Author: | Natasha |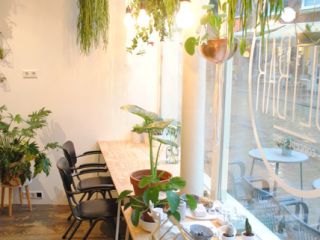 Hey! Coming to University includes taking exams and studying throughout the year, and I definitely also need coffee to fuel these study sessions. The University of Groningen has just renovated the University Library (UB) in the city centre, which is where I tend to study. Different faculties around the city, at Zernike and the University Hospital (UMCG) have their own libraries and study places. These places might suit you best, and the important thing to learn once you start uni is how you like studying and what works for you. I found out very quickly that I am terrible at studying at home, and that I am more productive when I'm in a public space. I have the feeling then that people are watching me, and so I won't just sit and watch Netflix or procrastinate (or at least I won't procrastinate as much). As an Honours College student, I take part in a lot of group projects, and although the UB does have studio spaces where you can work together with friends, it can be a good mixture of work and socialising to go into the city and work there instead.
Furthermore, most of my friends also study at uni or in the city, and so it means that it is a social environment, and we can take breaks and go on walks together. It's extremely important to ensure that you get a good social and study life balance, and I think that's why I sometimes like escaping the library and going somewhere else to take a bit of a breather. Plus, I love the Dutch cafe culture, and so to incorporate great coffee into my study sessions is a win-win for me! On days when I'm feeling that change is necessary, I gather some friends and study in one of the many cafes that cater to students and working people. So, I thought I would share my favourite places to study and get coffee!
HOLTBAR: Holtbar is this concept store which is on the Oude Kijk in t'Jatstraat, which is close to the Harmonie complex and Academie building where I have the majority of my classes. It's a nice place to pop over to after I've had class or when I want to escape the library for a couple of hours. The coffee there is pretty good, and they know how to satisfy your sweet tooth and offer a lot of gluten-free or vegan options. Plus, it's a concept store, and they have really beautiful gifts and the whole aesthetic is minimalist and well thought out. I love hanging out there, it has a chilled out vibe and that's exactly what you need for when you're studying.
COFFEE COMPANY: Coffee Company is a chain in the Netherlands, so there's a couple in Groningen. I prefer the Coffee Company on the Oude Boteringestraat, which has a silent room at the back for students. The front has massive windows, so the space is bright and you can procrastinate by people watching (if you're so inclined). There are large tables, so if you have a group project or you're with your friends it gives you space to spread out. The coffee there is of a high quality, and considering it's not an independently owned coffee place I was sort of expecting a Starbucks level of quality but luckily not!
UURWERKER: The Uurwerker is also in the city centre, and has a specific room for people to use as a workspace. It's also really nice because they don't hassle you like some other places do - they don't seem to mind if you order a coffee and then hang out there for a couple of hours. Other than that, they've got super comfy couches, so if you've got reading to do and want to chill out then this is the perfect space.
PUBLIC LIBRARY The public library does have a cafe in it downstairs, but when I study there I tend to sit in the actual library part of it. It can be nice to hang out there and dip in and out of another book instead of only studying for uni. The public library has a lot of workspaces, and it's a bit more of a relaxed atmosphere in comparison to the university library which can sometimes be what you need!
What's your favorite coffeespot? Let me know in the comments!
Natasha
Comments