7 tips for the perfect summer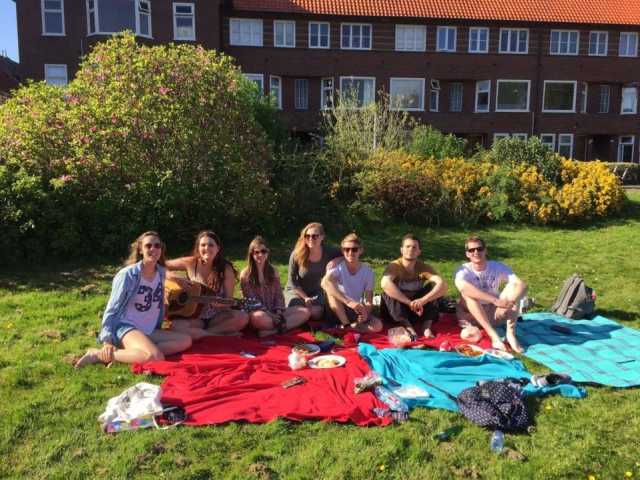 What makes up the perfect summer? To me, it's a mix of discovering new places, meeting up with old friends, making new friends and a beach or two. In this blog post, we give you tips for this summer - whether you want to stay in Groningen, want to discover more of the NL or want to go somewhere else in Europe. Also, post all of it to Instagram for at least the next six months to really show everybody who's boss.
1. Grab your mates and go
This first one is massively obvious - but we don't all have the budget to spend months backpacking in Australia or lounging in Bali. However, domestic and other closeby trips may also be exactly what you need to relax during the summer. From Groningen, you can easily drive or take a train to cool and lesser known locations - from city trips like Copenhagen, Berlin, Luxembourg City to amazing camping/hiking sites like Spa in Belgium, the Black Forest in Germany or becoming a fully integrated Dutchy by going anywhere in France. Flying to some cheap classic destinations from Eelde is also worth consideration - the beach in the Algarve, on Majorca, or Ibiza is waiting for you.
2. Live the festival life
Festivals are like a magical mini-vacation during which you lose all track of time (and space) and during which you can dress-up in wild outfits. You may meet your true love or make loads of new friends you'll never speak to ever again. The hardest part of living the festival life is choosing which one to go to.
First, there's the Groningen classics: Paradigm Festival, Noorderzon, and Hongerige Wolf. Then there are the Dutch classics like PinkPop, Lowlands, and Mysteryland. Looking for something a little more underground? Check out Welcome to the Future, Into the Grave, or Down the Rabbit Hole. Then, of course, there's the international classics like Roskilde festival in Denmark, Sziget in Hungary, Rock am Ring in Germany, Glastonbury in the UK, and Rock Werchter in Belgium. Finally, some underground European festivals: Exit festival in Serbia, Meadows in the Mountains in Bulgaria, Secret Solstice in Iceland (for 3 days when the sun doesn't go down), and Wales' Freerotation Festival.
Extra points are awarded if you go to a festival alone.
3. You want a Maserati? You better work, friend
We know... this sounds terrible and the worst. However, finding a summer job and/or internship has some obvious perks (money, experience, something for your parents to be proud of). Check out Ellen's blog on how to find a job as an international student. Survive your summer of work by planning loads of day trips and begging your friends to stay in Groningen for the summer. Also recommended: getting your driver's license over the summer months rather than cramming them in during lectures.
4. Waterparks/Beaches (GTL without the G… and without the L)
If the Netherlands is known for one thing, it's water. Although we don't recommend that you take a dive in the canals, there's more than enough good waterholes around. In Groningen, there's the city beach at DOT, the beach at the Hoornsemeer, and the beach at Kardinge. Terschelling (an island), Bloemendaal aan zee/Zandvoort (near Amsterdam), and Scheveningen (near the Hague) are the most popular and busy real Dutch beaches. The Netherlands also has around 10 waterparks and the Southern European countries have some amazing parks to choose from.
5. Boats, boats, boats (I'm on a boat, friend)
Staying on the topic of water for just a bit longer, the ultimate way to spend your summer is by being on a boat. In Groningen, we'd recommend buying a plastic rowboat or renting a canoe. Biking a little further than Zernike and you stumble upon Garnwerd, where you can rent canoes and explore the Groningen countryside. Of course, you could also go to the Paterswoldsemeer or around the inner city canals. Want to try sailing? The Frisian lakes are a perfect match (and also Doutze Kroese is from Friesland so you could catch a glimpse of her).
6. Go home to mommy and daddy
Your parents need love too guys - and besides, visiting your parents is a money-saver, you'll be able to see your high school's homies (and brag about your awesome Groningen life), and enjoy mom's cooking… what's not to love? Also, going on vacation with your parents may not be as lame as it sounds. Trust me, once you hit 25, you'll be freaking out when your parents don't invite you to come anymore… and you won't have to pay for food, at least.
7. Spend some days doing literally nothing
Sometimes there's a lot of pressure to do everything at once during summer, but it's your summer and there absolutely no reason to not do what you like. For me, sometimes that is just doing nothing at all. No plans, no parties, just grabbing my book or laptop, go to the park or chill on my balcony and enjoy the complete lack of responsibilities I have (until September that is).
What are you up to this summer? Share your tips with new and current UG students. :-)
Comments