Going Dutch: Save Money!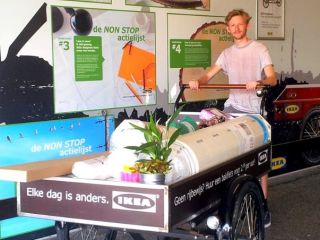 One of the most annoying university experiences is experiencing extreme FOMO because you are low on money and waving goodbye to your friends whilst they go out. However, after studying in Groningen for 3 years, I've picked up some money saving tips and tricks.
First of all, get a Dutch bank account and don't pay ATM withdrawal fees from your foreign account. Next, get a cheap bike from one of the many dodgy bike stores to save money on public transport. Nothing in Groningen is far away, so there's no need for you to have a car or take buses. Buy furniture from Mamamini, a second-hand store with 4 different locations around Groningen. You can borrow one of their "bakfietsen" to get your brand-new old furniture to your new room. The same goes for IKEA, use a bakfiets and look this cool too!!
Food is surprisingly expensive when your parents are no longer buying it for you. Save money on groceries by going to the Vismarkt market on Tuesdays, Fridays and Saturdays, which offers cheap and organic vegetables, all types of cheese, fish and meats. The Vismarkt is an experience, but also one of the cheaper options. If you want to shop for supermarket foods, take advantage of the different cheap "bonus"-deals. You can get a Bonus Card from Albert Heijn so you can buy some products at a discount each week. Lidl and ALDI have discounted foods all year round and are slightly cheaper options. Bring your own ZAKJE to take the food home and eat with your housemates to share costs!
Want to go out for food? I love to chow down on breakfast at HEMA for €2 or go to IKEA for a cheap meal with my Family Card. The University canteen at the Academiegebouw also offers student dinners Mondays to Fridays. When I prefer to go somewhere fancier (like when my parents are here and paying for it) I check discounts sites like Het Laatste Tafeltje, Heerlijk, Dagpas and De Leukste Deal where you can get last-minute discounts for all sorts of restaurants in Groningen. Several restaurants in Groningen also have cinema-deals where tickets are included with a meal - perfect to show your date exactly how stingy you are.
Groningen is a student-city and it has loads of places where you can go out for relatively cheap. Tuesday, Wednesday and Thursdays are usually cheaper nights with student discounts. Start your night in a cheap "shotjes" bar like Snowvalley or Sunny Beach or get the €2 wine from Aldi (but don't blame us if it makes you blind or something).
Personally, I avoid shopping for clothes unless I absolutely have to, but I know there are several Facebook groups where others sell their clothes, such as this one. Some friends of mine also buy vintage items in several stores, such as Stardust, Onder De Linde and Recessie. And if things get really bad, you can always just shop at Paddepoel mall...
And finally, get the ESN Card to get a range of discounts at all sorts of places!
Comments