16 Things That Will Happen to every German Student in Groningen
| | |
| --- | --- |
| Date: | 30 May 2018 |
| Author: | Antonia |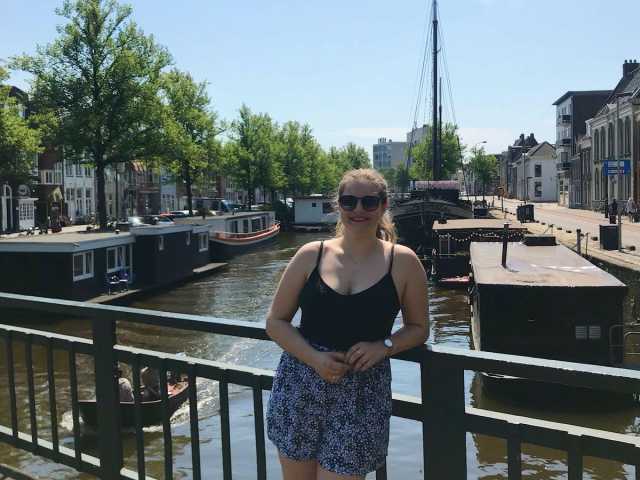 Hey everyone!
My name is Antonia, and I am one of the thousands of German students at the University of Groningen. A while ago, Ellen wrote a post about the "15 things that will happen to you as an International Student in Groningen". As she already mentioned, being an international student in Groningen is a great experience, however, being a German international student is even more peculiar. There are certain experiences that are reserved just for us and every German in Groningen is sure to experience most of these at least once. How many have you experienced?
When someone finds out you're German, the immediate response will be "Oh, so you study psychology?"
When you answer "no" the next response will be "Oh, do you study medicine or international business?"
You will have to explain why you have exams in November and March and don't have February and March off to all your German friends.
If you are from somewhere in the middle or south of Germany, you will probably miss the hills and mountains (except when you are cycling)!
You will go through three stages in regard to stores being open on Sundays:
(1) Confusion: why are stores open here, don't these people get time off?
(2) Excitement: using your days off to go shopping is amazing
(3) Taking it for granted: you will be in Germany one weekend and will completely forget that you can't just run to the store on a Sunday afternoon.
You will go through a similar process with being able to "pin" everywhere: loving it; never having to have cash; and ultimately going home to Germany and not being able to pay for the bus ride home, because they do not accept cards.
Before you move here, you will definitely have looked up which buses have the best connections from your home to your faculty. When you get here you will realise all your research was for nothing and you will never use public transport in Groningen, ever.
You will, however, develop a new found love for trains. (Although this might, at the same time, make you hate the Deutsche Bahn more than you probably already do).
While you find more and more things to love, like stroopwafels, bitterballen, the abundance of fresh mint tea, and the food from "the wall", you will also miss the things you love from home. Especially when it comes to food; you will miss the butter and the baked goods, but most of all you will miss the bread! There is nothing like a good German Vollkornbrot.

While on the topic of food, you will also be confused about the missing oven in your kitchen. How do people bake here… what do you mean they use microwaves?
When you are ready to go home and see your family, there are enough Mitfahrgelegenheiten to get you there in a couple of hours, which is a luxury a lot of other international students don't enjoy.
You will find yourself part of a group of students that have formed their own German community. You can easily live with only other Germans, go to parties where there are only Germans and you will also never have to learn Dutch if you don't want to. Everyone speaks English and enough Dutch people understand a bit of German to get by.
As cool as it is to have a lot of people from your home, you will also experience phases where you are annoyed at so many German people around you. You will catch yourself thinking you should have more friends from around the world because you didn't leave Germany to spend all your time with more Germans.
If you ever get sick, you will be totally confused by the fact that you cannot just go to the emergency room, or even to any GP. If you need glasses, you cannot easily go to the eye doctor? Same thing with yearly checkups at the dermatologist or gynaecologist? You will find yourself wondering how people in the Netherlands stay healthy.
Because your friends from home just have a couple hours of travelling, you will love being able to host all your friends for King's Day, being able to show them an important part (and one of the most fun parts) of the Dutch culture and making amazing memories.
Comments