A Students Guide to Groningen Neighbourhoods
| | |
| --- | --- |
| Date: | 13 February 2020 |
| Author: | Asmo |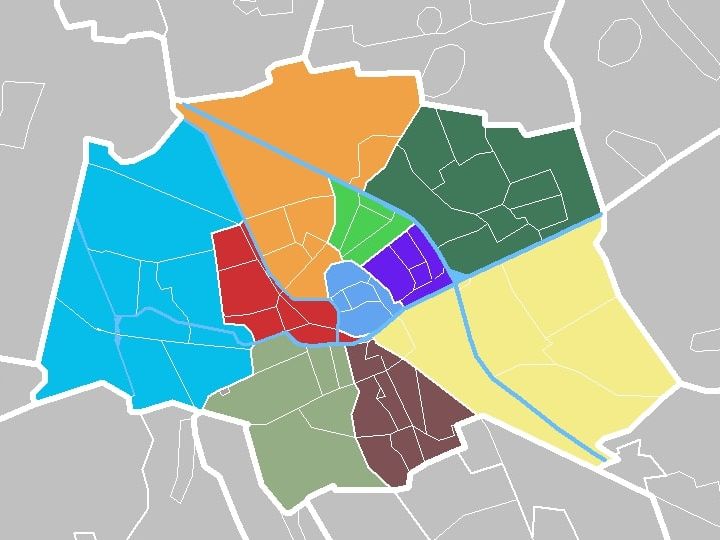 When moving to Groningen, there are a lot of things to think about. Besides figuring out the ins and outs of Dutch culture or how to ride a bike in the Netherlands, one of the first tasks most international students need to tackle is finding a place to live. As in many other student cities in the Netherlands, the availability of housing has been an issue which means that new students should start looking for accommodation as early as possible. The best place to start is www.athomeingroningen.com. In addition to the challenge of organising a room or apartment, many international students also struggle with the question of where to even begin looking in the first place. Depending on your study program, your budget or your personal preferences, the neighbourhood that suits you best may differ. In this blog, I have taken a closer look at some of the most popular neighbourhoods in Groningen among students and listed some of the things that make them stand out.
City centre
Although the Grote Markt is certainly not Times Square, the city centre is the most lively and buzzing part of Groningen. Besides a long shopping street which contains all major retail stores, the city centre is also home to most of Groningen's restaurants and nightlife. Oh yeah, and of course the main university building and library are also located here. While a lot is going on and you are living in the middle of the city centre campus, you should keep in mind that it can get quite noisy here at times which is not the best if you are looking for a serene environment. Moreover, rooms and apartments in the city centre are the most expensive on average, which does not fit perfectly with every student budget.
Perfect for: Students with a higher budget who love to be in the middle of all the action and close to everything
Cycling to Academy: 2 - 4 minutes
Cycling to Zernike: 15 minutes
Oosterpoort
Before moving to the city centre, I lived in Oosterpoort (Eng: Eastern port) for four years. I must admit that I slightly fell in love with this quirky neighbourhood during this period, which might make my account sound somewhat biased. Located just a stone's throw away from the city centre, the Oosterpoort is like a city inside a city. It has a very distinctive neighbourhood culture which attracts a lot of students and alternative minded people (they even have their own newspaper!) and you can find nearly everything you need in your daily life such as supermarkets, restaurants, a post office, bars, doctors etc. It is also very close to the train station and the IKEA, which makes travelling or transporting furniture quite easy!
Perfect for: Students who want to have a city centre vibe without the costs and noise
Cycling to Academy: 5 - 8 minutes
Cycling to Zernike: 20 minutes
Oosterpark
Not to be confused with the Oosterpoort, the Oosterpark (Eng: Eastern park) is located east of the city centre. The Oosterpark is probably the best location for students who have classes at the UMCG as it is not far from any point within the neighbourhood. As the name says, there are also several parks here. The main Oosterpark even used to house the old FC Groningen football stadium in the old days, which means that it is quite sizable. Otherwise, there are quite a few larger housing complexes which reflect the working-class history of the Oosterpark and which offer cheap rooms and apartments. While there is your average selection of supermarkets to be found, there are fewer restaurants and bars compared to some of the other neighbourhoods.
Perfect for: Students studying at the UMCG looking for a slightly more quiet surrounding
Cycling to Academy: 5 - 10 minutes
Cycling to Zernike: 15 - 20 minutes
Helpman
Helpman is a very residential, affordable and rather quiet neighbourhood located in the south of Groningen which, in fact, used to be a separate village between Groningen and Haren. It is probably the most south you would want to move as a student, but while being slightly detached from the city centre and the northern arts of Groningen it still has everything you need. In the middle of Helpman, you will find a 'neighbourhood centre', which has several supermarkets, fast-food chains, restaurants and a gym. Moreover, the biggest lake in Groningen is located relatively close by which is very nice if you want to go swimming or hang out on the 'beach' during the summer months.
Perfect for: Students on a budget who want to live in a residential neighbourhood with all services bundled into one place
Cycling to Academy: 10 - 12 minutes
Cycling to Zernike: 25 minutes
Korreweg/Noorderplantsoen
Due to the affordable housing and location between the city centre and Zernike campus, the area around Korreweg and Noorderplantsoen is very popular among students. There are plenty of small restaurants and neighbourhood bars to check out, as well as all other services you would need in daily life. What also contributes to the popularity of this area is its close vicinity to the Noorderplantsoen - Groningen's most popular park, which has even served as inspiration for songs. The neighbourhood is especially lively in the summer, when hundreds of students hang out outside, listen to music and have barbeques.
Perfect for: Students who love going to the park and want to live close to Zernike and the city centre
Cycling to Academy: 5 minutes
Cycling to Zernike: 10 minutes
Paddepoel/Selwerd
If you are studying at Zernike, then Paddepoel or Selwerd might be your neighbourhoods of choice as these are the closest. There are lots of apartment complexes in these areas, which means that living here is fairly cheap. These areas are also great if you are into (outdoor) sports, as the ACLO Sports Centre and other training facilities are very close by. Oh, and if you have ever wondered where the famous coloured houses are, then you won't be disappointed to find out that these are just around the corner from here as well.
Perfect for: Students on a budget who study at Zernike and don't mind living a bit further from the city centre
Cycling to Academy: 10 - 15 minutes
Cycling to Zernike: 5 minutes

If you want to have a closer look at where the different neighbourhoods are located, you can check out this map with the exact locations. Also, if you happen to be in town, you can check out the interactive installation on the first floor of the Groningen Forum which provides lots of information and statistical data on every neighbourhood!
About the author
Asmo
Hey there! My name is Asmo and I'm a Finnish/German student exploring life in the Netherlands. Besides being into photography and politics, I am currently doing my Master's degree in European Law. Oh, and I write blogs as well.
Comments