8 Wholesome Spring Activities
| | |
| --- | --- |
| Date: | 20 March 2021 |
| Author: | Ariana |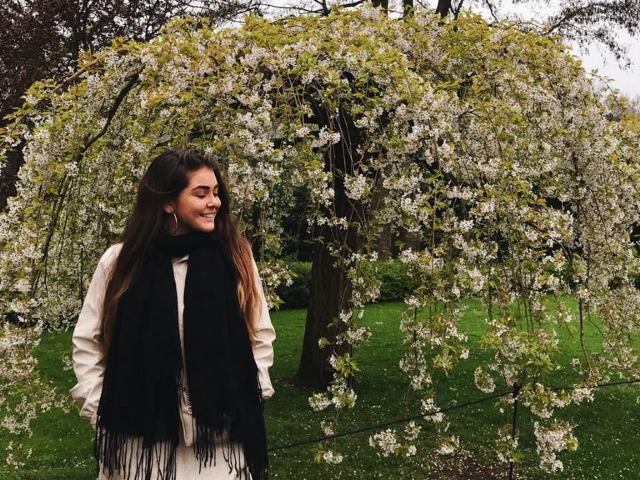 There's some fantastic news no one can ignore, and it's that Spring starts today! If this isn't an immediate serotonin booster in your brain, allow me to give you a couple of reasons why we should be absolutely happy that Spring is finally here. First, the temperatures will keep getting warmer, and the sun will shine its rays on the Netherlands more often. Gone are the dull winter days where the sun sets at 4:30 p.m. – byeee! Second, our lives can slowly start drifting towards the outdoors, meaning we can spend more time leading an active life rather than laying on our beds all day. And third, now that we'll be outdoors getting all toasty in the sun, we'll see very wholesome things such as: the flowers blooming, people walking their dogs, someone laying in the park enjoying a book under a tree - people generally enjoying their lives!

If you're short on inspiration for activities to do this new season, I've gathered a list of wholesome things you can do that will make you feel happier, better organized, and more fulfilled this Spring!



1. Check out the blossoming flowers
All over Groningen and Leeuwarden, small tulip bulbs are starting to blossom, and it's adding a whole extra level of beauty over the city. If you're in need of some new pics for the 'gram, or would simply enjoy a scenic addition to your daily walks, keep an eye out for 'grassy' spots! You'll find these flowers dotted everywhere, but I've specifically seen them close to the Hereplein in the small park in front of the Ossenmarkt - and even in the grounds outside the Nieuwe Kerk. Of course, the Noorderplantsoen also boasts some flowers of its own. Even better, the trees are starting to flower too. Keep your head up every now and then to spot the tiny leaves and flower bulbs growing. It's very cute, and definitely a sign that Spring is here!
2. Buy seasonal fruits and veggies at the Market!
If you're a cooking aficionado, then one of the best things about the turn of a new season is the possibility to cook all the new recipes with seasonal produce. I admit, autumn vegetables and winter fruits are definitely amazing, buuuuut check it out: avocados are now in season! You'll be less likely to buy one that seems like it's ripe yet ends up somehow still being rock-hard and inedible. Many more fruits and veggies that are in season are: apricots, asparagus, rhubarb (which makes for some excellent tarts), spinach, artichokes, carrots, potatoes, pineapples, and more. Happy cooking!
3. Support local businesses and do a food/drink tour around town
It might still be a little bit longer before we can actually sit down on a terrace or a restaurant but that doesn't mean you can't hold your own gastro-tour around town. In the true pub crawl spirit that every student is familiar with, you and a friend can pick out your favourite local food and drink spots and do a food crawl! Honestly, even just taking a walk down the Oude Kijk in't Jatstraat is enough for a flavorful evening, but I would encourage you to spread them out around the city! That way you'll be able to combine a walk with a food tour, and you'll be supporting all the lovely local businesses that make our city more fun. Side note: when I say drinks, I mean trying out juices, smoothies, coffee, etc. (but no one's stopping you from going for a cocktail as well).
4. Do some spring cleaning
Indeed, one of the most traditional rites of Spring is cleaning everything. If you're not a fan of cleaning, then this might be a dreaded event for you, but I promise it's not that bad. You're supposed to give a good deep-clean to your entire home every season to make sure the place you're inhabiting is clean and free of all the nasty stuff it may have acquired during the wintertime, where – let's face it – we were inside most of the time. Gather your roommates and deep-clean behind your appliances (we know you never go there), clean the windowsills and light fixtures, vacuum or wash your curtains if you have any, disinfect all surfaces (including doorknobs), and also deep-clean your fridge and oven! These are just some of the things that are important, but if you google 'spring cleaning' you'll be met with a whole list of other tasks you can do aside from your regular weekly cleaning.
5. Pack up the winter clothes!
Soon it'll be time to say goodbye to chunky sweaters and fluffy jackets and bring back the leather and denim jackets. Of course, this is still the Netherlands and sometimes it can snow in the middle of April… the weather is just moody like that. For that reason, I can safely say that layers are your friend. If the morning is sunny, make sure to bring an umbrella and a warmer layer in your bag, as it might get cold and rainy in the afternoon, and vice versa. You will, however, probably not need the thick winter jackets you've been wearing since November, so pack these up and place them in a dry storage space. If you're a fan of shopping or simply need to upgrade your wardrobe a bit, then make sure to take advantage of the stores which now allow for personal appointments!
6. Treat yourself to some Easter candy
If you've been to any supermarket recently, you might have seen a section dedicated to delicious Easter treats. Chocolate bunnies, small chocolate eggs, easter cookies, marshmallows shaped like chicks - it's all very cute and definitely tasty. Even if you don't celebrate this holiday, there's no reason not to buy one of these and enjoy them while they last. Maybe you can make it a 'treat yourself' moment after handing in a big paper. Or maybe you're just craving something sweet and feel like gravitating towards the bag of chocolates. It's all valid, enjoy!
7. Grow some plants of your own
Growing plants can sometimes be hard. They require attention and care, and also require specific atmospheric conditions. If you don't have direct sunlight, you can still grow plants! Check out the AH for some small houseplants, or visit the market if you want to pimp out your front or backyard with some flowers. Plants will give your house a beautiful look, and will also make your air cleaner. You can even start growing an herb garden of your own! Jumbo sells potted basil, rosemary, and other herbs that are great additions to your kitchen.
8. Take it outdoors!
If the sun's out, why not take whatever activity you're currently doing outdoors? Workouts are some of the easiest activities to take outdoors, but even reading a book or reading articles for your courses are some other activities that may be more enjoyable while surrounded by fresh air, sunlight, and fresh grass. If your home has a terrace then by all means make the most of it. I've heard of classmates who even take their online classes outdoors, so nothing is out of the question!
These are just some of the things that make Spring a season to really look forward to. So what are you waiting for? Stop reading this blog and enjoy the day outside!
About the author
Ariana
Hey! I'm Ariana and I'm a Costa Rican student with a passion for photography, dancing, and cute dogs. Aside from writing blogs, I'm doing my Bachelor's in Media Studies. If you see me around smiling at my phone, I'm probably looking at memes (or cute dogs).
Comments