8 Surprising Facts About Groningen
| | |
| --- | --- |
| Date: | 15 May 2021 |
| Author: | Luc |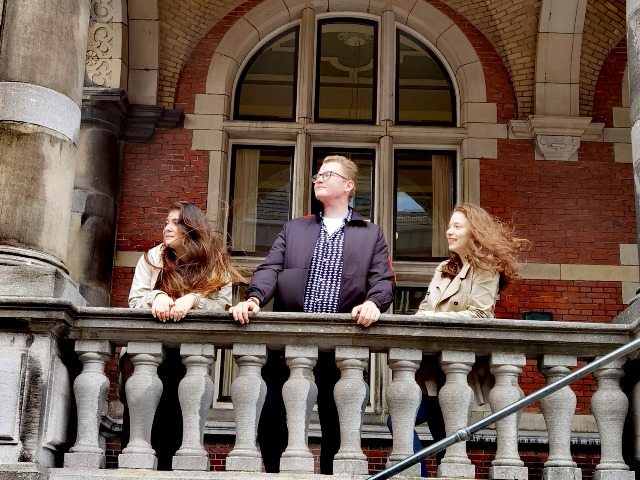 An internet search of Groningen will bring up information about the city like its location, population and age. I thought it might be more interesting to write about some lesser known and surprising facts about the city we call home.
1) Home to the most beautiful Albert Heijn in the Netherlands
If you find yourself strolling around the Vismarkt, you will come across a gorgeous neo-classical style building called the Korenbeurs. This national heritage site was once the home of a bustling grain exchange, where farmers and their clientele would trade. Its current tenant kind of does the same thing – Albert Heijn. You will probably not find a more beautiful supermarket for your weekly grocery run. This supermarket is super close to the Academy building, meaning that you'll always find students inside hunting for bonuses!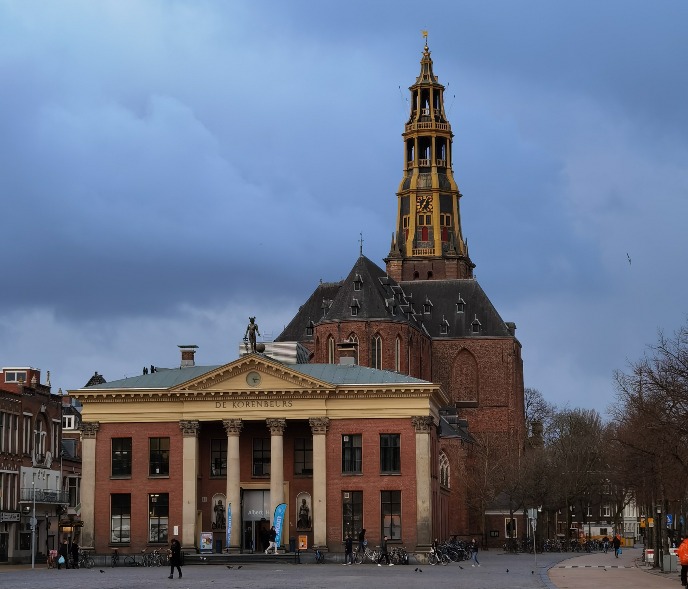 2) Martini Tower – shaken not stirred (three times, in fact)
Possibly the most iconic structure in Groningen's city centre is the Martini Tower. But did you know that the Martini Tower we know and love today is actually the third tower to be constructed on the site? The tower was originally built in the 13 th century, but was destroyed by a lightning strike. The tower was rebuilt, and it burnt down… due to lightning... again. But you'll be happy to know that it was built again and d'Olle Grieze ('the old grey one' – accurately named in the local Groningen dialect of Dutch) is still standing at 97 metres! If you are not a fan of walking up many flights of iron steps - take a trip to the top of the Groninger Forum and experience a beautiful view of the City and the Tower.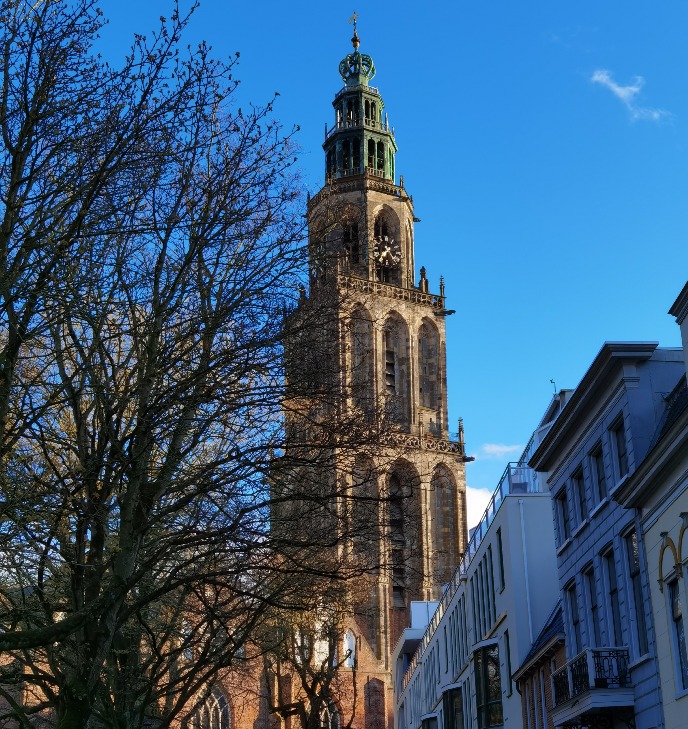 3) Art meets functionality
It's no secret that the art scene is very much alive and well in Groningen. You'll find eye-catching museums, galleries showcasing local talent and intriguing street graffiti. Possibly the most surprising of the artistic installations you will find in Groningen is a piece situated along the Kleine der A canal in the city centre. This striking glass structure showcases African inspired images and is constructed out of discarded glass from milk bottles. But what is surprising about this structure is its function as a public toilet. This blend of artistic expression and functionality was designed by Rem Koolhaas and Erwin Olaf, as part of an initiative to bring urban-planning and art together.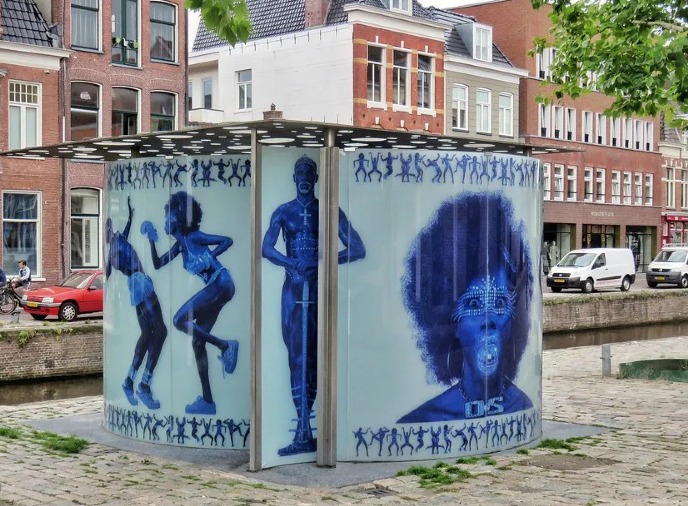 4) You've won… the right to design our town hall!
On the Grote Markt you will find the (newly restored) Groningen Town Hall. The building, with its imposing columns adorned with gorgeous embellishments, is the centre of Groningen's leadership. Its architect, Jacob Otten Husly, was not commissioned to design the building, instead he won the right in a competition!
5) Largest in Europe!
Groningen has around 250,000 residents which makes it a sizable town, but pales in comparison to Utrecht's 1.2million residents. The surprising thing about Groningen is that we offer 3 of the largest 'things' in Europe. The Drie Gezusters, situated on the Grote Markt is the largest pub in Europe, with a seating capacity of over 3,700 guests and has 20 bars under one roof! Every year, Groningen hosts the largest introduction week for new students in Europe – The Kei-Week. In pre-pandemic times, thousands of students would gather in the city and take part in hundreds of events, large outdoor parties and get to know the city. Groningen is also home to the largest man-made outdoor climbing wall in Europe, it is located near the Kardinge sporting complex.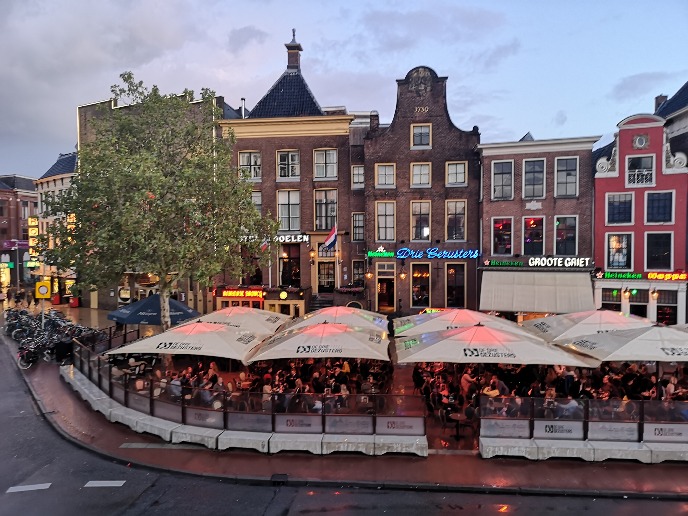 6) Birthplace of a 3-time Olympic gold medallist
Dutch swimmer Ranomi Kromowidjojo was born in Groningen and went on to win 3 gold medals representing the Netherlands at the 2008 and 2012 Olympic games. She has won a whopping 65 medals in championships around the world.
7) The most beautiful station in the Netherlands
As residents of Groningen, it is no surprise that we feel that our train station is far more beautiful than all the others. In 2019, Groningen's Central Station was named the most beautiful in the Netherlands in a poll answered by over 10,000 people organised by the Dutch Railways (NS). It is good to know that we are not alone in thinking that our station is the most beautiful.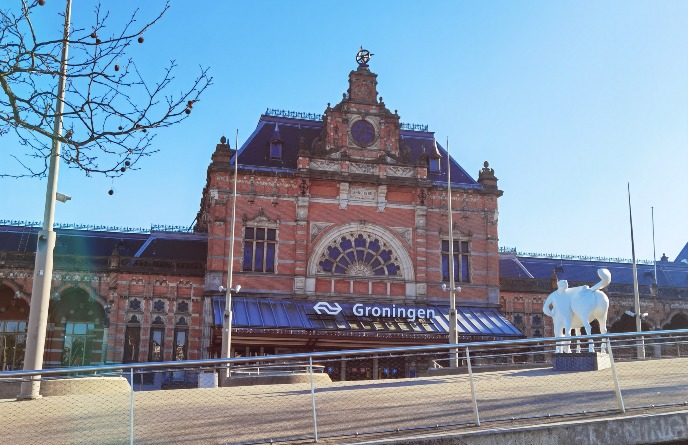 8) Aletta Jacobs is an important name for students… but not for obvious reasons
Aletta Jacobs is a name that all inhabitants of Groningen are familiar with. She was the first female student enrolled in a University in the Netherlands (in 1871). She was also a prolific activist who completed her medical degree at the UG. You can find a bust of her outside the Harmonie Building in the city centre. Students are filled with pride and fear when her name is mentioned – this is due to the fact that most students have taken an exam in the Aletta Jacobshal, and the mention of her name might bring back some stressful memories.
Delicious Bonus!
Did you know that Groningen is the home of a delicacy known as an Eierbal? This tasty deep-fried treat was created in Groningen. This 'egg ball' is a boiled egg crumbed and deep-fried in a tasty batter. If you want to try something new, you can get one in most 'food walls' in the city.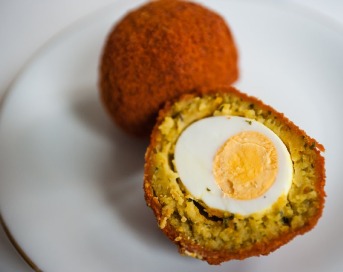 About the author
Luc
Hi there! I am Luc, a South African student of International and European Law. In my spare time you will find me consuming Netflix, playing guitar and singing, cycling around, spending time with friends and whispering "what a cutie" to every dog and cat that happens to walk past me in Groningen!
Comments