7 Unusual Home Exercise Solutions
| | |
| --- | --- |
| Date: | 26 March 2020 |
| Author: | Asmo |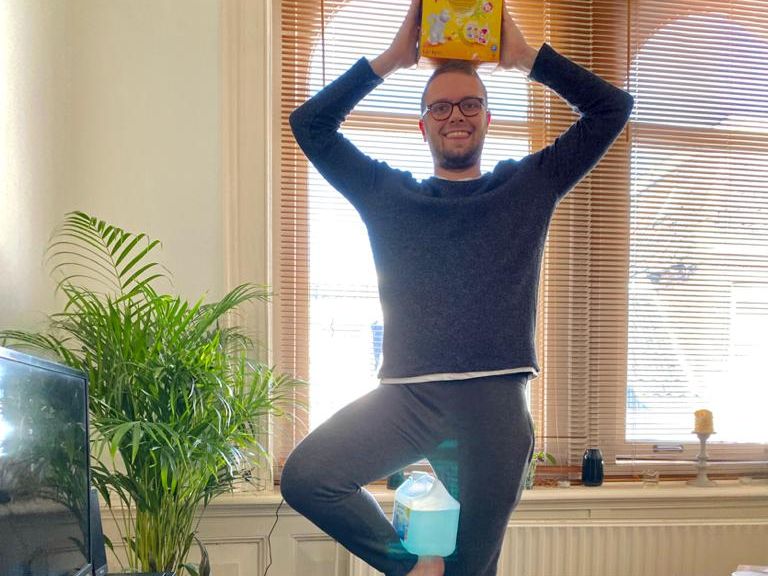 One of the most annoying parts of staying indoors is the lack of physical activity. However, keeping up with your fitness is incredibly important for both your physical and mental well-being. Of course you have probably read a lot of different fitness blogs on different body weight exercises and stuff like that. This is why for this blog I tried to come up with some 'creative' solutions to keep yourself moving at home. Some exercises are of course more serious than others, but hopefully you can manage to find some inspiration for what to do at home. Enjoy!

1. Weight training with DIY weights
If you don't have your own free weights at home, don't worry because you can make your own! When it comes to finding DIY solutions for this, there is practically no limit to your imagination, however, I have figured out 3 particularly good solutions for making your own weights. The first option is to find a large container of sorts (1,5l soda bottle, or even better, a large bottle of laundry detergent) and fill it up with water (and if you want to add weight, soil). The second DIY solution is to pack your favourite, heavy study books into a canvas bag. Both of these options are really useful dumbbell alternatives with which you can maintain your muscles. If you really miss going to uni, you can also try to recreate your typical commute there by simply adding some weights to a backpack and wearing it while doing squats.
2. Pillow exercises
Using your pillow to boost your fitness game is certainly not a new idea. It is a very convenient solution when you are stuck at home, and unless you are a Buddhist monk - you most likely will also find a pillow at home. For some inspiration, check out this page I found where there are a ton of examples shown in GIFs.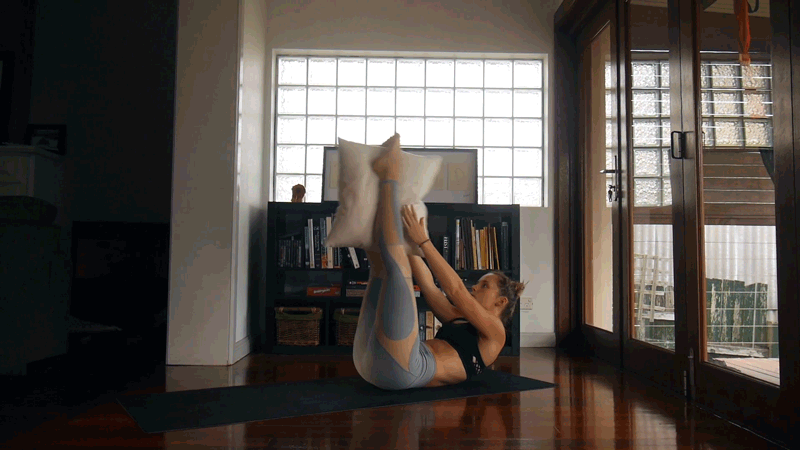 3. Toilet paper soccer
Now that everyone seemingly has a stockpile of TP at home, why not get creative with it? Seeing that most soccer games have been cancelled for the foreseeable future and playing around with a ball inside can be quite dangerous, combining your favourite game with a roll of toilet paper almost sounds logical (after 2 weeks of quarantine). All you have to do is set up a goal with some pillows and find someone to play against. If you don't have enough room, you can alternatively also try juggling a roll with your feet. Who knows, maybe this might become an actual sport once this is all over?

4. High-Intensity spring cleaning
I can already see your eyes-rolling on this one, but hear me out. Although, it sounds a bit ridiculous, the WHO actually classifies housework and domestic chores as moderate-intensity physical activity. The WHO recommends to do "at least 150 minutes of moderate-intensity aerobic physical activity throughout the week" to stay healthy. This means that if you go for an intense spring cleaning session lasting around 2,5 hours you should be good for the week. Additional benefit? You have a clean and most-likely germ free room.
5. Stairwell marathon
The steep dutch stairwell in your house has never served a more productive purpose than now. To get yourself a little cardio exercise, try climbing your stairs up and down multiple times in a row until you can properly feel it in your legs. You can even simulate a trip to the airport and imagine you are going to your favourite holiday destination by packing your suitcase and carrying it along at the same time! Just be careful not to run up and down too quickly and keep your hand on the railing, so that you don't fall. Also, I am not taking responsibility if your roommates hate you after you've run up and down the stairs with a heavy suitcase for 30 minutes.
6. TikTok Dance Routine
If you are over 25 years old, chances are that you have never even been on TikTok so let me explain the concept of this app quickly. The basic idea is that you upload a video that's a few seconds long , with some sort of music playing in the background. There are a bunch of different short dance routines that users upload which you can try to recreate at home. I know it sounds silly, but my girlfriend has tried to convince me to try to create one with her for so long now that I might actually give in soon.
7. Indoor Olympics
While it is still unclear whether the actual Olympics will take place this year, you can simply start your own indoor olympics to distract yourself. Just gather your housemates and come up with a number of different disciplines in which to compete. You can include some of the above exercises or come up with your own games - the only limit is your imagination!

Do you have any good exercises that you would like to recommend! Let us know in the comments below!
About the author
Asmo
Hey there! My name is Asmo and I'm a Finnish/German student exploring life in the Netherlands. Besides being into photography and politics, I am currently completing my double master's degree in European law and international law. Oh, and I write blogs as well.
Comments