5 Simple & Delicious BBQ Recipes to Make Your Summer
| | |
| --- | --- |
| Date: | 11 August 2020 |
| Author: | Asmo |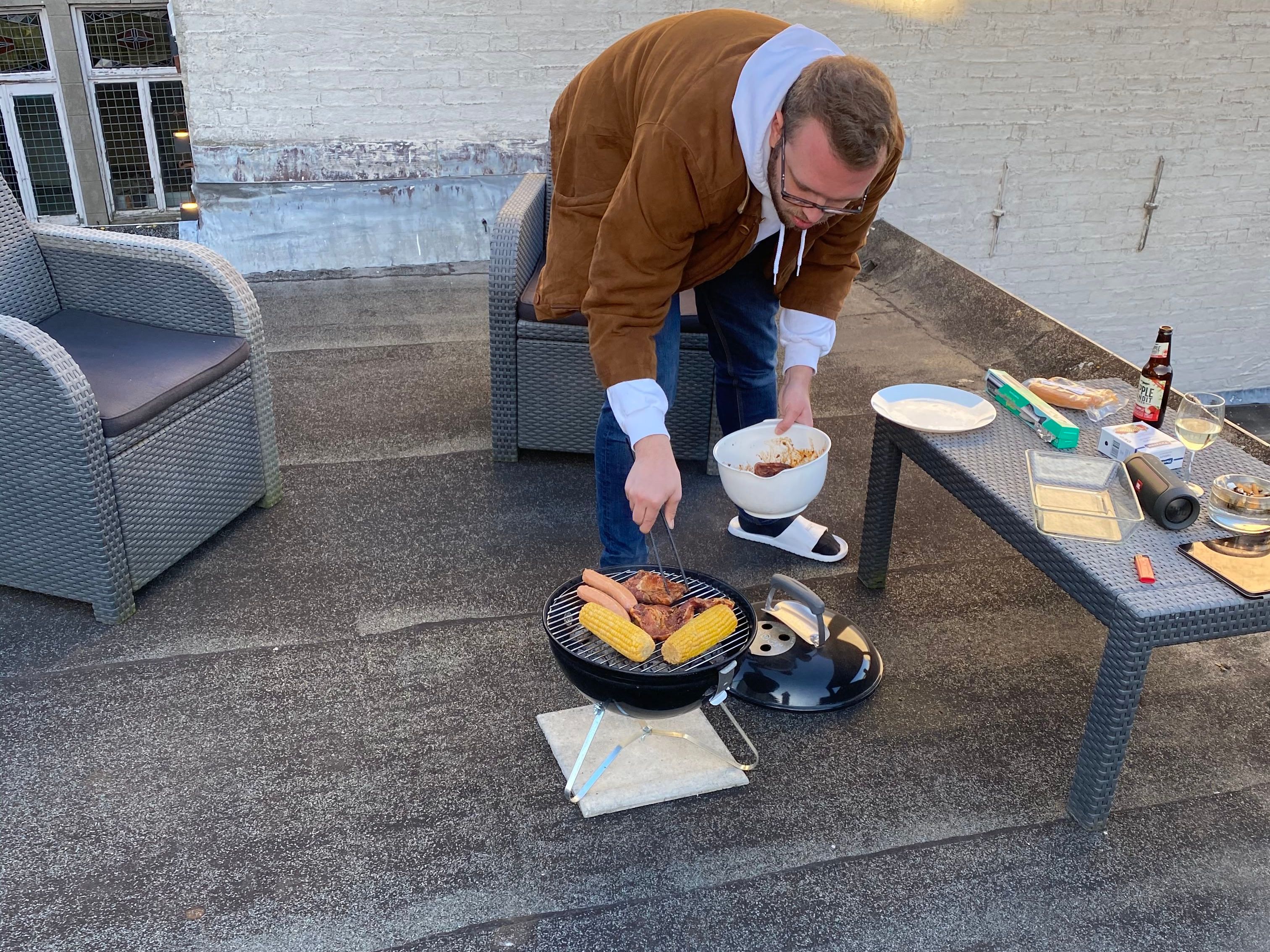 It seems as if after weeks of fairly (cough) modest weather, summer has finally arrived in The Netherlands. So what better way to enjoy the sun and work on that tan, than by cooking up some delicious food over your BBQ. For this blog, I collected some of my personal favourite recipes and I guarantee you that all of these are super simple to make. So get ready to fire up that grill and impress your friends!
1) Asmo's Simple Marinade
The basis of every good barbecue is a great marinade. Period. I've been making this one for years, tweaking it here and there occasionally, and it never fails to impress. The great thing about this is that you can whip it up in less than 10 minutes, but the result always tastes amazing. I mainly use this marinade for pork and chicken, but feel free to add anything you like to the mix.

What you need:
6 tbsp olive oil

5 garlic cloves

1 tbsp honey

3 tbsp Soy Sauce

2-3 tbsp ketchup

1 tbsp balsamic vinegar

1 tsp cumin

Salt (to taste)

Pepper (to taste)

Chilli powder (to taste)

Paprika powder (to taste)

Fresh basil (optional)




How to cook:
Mix everything together into one bowl

Marinate meat/veggies for at least 2 hours in the fridge
2) Carne Asada
If you've never had Carne Asada you have been missing out. But it's not too late to make things right, and believe me when I'm saying that you are in for a treat. Originally from Mexico, this dish takes a little bit of preparation, but I promise that it will be totally worth it in the end. Pair this with a fresh pico de gallo and some homemade tortillas and you'll have a party on your plate.
What you need:
700g iron/skirt/flank steak

2 limes (juiced)

4 garlic cloves

30g (or more) fresh cilantro

250 ml orange juice

50 ml olive oil

2 tbsp cider vinegar

1-2 chilli peppers (optional)

3 tbsp soy sauce

1 tsp cumin

Pepper (to taste)
How to cook:
Mix all ingredients to make the marinade. Then fill the marinade into a large ziplock bag.

Put the steak inside the marinade and give it a good mix. Let it marinate for at least 3 hours, but it is even better if you can do it overnight.

Preheat the grill until very hot. Get rid of any excess marinade and grill for 7 - 10 minutes per side. If you have a thermometer, the inside temperature should be 55 - 57 °C for a medium-rare bite. These steaks are best eaten medium-rare as they are very lean.

Important! Let the steak rest for 10 minutes. Also, make sure to

cut against the grain of the meat

in order to avoid chewy bits.

Serve with pico de gallo and flour tortillas. Enjoy!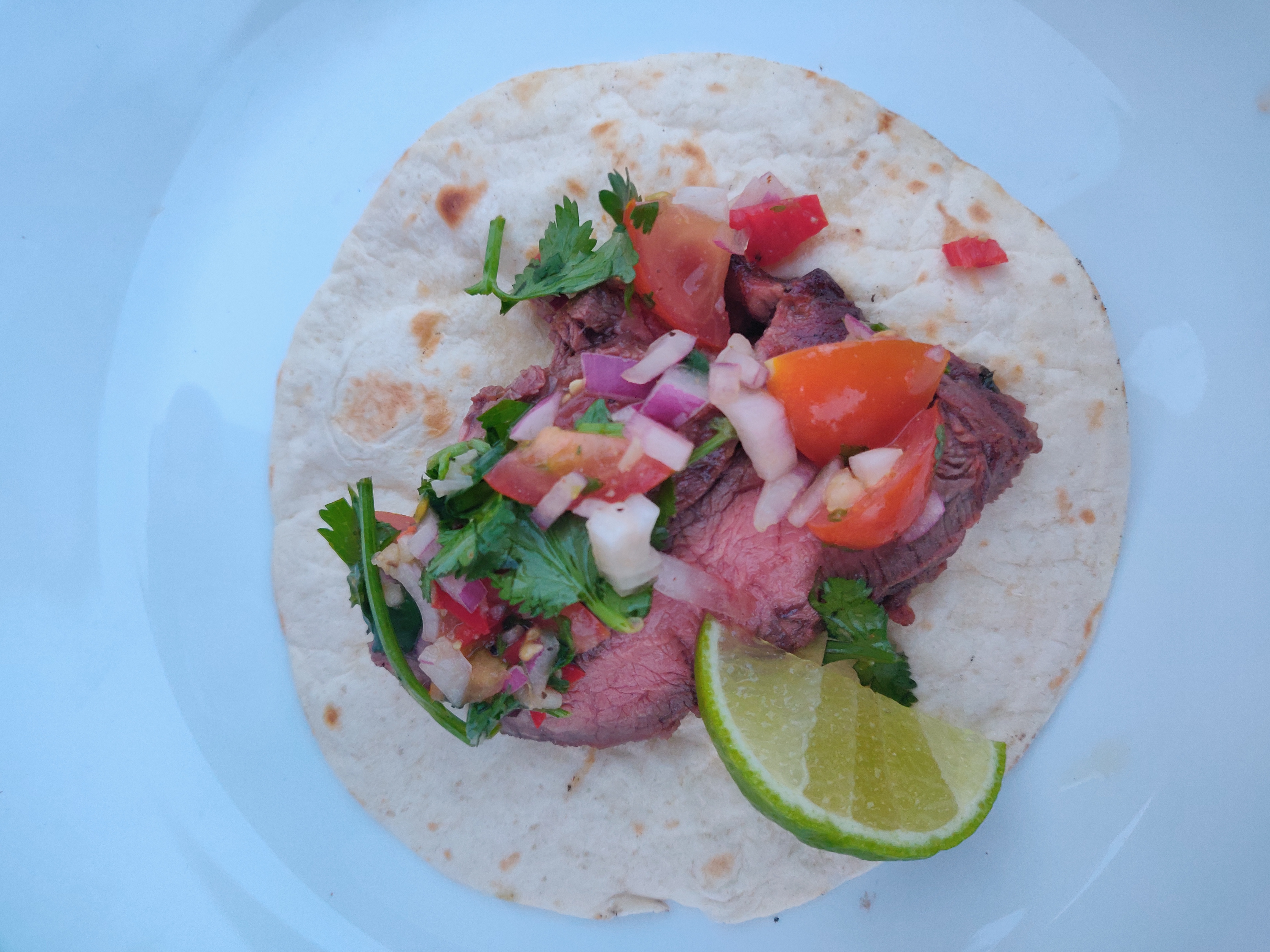 3) Glass Noodle Salad with Peanut Sauce
This cold glass noodle salad is the perfect side for any grill party. Easy to prepare in advance, this dish is also great to bring along to a potluck. Other than that, this dish speaks for itself.

What you need:
1 package of rice noodles

350g broccoli

2 bell peppers

1 shallot

1 fresh chilli pepper

2 tsp grated ginger

4 tbsp smooth peanut butter

2 tbsp soy sauce

2 tbsp honey

2 tbsp rice vinegar

100g chopped peanuts

Cilantro (optional)

Lime juice (optional)

Edamame beans/peas (optional)
How to cook:
Chop up all the veggies. Cook broccoli and peas/beans.

Cook rice noodles. Drain and rinse with cold water. Mix together with veggies.

In a small bowl, microwave peanut butter until melted. Add soy sauce, ginger, pepper, vinegar and honey and whisk until mixed well.

Pour dressing on top of noodles and veggies. Sprinkle with peanuts. Done!
4) Beer-Can Chicken
The beer-can chicken is a true BBQ classic (+ it looks really cool on the grill!). Also, don't worry if you are not that much into beer as the actual beer flavour is very subtle and you will barely notice it if you eat it together with a side dish or paired with a sauce. However, due to the slowly evaporating beer, the chicken stays extremely juicy and tender while still having that smokey grill flavour we all love. And that is exactly where the true beauty of this recipe lies.

What you need:
1 whole chicken

1 can of beer or radler (0,3l)

2 tbsp brown sugar

2 tbsp dry mustard

2 tbsp onion powder

2 tbsp paprika

2 tbsp salt

2 tbsp pepper

2 tbsp garlic powder

1 tbsp ground coriander

1 tbsp cumin

1 tbsp cayenne pepper
How to cook:
For the dry rub combine all spices in a bowl and mix well.

Pat off the chicken with a paper towel and drizzle with some olive oil. Evenly massage in the spice mix.

Heat grill until very hot. Discard half of the beer in the can (how is up to you ;) ). Place chicken onto the can.

Cook the chicken for 45 - 60 minutes by using indirect heat. Essentially this means that you have the source of heat on one side of the grill and the beer-can chicken on the other.

Let the chicken rest for 10 minutes after removing from the grill. Enjoy!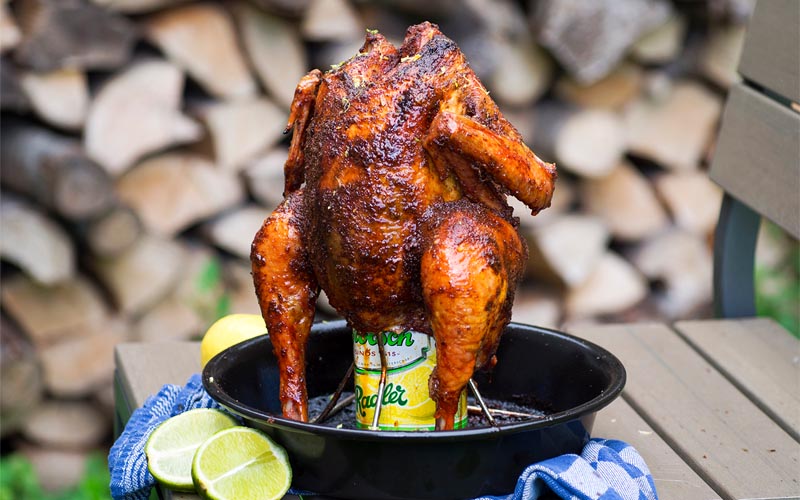 5) Grilled Halloumi with Watermelon and Basil-Mint Oil
Looking for something fresh and light that won't put you in a food coma? Then you have to try this recipe. The texture and saltiness of the halloumi paired with the juicy sweetness of the watermelon is an unconventional but great mix. Add the tanginess of the basil-mint oil and I promise your taste buds are going to have a fiesta.
What you need:
2 hands of fresh basil

1 hand of fresh mint leaves

2 garlic cloves

150 ml olive oil

350 g cherry tomatoes

500 g halloumi

½ watermelon

Salt (to taste)

Pepper (to taste)




How to cook:
Add a tiny bit of oil as well as the mint, basil and garlic into a blender. Blend until smooth. While the blender is still going add the rest of the olive oil.

Strain the blended mixture into a small bowl, so that you only have oil left. Add salt and pepper.

Grill cheese and cherry tomatoes until done. Slightly drizzle with basil-mint oil to add flavour.

Cut watermelon into triangles and arrange on a plate. Add halloumi and tomatoes on top and drizzle with basil-mint oil. Add some fresh mint and basil to garnish. Enjoy!
Do you have any BBQ recipes you would like to share? Let us know in the comments below!
About the author
Asmo
Hey there! My name is Asmo and I'm a Finnish/German student exploring life in the Netherlands. Besides being into photography and politics, I am currently completing my double master's degree in European law and international law. Oh, and I write blogs as well.
Comments