5 cheap and easy autumn student recipes
| | |
| --- | --- |
| Date: | 02 November 2022 |
| Author: | Hylke |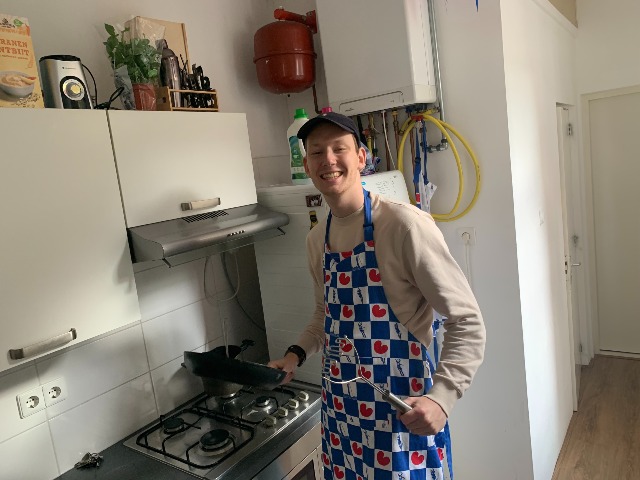 Autumn is really here, so nothing beats something warm and tasty during a long day of studying! Here are five budget-friendly, easy, and incredibly delicious autumn recipes recommended by students. Spoiler: they contain lots of cinnamon, pumpkin and sweet potato. Could it get any more autumnal?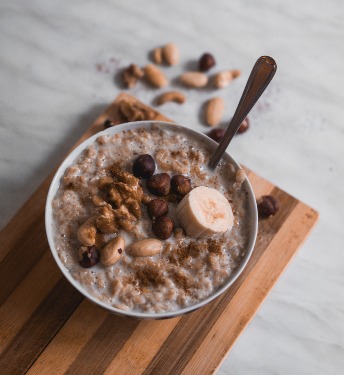 Avital's oatmeal breakfast
Now that the days are colder and it's still quite dark in the morning, it's nice to give yourself a warming breakfast to start the day with. My favourite breakfast for the autumn and winter months is porridge. Yep, just like the porridge your grandma eats - but fancy. This porridge is healthy, tasty and will keep your stomach full for quite some time so you can power through your morning classes.
What you need:
Oats
Cinnamon
Water or (plant-based) milk, depending on your personal preference
Frozen or fresh fruit, I recommend frozen blueberries and mango, or nectarines and banana
Seeds and nuts - e.g. pumpkin seeds, walnuts
Grated coconut
Honey or plant-based alternative
How to make it:
First, mix about 40gr of oats with a teaspoon of cinnamon in a bowl. Bring about 200ml water to a boil in a little saucepan or, if you're using milk instead, heat up the milk. Add the oats with cinnamon and stir regularly so the oats don't stick to the pan. When the mixture starts to thicken, add your frozen or fresh fruits. In case you're choosing banana, I recommend adding it as a topping at the end instead so it doesn't get all mushy but that's up to your personal preference. Stir again until the frozen fruit is all soft and then serve the porridge in a bowl. Now you can add the toppings, such as seeds and nuts, some grated coconut and a swirl of honey or plant-based syrup for some extra sweetness. All in all, this takes less than 5-10 minutes to make and it's much nicer than starting your day with a cheese sandwich (sorry Dutchies!). Enjoy!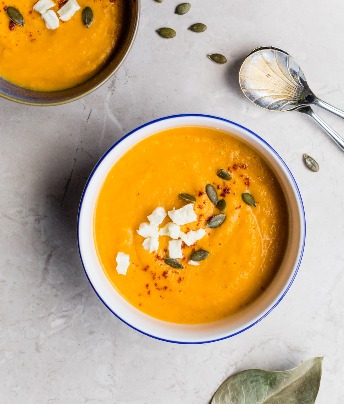 Anne's sweet potato and peanut soup
This soup was not introduced to me as a traditional meal with any specific roots, although it's probably a simplified version of an African sweet potato soup. I learned it from an old roommate and have been making it as soon as the weather gets colder. It's a great, hearty meal that tastes impressive for its price and easiness to make. Because the soup has the autumnal flavours of sweet potatoes and bouillon as well as the flavours of peanuts and coconut milk, you can add basically anything to it to personalise the dish. I've seen people add things like sambal (as a topping), cremé fraîche, scallions, pumpkin, carrots, and other vegetables. There are definitely lots of variations to try out and enjoy!
What you need:
Sweet potatoes from the local market
Vegetable bouillon (blocks or fond)
Coconut milk
Crushed peanuts (or you could use peanut butter!)
How to make it:
Cut the sweet potatoes and put them in a pot together with the vegetable bouillon. Bring the soup to a simmer and let it cook until the sweet potatoes are soft and falling apart. In the meantime, puree the coconut milk with the crushed peanuts. When the potatoes are soft, puree the soup as well. Then add the coconut and peanut mixture to the soup and stir it to combine. You can preheat the soup if you want. Serve the soup in a bowl with a topping of your choice. Enjoy!
You can find the precise ingredients and specific instructions here.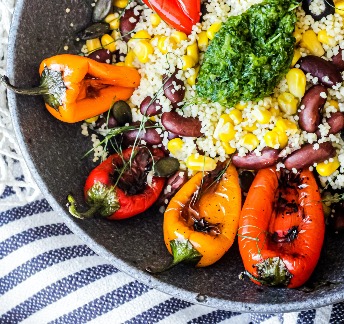 Hylke's roasted vegetables with couscous
This recipe is definitely not traditionally Dutch, but very autumnal because of the spices in it! It's perfect as lunch, if you fancy something warm and filling during these colder days, or as dinner. I love it because you don't have to use specific vegetables to make it, you can just add whatever vegetables you have left over. One of my friends introduced the meal to me - who improvises lots of his meals - so I can't give you the specific amounts. Fortunately, making it can't really go wrong as long as you keep an eye on the veggies in the oven!
What you need:
Couscous (natural, or lemon-flavoured)
Vegetable bouillon
Pumpkin
Potatoes
Flat green beans
Paprika
Courgette
Red onion
Tomato frito
Garlic powder
Paprika powder
Ginger
Cinnamon
Onion powder
Coriander seeds
Cumin seeds
Oven dish
How to make it:
First, preheat your oven to 180 °C. While it's preheating, cut your vegetables. I recommend cutting the red onion in slices, cutting the other vegetables in blocks, and leaving the flat green beans uncut. Then, mix your vegetables with the spices (to taste, but 1 teaspoon of each is also fine) and the tomato frito in a bowl. Put the mixture in the oven dish and put it in the oven for around 30 minutes, but keep an eye on it to make sure they don't burn! If they're a little brown, that's perfect. In the meantime, prepare your couscous with vegetable bouillon according to the instructions on the package. When the veggies are roasted, serve them on top of the couscous and enjoy!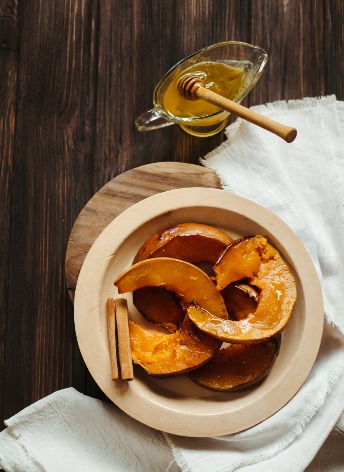 Maria's Bulgarian baked pumpkin
This is the perfect autumn recipe for those rainy days when you just want to treat yourself with something sweet. In my home country, Bulgaria, we often eat this during the pumpkin season, when pumpkin stands start flooding the streets (literally). I love it because it's a low effort alternative to the Bulgarian Tikvenik, which is a kind of strudel with pumpkin and cinnamon filling. On top of that, it is a very macro friendly dessert (you can eat it with some Greek yoghurt for an extra protein boost).
What you need:
Pumpkin (both raw and frozen are fine)
Honey (to taste)
Cinnamon (to taste)
Walnuts (or other any other nuts that you like)
How to make it:
Preheat the oven to 200 °C. Clean and cut the pumpkin, put it in a baking dish, add some water and bake it in the oven for around 40 minutes. Then add cinnamon, chopped walnuts and honey to taste and enjoy! Very easy and deliciously sweet.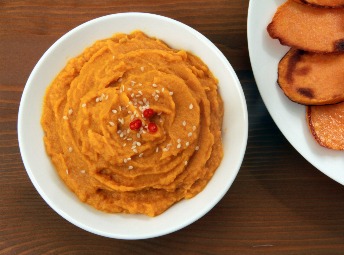 Sander's sweet potato stamppot with chorizo
As you may know, we Dutchies love mashed potatoes with all kinds of vegetables. So, let me introduce you to an elevated mashed potato dish! The first time I ate the stamppot was a couple of years ago, when a friend of mine - who is really into cooking - introduced it to me during one of our dinners together. It has been one of my favourites ever since! I love it because it's tasty and budget-friendly which makes it an ideal recipe for any student.
I recommend using enough sweet potatoes (a little bit more than you would usually do), because when you mash everything, the sweet potatoes will disappear into thin air. For me, what makes this dish so tasty is the chorizo. That's why, if you want to upgrade this dish even more, you should definitely bake the chorizo with some honey as it is a real game changer. Don't worry if you don't like to eat meat, even without the chorizo this dish has enough flavour. Hopefully you will like this elevated Dutch sweet potato stamppot!
What you need:
Sweet potatoes
Spinach
Chorizo (optional)
Sun dried tomatoes
Feta cheese
Pine nuts (or another type of nuts)\
Olive oil
Salt and pepper
How to make it:
Start by peeling and cutting the sweet potatoes. Put them in a pot with water and let them boil for 20 minutes until they are soft. In the meantime, cut the chorizo and the sun dried tomatoes. Bake the chorizo and roast the pine nuts until they're golden brown. When the potatoes are soft, drain the pot, but make sure to save some of the water in a cup. Mash the potatoes, add a little bit of olive oil and the saved water to make it creamy. Add salt and pepper to taste. Then mix the chorizo, spinach and sun dried tomatoes through the mash. Serve on a plate with feta and roasted pine nuts on top. Enjoy!
You can find the specific instructions here.
These are some go-to autumnal recipes of students! Hopefully, you will enjoy them just as much as we do. Do you have a recipe you always make when the days are getting colder? Let us know in the comments!
About the author
Hylke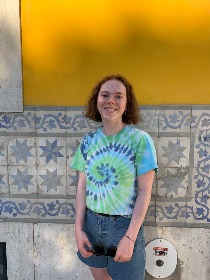 Hiya! I'm Hylke, a Dutch MA English Literature student. People often ask me if I'm Frisian, but sadly I'm not; I just have a Frisian name. I love reading, writing, meeting with friends, and the colour yellow, so much so that I take pictures of every yellow wall I can find!
Comments