5 Activities to Enjoy the Water this Summer
| | |
| --- | --- |
| Date: | 08 June 2021 |
| Author: | Ariana |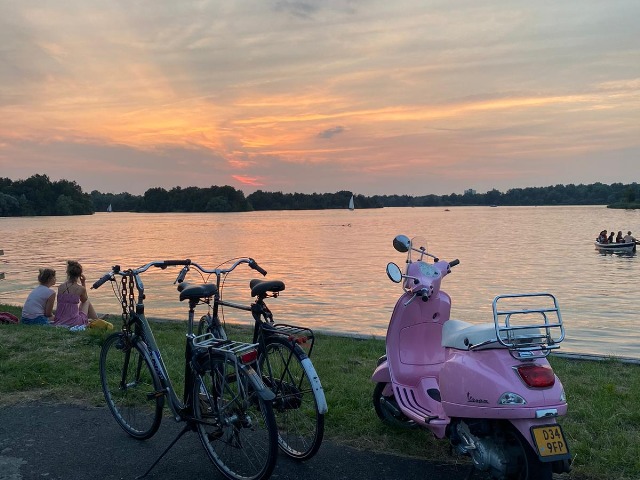 The warm days are finally here, and with them comes a period of happiness in Groningen. Not only do the warmer temperatures signal that the academic year is coming to a close, but also that the cold has finally been replaced by clear skies and sunshine. Summer in Groningen can be incredibly fun. As the days get hotter and hotter, the Dutch and internationals alike flock to any place that has water in order to take a refreshing dip. It's no secret that Dutch people love the water and the summer, which is why they often hit the beaches towards the Western coast of the country. However, it's not necessary to take a long trip in order to have fun this summer. In fact, there are plenty of activities to enjoy Groningen and its surroundings in a different light. Here are 5 of my favourite:

1. Stand-up Paddleboarding (also known as SUP)
SUP is an activity that everyone can enjoy. Compared to other more extreme sports which also involve a board, such as surfing or snowboarding, SUP is like the mellow cousin who's just there for the chill vibes. All it involves is paddling through the water while standing up. There are several locations in Groningen where you can do SUP, such as in the city centre canals or the Hoornsemeer. Furthermore, this activity is quite versatile, as you can enjoy it on your own or with a group of friends. Because you'll all have a separate board, it can also be a corona-safe activity. Make sure to wear clothing that is comfortable and water-friendly, especially if you're a beginner (hint: you can, and most probably will fall off the board a couple of times). It's all in good fun, though!
2. Kayak/canoe
If you haven't yet explored past the limits of the city of Groningen, this summer is the perfect time to do so! Just right outside of Groningen, you'll find plenty of spots where you can enjoy a paddle through nature on a canoe or kayak. The best thing is you can always make this trip as adventurous as you like—for example, go on your bike instead of taking public transportation. Some popular places outside of Groningen to kayak are Haren, Winsum, or Uithuizen, but there are many more! A simple Google search for 'kayak Groningen" will be enough for you to find some. However, if you really don't want to leave the comfort of the city, you can of course find a canoe rental in Groningen's canals. It's a very entertaining way to get some sun and explore Groningen from a different perspective, and it'll make for a very refreshing summer experience.
3. Boat canal tour
Perhaps one of the most popular summer activities amongst students in Groningen is renting a boat and traveling along the canals, a.k.a rondvaarten. If you walk alongside them and hear some loud music and laughter approaching, look down! It's most likely a group of students on a boat, and if they look like they're having a better day than you are, it's because they probably are. The good news is that you can enjoy that too! Boat rentals are common in Groningen, and you can book several types of packages. Some include food, and some include drinks, while others work on a BYOB type of situation. Of course, if the rowdy student life is not for you, there are always other rondvaarten options you can choose from, such as a historical tour.
4. Swimming
Of course, students' actual favourite activity is swimming. Whether it's in a pool, a lake, or a canal, you'll always see students flocking towards any place that has water. The Netherlands can get quite hot and dry during the summer, and with houses that are designed to retain heat for winter months, spending the day inside is like being in a sauna. How to solve this problem, you may ask? By taking a dip in the water! If at first the water seems a bit sketchy (because who wouldn't think twice before jumping into canal water), just remember that the Dutch have been doing this for ages and they're still alive. And if that's not enough reason to convince you to jump into the nearest lake, canal, or 'beach', I'm sure the scorching heat will be. All jokes aside though, swimming in the lakes is a lovely, cheap, and safe way to cool off; however, if you really feel like this is not your vibe, you can always visit one of the swimming pools around the city! A really popular one is the Papiermolen towards the West of Groningen. Of course, you'll always need to check for the corona regulations when attending in order to make sure the experience is as fun and safe for everyone.
A quick note: always make sure you double-check before going to swim at a lake, as sometimes bacteria can develop in the water during the hot summer days that can make you sick. If this happens, you'll see signs at the location warning you about 'blauwalgen'. However, there's an even easier way to check if the water is fine without going to the place, by checking the online map.
5. Trip to the Wadden Islands
A beautiful and peaceful alternative to these past summer activities is taking a trip to the Wadden Islands. After getting to the coast via car, train or bus, you can take a ferry up to the islands on the Wadden Sea. These islands are known for their beaches, landscape, and their cute lighthouses! You can take a trip for a day, or even better, stay over for a couple of nights and invite yourself to relax amidst the lovely scenery. The Wadden Sea is also a place of great importance for marine life, and it is a very interesting place to discover as well. Not only can you learn about the seals and other marine species that populate the sea in one of the marine conservation centres, but you can also explore the Wadden Sea by literally walking on it (and no, I'm not suggesting you have to suddenly recreate a biblical event). Depending on the tide, the sea levels lower and leave way for miles and miles of muddy sand which you can hike through with a guide. All in all, the Wadden Islands offer tons of fun, delicious food, and a different way to explore Dutch culture.

I hope these recommendations inspire you to do some activities and enjoy the fun in the water this summer! Am I missing something? Let me know in the comments below.
About the author
Ariana
Hey! I'm Ariana and I'm a Costa Rican student with a passion for photography, dancing, and cute dogs. Aside from writing blogs, I'm doing my Bachelor's in Media Studies. If you see me around smiling at my phone, I'm probably looking at memes (or cute dogs).
Comments