4 Things International Students Should Know Before Moving to Groningen
| | |
| --- | --- |
| Date: | 27 January 2021 |
| Author: | Luc |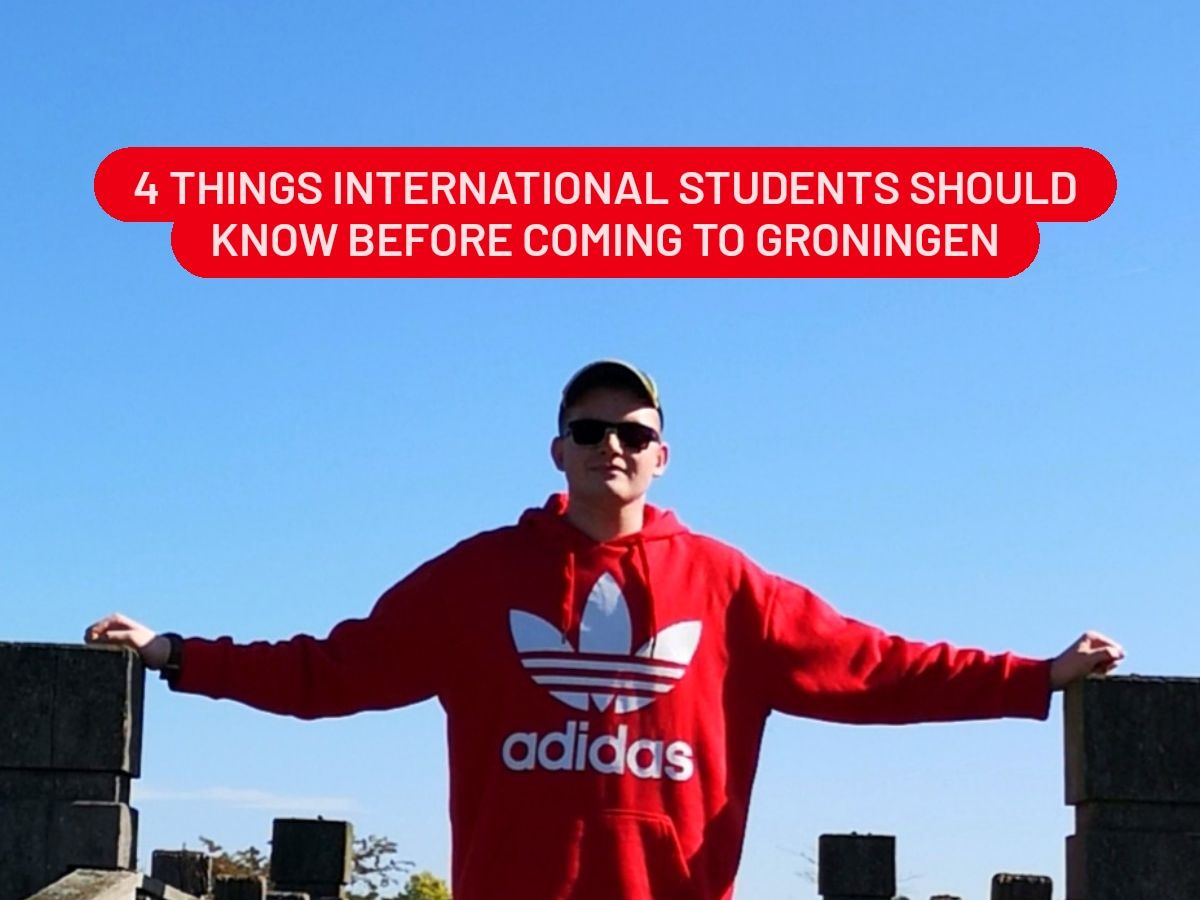 When first arriving in Groningen as a brand-new international student, there are a few basic things that everyone should know. This blog will let you know all about the basic elements of life at the University of Groningen and give you some tips to hit the ground running!
1) Look for Accommodation Early!
Finding accommodation in Dutch student cities has proved to be challenging, and this goes for Groningen as well! While searching for housing in a foreign country might seem like a daunting task, you don't have to worry about it as long as you start on time.
I recommend you to start looking into your housing options already, so as soon as you hear back from the Admissions Office, you'll be able to reserve one right away. For a first year, the easiest option – and perhaps the most 'socially friendly' would be living in one of the SSH buildings found in Groningen. The UG reserves around 1,500 rooms with SSH for first year students.
In my first year in Groningen, I stayed in an SSH, and it was such a great way to meet other internationals and make friends on my first day in Groningen! I really enjoyed the experience and the friendships made during my time at SSH are still alive.
Accommodation in Groningen can also be found in a number of other ways – through AtHomeInGroningen, Kamernet, Facebook and private rental agencies.
For more information about finding accommodation in Groningen, be sure to read Asmo's step-by-step guide for some useful tips.
2) Be Prepared to Fall Off Your Bike
One of our major themes here in the blog writing team is biking around town. This is because your bike, during your time in Groningen, will become your best friend – or worst enemy!
Biking in Groningen is generally very safe, efficient and healthy. But if you are an inexperienced cyclist, you may be overwhelmed at first, especially when you see a Dutch person cycling past you with the contents of their home on their back wheel and their friend on the front, while you struggle to keep yourself upright. Don't worry too much, with some practice and a few fumbles you'll be ready to transport anything, while cycling hands-free around town! The ESN even offers an introduction to biking in the Netherlands course in their introduction week!
Getting yourself familiar with the rules of cycling and a few biking tips will make the transition from walker to biker a smooth one. Read Danique's biking tips to help ensure that you stay upright, while doing it right.
3) Academic Life
Academic life in Groningen and in the Netherlands in general might differ quite a bit from the education system you are used to in your home country. But don't worry - you'll adapt in no time at all!
At the University of Groningen, for many programmes a lot of emphasis is laid on self-study. The typical work week for students is 40 hours, which is composed of classes and self study. The amount of class-time differs per programme, but on average, it's between 16-20 hours per week. This means the other 20 hours you should spend studying the material yourself. This requires a lot of discipline and some good time management. Time management can be a challenge, especially for new students. Luckily, our Student Service Center offers workshops in learning how to study and manage your time effectively. Of course, you can always contact your study advisor or professors if you are struggling, and they'll be able to help you!
The grading system in the Netherlands' higher education is different to what you might know from high school. In the Netherlands, you receive a grade between 0-10, where 5.5 (rounding up, a 6) is a passing grade. A 7 is more than satisfactory, it's like owning a Smart Car, it's useful for narrow city streets and it is great on fuel! Well done! An 8 is gr8! If you get an 8, you should be very pleased with yourself, only around 14% of students get one! A 9 is divine! You have done the impossible, you have successfully given your professor very little to comment on. A 10 is, well, is that even possible?! If you get a 10 you might as well go to the Guinness Book of World Records and register yourself for the category of 'absolute academic perfection!' If you want a more detailed explanation of grades, take a look at Asmo's blog!
4) Finding a Taste of Home in Groningen
Food. We all need it to survive, but I need food to thrive! I am quite content with helping flatten the corona curve, while fattening my corona curves. Food is such an integral part of our respective cultures, and while living in Groningen will provide you with plenty of opportunities to embrace Dutch cuisine, a taste of home is something that you just can't beat.
Lucky for us, Groningen, being the multi-cultural place that it is, hosts many diverse international food shops and markets!
Asian Supermarkets
Groningen has several supermarkets which stock Asian produce – like wonderful spices, sauces, fresh foods and snacks. The most noteworthy among the Asian supermarkets is the Amazing Oriental store on the Korreweg! It is really big, quite reasonably priced and stocks everything. They also sell foods from the US – so if you're looking for Fruit Loops, this is the place for you!
Middle Eastern Stores
If you are longing for a taste of the Middle-East / North Africa, fragrant spices and gorgeous fresh produce and homemade delicacies, look no further than the famous Le Souk, this North African bakery and deli is filled with olives, breads and hummus! At the Al Nour supermarket in Selwerd and at Nazar, you'll find halal meats, fresh produce and cheeses!
The Groningen Market
The market is hosted at the Vismarkt on Tuesdays, Fridays and Saturdays. This is a great place to pick up some wonderful fresh produce, at a really good price! You can even find Biltong and Boerewors – for my fellow South Africans. Fresh fish is also found at the market. Remember to take your student card, as many places offer a discount!
Other Stores
The Russian Shop Vjatka (Nieuweweg 19) offers a great range of Russian and Balkan products. The Polski Smak (Nieuwe Ebbingestraat 84) sells wonderful Polish products and delicatessens. Do you want something Randi Scandi (random and Scandinavian) – go to IKEA (my personal favourite day out).
If you have chosen to come to Groningen to further your academic journey, all I can say is we look forward to having you in the city, and I hope that these few tips will help you make the most out of life in Groningen!
About the author
Luc
Hi there! I am Luc, a South African student of International and European Law. In my spare time you will find me consuming Netflix, playing guitar and singing, cycling around, spending time with friends and whispering "what a cutie" to every dog and cat that happens to walk past me in Groningen!
Comments