Academic calendar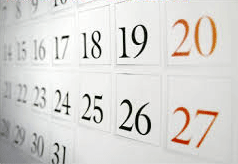 Academic Year
The Academic year at the University of Groningen starts on the first monday of September. The academic year is divided into 4 blocks of 10 weeks each. These blocks of 10 weeks include both teaching and exams. The semester format in 2023-2024 consists of four blocks. The first two blocks together form the winter semester; blocks 3 & 4 form the summer semester. Resits are scheduled untill mid July 2024. Students are advised to always check with their study programme for the exact dates of exams and resits.
Opening Academic Year
In principle the opening of the Academic Year takes place on the first Monday of September. Once every few years there is an exception and the Opening takes place on the last Monday of August.
College-year

Opening Academic Year /
Start semester 1

Start semester 2

End semester 2

Last exams

BSA-deadline

2022-23

5-9-2022

6-2-2023

23-6-2023

14-7-2023

28-7-2023

2023-24

4-9-2023

5-2-2024

21-6-2024

12-7-2024

26-7-2024

2024-25

2-9-2024

3-2-2025

20-6-2025

11-7-2025

25-7-2025

2025-26

1-9-2025

2-2-2026

19-6-2026

10-7-2026

24-7-2026

2026-27

31-8-2026

1-2-2027

18-6-2027

9-7-2027

23-7-2027

2027-28

6-9-2027

7-2-2028

23-6-2028

14-7-2028

28-7-2028
| | |
| --- | --- |
| Last modified: | 28 August 2023 3.50 p.m. |