Student Information & Administration
First, please check out our overview of Frequently Asked Questions (FAQ) about enrollment and tuition fees.
If you still have a question you can always contact us.
What does Student Information & Administration (SIA) do?
At the Student Information & Administration (SIA) you can among other things ask questions about:
Application and admission of students
Final registrations
Verification of passports and ID cards
Information about Studielink (with regard to application)
Information about Selection and placement (fixed quota programmes)
Tuition fees
Invoice, proof of payment tuition fees or BBC
Organization and management of central production diploma
University card
Request for a statement
Certified copy of your UG- diploma
Admissions status
OAS questions
Submitting Certified copy of your international diploma for Admissions procedure
General information for students with an international diploma
Bachelor degree programme
Master degree programme
Registration problems with Studielink
You need a Studielink account if you want to register for a degree programme at the University of Groningen. When creating an account, your personal data will be verified.
Create your account on time
In order to register for your degree programme in time, you must create your Studielink account well in advance of the application deadline of your chosen degree programme. The application deadline can be found on the degree programme page.
Verification personal details in Studielink
In order to create a Studielink account your personal details must first be verified.
Do you have a Dutch residential address?
If you have an official home address in the Netherlands, you must create an account by logging in with your DigiD. Your personal details are automatically verified via DigiD.
Do you not have a DigiD?
If you do not have a DigiD and cannot apply for a DigiD, your identity will need to be verified by other means in order to create a Studielink account. You must upload a scan or photo of you passport or European identity card in Studielink, where its legitimacy and completeness will be checked.
If you are unable to scan your ID or if you run into other difficulties, please check the Verification personal details & Studielink page or report your issue to Studielink.
What requirements must your ID card meet?
Your passport or European identity card must have a so-called Machine Readable Zone (MRZ). These are two lines at the bottom of your ID (see image below). This is stated on the front of the passport, on the European identity card these lines often can be foun on the back.
If your ID does not have a MRZ, please apply for a passport or European identity card with your local government autority.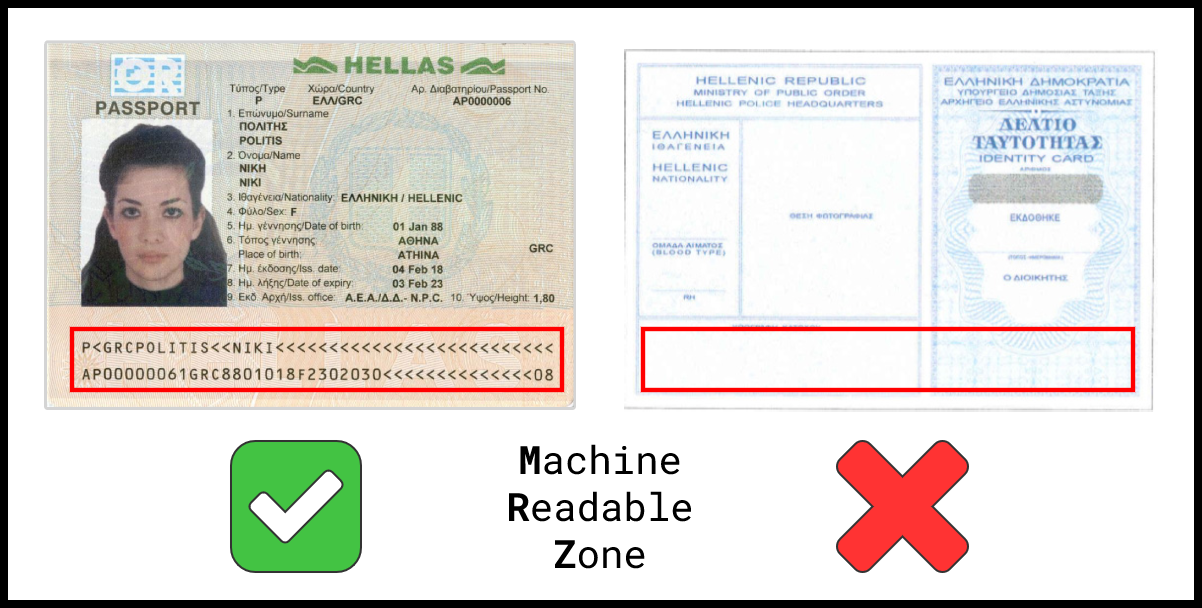 Studielink cannot solve your problem
If you are unable to resolve the matter with Studielink, you can submit your problem to Student Information & Administration using this form.
Desk
First floor of the west wing of the Academy Building (Broerstraat 5).
---
Telephone
+31 (0)50 363 8004
Weekdays between 10 a.m. and noon and 1 p.m. until 4 p.m.
---
Email
You can ask your question via our online contact form.
Postal address
University of Groningen
Student Information & Administration
PO Box 72
9700 AB Groningen
The Netherlands
Request for a statement
Via the Application form statements you can request the documents mentioned below:
Statement of enrolment*

Proof payment tuition fees (BBC) for the purpose of enrollment at a second institution

Proof payment tuition fees for personal use

Examination statement

Certified copy of UG diploma

Declaration of deregistration
* From the moment you are officially registered for the academic year, you will automatically receive the statement of enrolment by e-mail within 2 working days. In addition, from that moment on you can also download the statement via the Student Portal. Go to UG tools and click on 'Statement of enrollment and photo'.
Certify your documents
It is possible to fulfill your provisions by showing us your original documents. Please make sure to bring originals and copies of the original document so we can certify and collect these after seeing the original documents. This will only be possible for the admission procedure if you want to start with a programme.
If you need to have your GMAT or English test certified as well, please bring the original together with a copy as well.
If you need to certify your University of Groningen diploma please bring the original and copies of the original diploma so we can certify your copies right away at our desk.
Verification
New privacy legislation came into force across the European Union on 25 May 2018. As a result, we are no longer permitted to give personal information to third parties.
This means that requests for verification can only be submitted by graduates themselves via the Verification request form.
Changed opening hours
Frontoffice of the Student Information & Administration is closed on:
| | |
| --- | --- |
| Last modified: | 29 September 2023 2.25 p.m. |