Vera, Communicatie- en informatiewetenschappen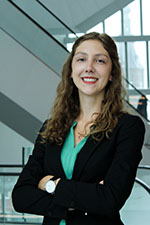 Toen ik op de middelbare school zat, wist ik niet gelijk wat ik wilde gaan studeren. Mijn profiel was NT en ik was goed in wiskunde, maar ook talen vond ik erg leuk. Aangezien ik graag iets met wiskunde wilde doen, maar geen pure wiskunde wilde studeren, kwam ik terecht bij Econometrie. Dit bleek echter niet echt de studie voor mij te zijn. Ik miste de sociale kant bij deze studie dus ben ik gaan kijken naar Sociologie, Psychologie en Communicatie. Na gesproken te hebben met studenten, docenten en meeloopdagen te hebben gevolgd, wist ik het zeker: Communicatie- en informatiewetenschappen (CIW) was de juiste studie voor mij.
Het leuke aan CIW is dat het erg breed is en voor een universitaire opleiding toch nog wel praktisch en interactief. De studie is in het Engels en Nederlands te volgen. Ik heb zelf gekozen voor de Engelse track aangezien ik het fijn vind om in het Engels te studeren en ik door deze variant meer in aanraking kom met internationale studenten. De vakken bij CIW zijn erg divers. Je leert over hoe communicatie werkt, hoe je communicatie kunt verbeteren en hoe je communicatie kunt meten. Er zitten aspecten in zoals taalwetenschap, psychologie, sociologie en marketing. Je hebt niet alleen tentamens maar ook veel (groeps)opdrachten bij deze studie.
Ik heb ervoor gekozen om in mijn tweede jaar een bestuursjaar te doen bij de studievereniging Commotie (dit is niet hetzelfde als een studentenvereniging, zoals Vindicat, die voor studenten in het algemeen is en niet studie-specifiek). Als voorzitter van Commotie heb ik zoveel geleerd. Ik ben veel in contact met docenten, studieadviseurs, bedrijven op het gebied van communicatie, de besturen van andere verenigingen en (nieuwe) studenten CIW. Hierdoor heb ik niet alleen mijn netwerk ontzettend uitgebreid, maar heb ik ook echt geleerd om uit mijn comfortzone te stappen door presentaties en speeches te geven, beleidsplannen te schrijven en het gezicht te zijn van de studie.
Qua studies en banen kijk ik altijd naar wat ik leuk vind op dat moment. Communicatie is heel breed en een goede basis, maar mocht ik toch een andere studie nodig hebben voor een baan die mij later interessant lijkt dan kan ik altijd nog een pre-master en vervolgens de master volgen.
De tip die ik graag aan toekomstige studenten wil meegeven: ga naar open dagen, meeloopdagen, volg een webclass en praat met studenten die de studie volgen die jij interessant vindt! Zo kom je er echt achter wat leuk en niet leuk is aan de studie en of het een match is voor jou. Maar uiteindelijk zul je een keuze moeten maken en niet bang zijn om eventueel te moeten switchen. Ik heb ook niet direct de 'goede keuze' gemaakt, maar ik zie het absoluut niet als een verloren jaar!
Heb je vragen over studeren in het algemeen, CIW, de studievereniging of op kamers wonen, laat het me gerust weten door een mailtje te sturen.
| | |
| --- | --- |
| Laatst gewijzigd: | 16 augustus 2021 15:35 |