Anouk, Human Geography and Planning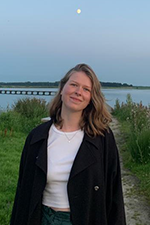 Hoi! Mijn naam is Anouk, ik ben 22 jaar oud en ik zit nu in mijn eerste jaar van Human Geography and Planning.
Op de middelbare school wist ik zeker dat ik een bepaalde kant op wilde dus heb ik mij nooit breed georiënteerd. Hierdoor heb ik nog twee andere studies geprobeerd voordat ik bij HGP terecht kwam. Ik ben begonnen bij Arts, Culture and Media aan de RUG waarna ik ben overgestapt naar Pedagogiek op het hbo. Helaas waren deze studies niet de juiste keuze voor mij, maar ik heb er veel van geleerd. Er zijn gewoon zoveel leuke studies waar je uit kan kiezen dat een definitieve keuze maken lastig was voor mij. Gelukkig kan ik nu zeggen dat ik heel blij ben met mijn keuze!
Het leuke aan HGP vind ik dat je er leert hoe mensen met hun omgeving omgaan en hoe mensen en de omgeving beide invloed hebben op elkaar. Het eerste jaar is nog erg breed dus dan kom je erachter welke richting je het leukst vindt. Later in de studie kan je dan zelf kiezen welke richting je ermee op wilt en dan kan je je daarin verdiepen. Zelf weet ik nog niet welke kant ik op wil maar dat ga ik nog ontdekken de komende jaren.
Het is altijd lastig om een keuze te maken maar zolang je je goed oriënteert en bij jezelf blijft kom je vast op een goede plek terecht. Mocht je vragen hebben over het maken van een keuze uit alle leuke opties, over het verschil tussen hbo en universitaire studies, over het studenteleven in Groningen of lijkt Human Geography and Planning je leuk, mail mij gerust! Dan zal ik proberen je vragen te beantwoorden zodat je hopelijk verder kan met je zoektocht.
| | |
| --- | --- |
| Laatst gewijzigd: | 31 augustus 2021 16:56 |