Living expenses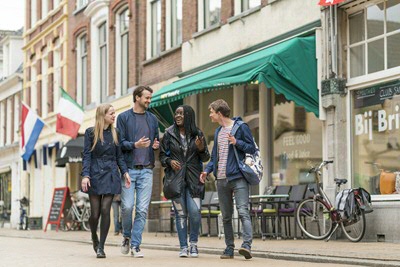 The following table provides a rough estimate of the costs of various aspects of student life in Groningen. Your general daily expenses include food, books, clothes, public transportation, and leisurely activities. You will also need to take into consideration the costs of housing and insurance.
However, experience shows that students will spend on average €800-1.000 per month, not including tuition costs. The estimate below does not include unforeseen costs and should be used as a general indication of the costs of living in the Netherlands.
What

Cost

Tuition fees

2022/2023 (More information on tuition fees)

Not applicable for exchange students

€ 2,209 (EU, full-time)

€ 10,000 - € 14,800 (non-EU, full-time)

Study costs

Textbooks, readers, photocopies

€ 75 per month on average, or around € 900 per year

Housing

Rent (incl. energy and other costs, for example ISP bills, excl. administration costs and security deposit of approximately 1 month rent)

€ 350 to € 650 per month*

Telephone

Prepaid sim cards or a telephone plan

€ 26 per month on average

Food and drinks

Meals, drinks, etc.

€ 150 to € 250 per month

Bikes

Price based on a decent secondhand bike

€ 80 to € 110

Travel expenses

For students who do not have a dutch OV-travelcard

€ 62 per month on average

Insurance

Health care, third-party, fire and theft insurance

€ 100 to € 120 per month

Language courses (optional)**

On average between € 160 - € 310 per course

Additional costs

Clothes, relaxation, sport etc

€ 157 per month
* The price of a room will depend on its location, its size, how many people you share the facilities (bathroom, kitchen) with and the general quality of the building. Start looking for rooms as soon as you can to get the best deals.
**Following a language course is recommended but not mandatory.
Non-EU/EEA students: The overview above is an indication of living expenses. For your MVV and/or residence permit application we have to check if you meet the living money standard as it is set by the Immigration and Naturalisation Service (IND). The applicable amount may therefore vary from this overview. Please note that tuition fees are not included in the IND living money standard.
Tips to Save!
Groceries at Lidl or Aldi are less expensive;

Pay attention to special offers from grocery stores like "Buy one, get one for free". Most grocery stores have new offers every week;

Buy good quality but cheap produce at the nearby market every Tuesday and Friday at the Vismarkt;

Make use of the discounts of the ESN card;

Discounted furniture can be purchased from second-hand shops such as Mamamini;

Get a good bike lock, and spend some time on keeping your bike in good shape. This will help you avoid unnecessary costs later on.
| | |
| --- | --- |
| Last modified: | 21 November 2023 12.14 p.m. |