Studying in Leeuwarden
Leeuwarden is the capital as well as the economic and cultural centre of the greenest and most beautiful province of the Netherlands; Friesland. Lonely Planet even put Friesland in the third spot in the ten 'Best in Europe' spots of 2018. Leeuwarden is gaining popularity among students which makes sense since there's plenty to do in the historical city centre.

When the weather is nice the terraces near the canals in the city centre are filled with people. There are several theatres where students can enjoy good movies, music, or musicals. Being a student city, Leeuwarden contains the essentials - an abundance of pubs and clubs for you to have fun in at night. The city also has lots of student associations for you to join which allows you to socialise and participate in numerous activities with like-minded people.
Leeuwarden Student City
Besides Campus Fryslân, Leeuwarden has several Universities of Applied Sciences. Leeuwarden Student City (LSC) is an organization that is dedicated to making your time as a student in Leeuwarden as pleasant and fun as can be. They organize several events for students in Leeuwarden throughout the year such as the annual Leeuwarder Introduction Period aka LEIP! , Pride Leeuwarden and Meet the Mayor.
Student Sport Leeuwarden
Want to stay fit during your study time in Leeuwarden? Student Sport Leeuwarden offers you the change to keep your divine body in shape for just 7 euros per month!
Events city
There is plenty to do in Leeuwarden. Every year there are more than 50 national and international events which means that per head we have the most festivals in the Netherlands. The city was the Cultural Capital of Europe in 2018. In the upcoming months you can enjoy the following events in Leeuwarden:
Did you know..?
Leeuwarden is a relatively small city with about 123.114 inhabitants (20.000+ students). Wherever you live in Leeuwarden, the city centre is not far away so the best way to travel in Leeuwarden, as in most cities in the Netherlands, is by bike.
Time to study!
Since it's not all just fun and games and you also need to study, Tresoar, the historical library of Leeuwarden, offers you a big silent study room from which you have a marvelous view of the city park. If you're looking for a more laid-back study vibe you can go to Grand Cafe Z, where you can enjoy a delicious cup of coffee while you study. Or if you're more of a thrill seeker you can even study in an old prison. Dbieb, the public library of Leeuwarden, is located in an old prison in the city centre and won the prize for the best library of The Netherlands in 2019.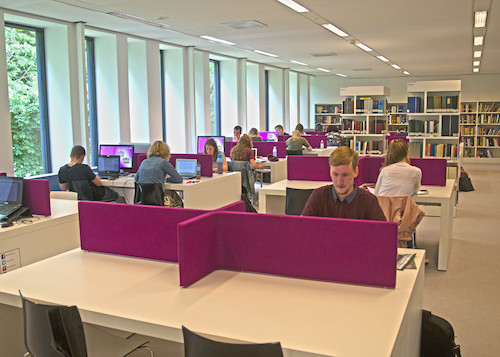 | | |
| --- | --- |
| Last modified: | 21 April 2020 2.45 p.m. |