At University College Fryslân, we are committed to your academic and social life. Our lecturers are inspired researchers who teach classes of around 25 students, making use of state-of-the-art facilities and teaching methods.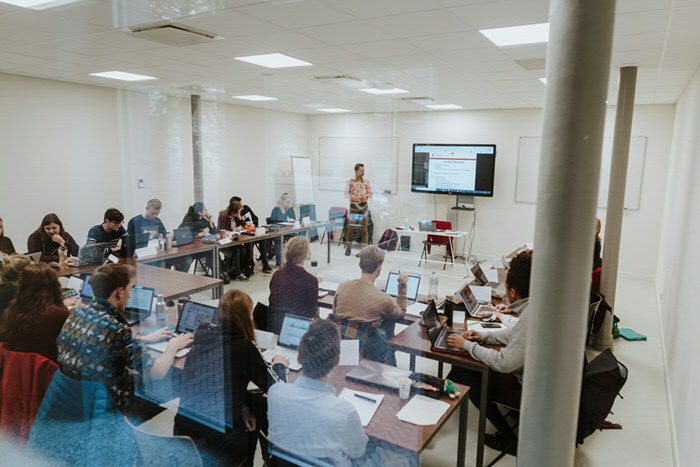 Living on campus
In addition, during the first year of the programme, you live on our city campus. Living on campus is an essential part of UCF's educational philosophy. We believe that living and learning with students from different backgrounds is a huge enrichment of your university experience. By living on campus, you automatically become part of our UCF community of students and staff who are all committed to making your university experience unforgettable.
Study Association Nobis Cura Futuri
Nobis Cura Futuri is the Study Association and the official embodiment of the international student community at Campus Fryslân. Founded in 2020, NCF aims to provide plenty of fun, social and academic events (think of Pub crawls, talent shows, travels, guest-speaker evenings). All in the spirit of Nobis Cura Futuri: "The Care of the Future is Ours", meaning we strive to provide activities that are aimed at making the most of your student life by adhering to our values of responsibility, diversity, sustainability and development.
Extra-curricular activities
Campus life also includes a wide variety of campus-based extra-curricular activities and organisations. We provide the facilities, you develop the events! In that way, your academic experience is enhanced by a debate evening, open mic night or fieldtrip to the International Criminal Court in The Hague. Anything is possible!
University College Fryslân on social media
Follow for more UCF insights the Facebook and Instagram page of Campus Fryslân, on which we show what it's like to be an UCF student studying in Leeuwarden. Get a sneak peak of the community life, get to know Leeuwarden and learn more about the programme!
Campus Fryslân blog
Curious what it's like to be a Campus Fryslân student? Check the Campus Fryslân blog!
| | |
| --- | --- |
| Laatst gewijzigd: | 28 juni 2022 16:33 |