How to survive uni: Going on exchange for a semester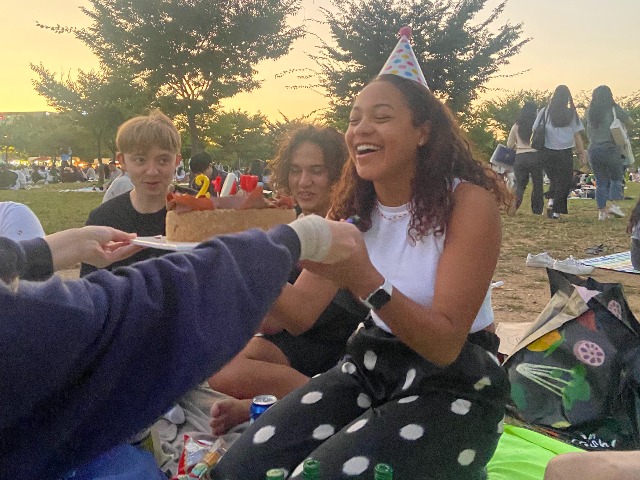 Going abroad can be scary, but it often teaches you a lot about yourself and the world around you. You can do a minor in the third year of your bachelor's degree in Global Responsibility and Leadership, and the most popular option is to study abroad for a half year. We spoke with Kavishya, who is currently doing her exchange in Seoul, South Korea, and she logged her week for us, with photos.
Monday | September 19, 2022
On Monday I had 2 lectures for my classes, Bureaucracy and Democracy, and Public Opinion and Political Behaviour in the Yeonhui Hall building, one of the most beautiful buildings on campus! Then we celebrated one of my friends' birthdays at Yeouido Park by the river. It was surprisingly busy at the park, and it is very popular to go to this park and eat instant ramen that you can buy and cook in the convenience stores.

Tuesday | September 20, 2022
On Tuesday I had three different classes, International Relations, International Security and Law and Justice. After class we went to the same park again to celebrate another friend's birthday. We then went to Hongdae, an international area with lots of clubs and bars in Seoul.

Wednesday | September 21, 2022
On Wednesday I went to class again, and met up with my friends for lunch in the cafeteria. Today one of the options was Bibimbap, one of my favorite vegetarian Korean meals. We also got iced coffees and did homework together in the student lounge. After class, I met up with a friend and got dinner.

Thursday | September 22, 2022
On Thursday I had class in the morning, and watched one of my lectures outside in the sun. Earlier I signed up for the buddies programme at my university, where they pair you up with a group of exchange students and one Korean student. On Thursday my buddy group met up and we went to Gwangjang Market (광장시장), which is a really culturally rich market full of Korean food. There's a lot of fish, meat and also vegetarian dishes. I ate Japchae, a traditional Korean noodle dish. We then sat by the river to have a chat and some drinks.

Friday | September 23, 2022
On Friday I didn't have any classes, so my friends and I went shopping in Hongdae. We visited some vintage second hand stores which I really recommend. There was also a festival at Yonsei on that day, so we returned to campus to check it out. There were some musical performances and pop up activities all around campus, as well as a lot of food stalls. I bought some cotton candy which was delicious!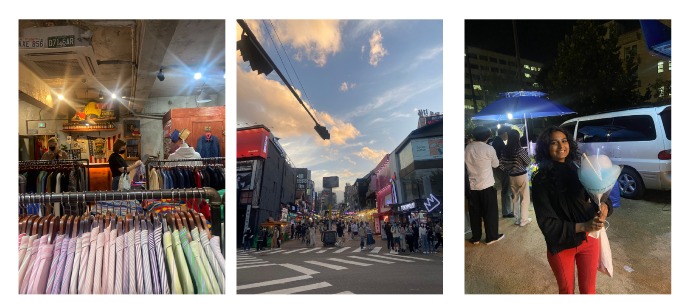 Saturday | September 24, 2022
On Saturday we went for brunch in Itaewon, and then I went back to my dorm to study. Later on I met with a friend in a cafe and enjoyed some cake and coffee. Since Korean food frequently consists of a lot of meat, it's been a little difficult to find vegetarian food everywhere, so I was very excited to try a restaurant with a variety of vegetarian options. We went out to Hongdae after dinner and partied there.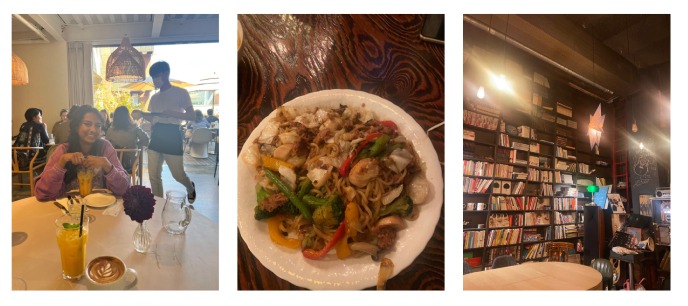 Sunday | September 25, 2022
On Sunday I visited Gangnam with a friend, and we went to the luxurious shopping street. This street is known for their extravagant shops and expensive brands. It was really interesting to visit this street and explore a fancy area in Seoul. We then went to the Coex mall which is home to the famous star field library. This was the most beautiful library I have ever seen, and I almost forgot that I was in a mall! For dinner I went to a vegan restaurant which was delicious and it served many veganised traditional Korean food such as vegan beef bulgogi, which I always wanted to try. Overall, it was a great ending to a great week!

Do you have more questions about what you can do for your minor? Click here Or do you want to read about someone else's experience of going on exchange in Europe? Click here for Ester Alda's experience of studying abroad in Coimbra, Portugal.