5 'strange' Dutch habits that might be useful to know about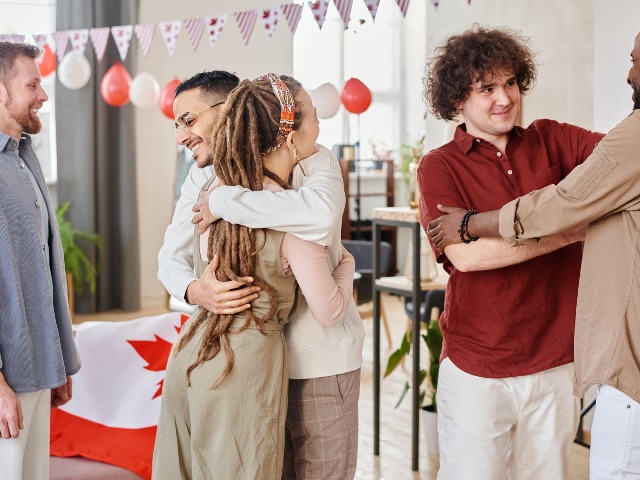 We talked about a lot of Dutch things in the last few blogs. Weird dutch sayings, Dutch health insurance, and Dutch foods you need to try. The topic of this blog post might come in handy to prevent you from coming in an awkward situation.
Birthday parties
That awkward moment when you come to a birthday party and you have no idea how to greet someone so you do the half hand shake- half hug thing? Yeah we can relate. In fact, the Dutch love their traditions and some of them may prevent some awkward moments. When someone is celebrating their birthday, it is 'normal' to give the birthday person 3 kisses, the Dutch don't only do this with birthdays but with everything. Family, friends, saying hello to someone they know and saying goodbye. When you arrive at the birthday party it is also a thing to congratulate every person that is in the room. It doesn't make sense... we know.
Ignore the emergency alarm (only on the first Monday of the month)
You may have experienced it before: the loud alarm squeaking through the city and you don't know what it is. You panic but then you see that nobody is reacting and you're like ''huh''. Well that is the alarm that is going off every first Monday of the month. It is a test alarm to see if everything still works. The question is, what if there is a real emergency happening on the first Monday of the month?
Being very casual about the fact that the Netherlands is under sea level
It should be something the Dutch worry about: a country that can be overtaken by the sea at any moment. It doesn't sound comforting, and still not many Dutch think about it. ''To the Dutch they are not below sea level, the sea is above Dutch level and they are the masters of it''.
Chocolate sprinkles as breakfast
Oatmeal with red fruit, scones, peanut butter and jelly sandwich or avocado toast. These are all very delicious and 'normal' breakfast options. You think. The Dutch do it differently. One word: chocolate sprinkles - translated to Dutch is ''hagelslag''. Now you may be thinking ''isn't that something for on a cake?''. Yes it can be but the Dutch roast a piece of bread with butter so that the sprinkles stay on. Everyone does it and there are a lot of different kinds of hagelslag. White, milk or dark chocolate.
Time is key!
If you have a meeting with a Dutch person at 4pm, you have a meeting at 4 pm. If you buy a train ticket that is supposed to leave at 2pm, it is leaving at 2 pm. Also, if you meet up with someone and are 2 minutes late, they might say "te laat is te laat" (late is late).
You now know that congratulating someone for someone else's birthday is 'normal', chocolate sprinkles on bread is a real thing, being late is less appreciated and that the Dutch don't really care about the sea literally eating up the country. Habits like these show that you will have a lot to explore and talk about with your new and lovely Dutch friends!