New knowledge on natural and cultural landscape dynamics
Landscape Ecologist Harm Smeenge is developing a new discipline called 'historical archaeology' that combines several existing disciplines and research techniques. He chose the Northeast Twente region for his pilot study since "it is likely that there is no other place in the history of landscapes that shows more variety than Northeast Twente."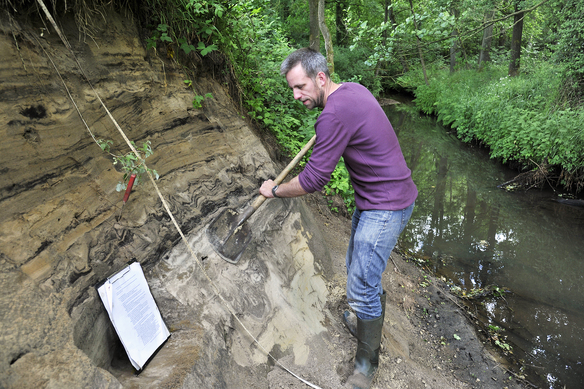 Historical story
Harm Smeenge is a landscape ecologist and researcher at the Knowledge Centre Landscape of the University of Groningen. The research of this Centre, led by Professor Theo Spek, focuses on the structure and history of the landscape and the Centre translates these insights into contemporary issues in the field of sustainability, cultural identity, spatial development and biodiversity.
Harm conducts his research in Northeast Twente on the interaction between man and landscape over the past 10,000 years. He constructs this 'historical story' of Northeast Twente by linking together different disciplines: physical geography, (paleo) ecology and historical geography. Reconstructing landscapes based on this many different scientific disciplines and over such a long time span, has never been done before.
Support this research
In 2017 Harm Smeenge hopes to obtain his doctorate degree on the ecological history of Northeast Twente. The research techniques, that are used to date this landscape history precisely, are costly. The Knowledge Centre Landscape does not have sufficient resources for this unique research. Therefore Ubbo Emmius Fund seeks your support. You can support this research trough crowdfunding at www.rugsteunt.nl.
| | |
| --- | --- |
| Last modified: | 04 July 2023 12.19 p.m. |