Serendipity and lessons learned being a student entrepreneur
| | |
| --- | --- |
| Date: | 27 September 2022 |
| Author: | Alexandra Matei |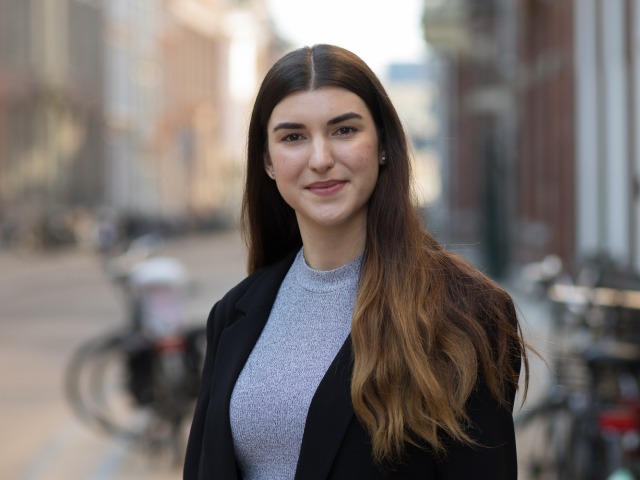 From a very young age I got the question "what do you want to be when you grow up?" And while my answer from when I was 6 changed to when I was 16, I always knew I wanted to make an impact, to do good. But what did that mean? How to translate this dream I had into a career? That's maybe an answer I am still looking for, but let me tell you where I am now, how I got here and the most important things I learned along the way.
I moved to Groningen in 2020 to pursue my master's in Chemistry. 2020…we all know what that meant: pandemic, restrictions, online courses. I think that picture is quite clear in all of our minds. So, you can imagine how moving to a different country, to a city you knew nothing about and having no opportunities for a social life must be daunting. I confirm…it definitely was. However, this did not discourage me to look for all the online concerts, educational workshops and virtual meetups. It was completely different from the social life I was used to, but I learned to adapt.
While I was still getting used to the university's online environment, I saw the announcement for a 12-week challenge focused on developing a business idea for a healthcare-related problem. Remember how I wanted to "make an impact" and "do good"? Well, healthcare was something that always fascinated me, and this 12-week program really sparked my interest. I knew close to nothing about entrepreneurship, so I was very excited to learn all about it.
I will not get into the nitty-gritty details of what we learned in the course - all about the business model canvas, making impactful pitches and creating revenue models - but I will tell you about working with my team. Why is that? Because almost two years later I understood how important that was. We are a multidisciplinary team, all students at the university and all motivated to find out how great ideas can turn into businesses that solve real problems. Spoiler alert: our team won that 12-week challenge. However, the actual prize was finding each other.
Not long after, we signed up for another challenge: the VentureLab North Weekend. This was a weekend-long event where coaches and trainers help you develop your idea, make a strong business case and create an impactful pitch. While we were all quite tired after three full days of information, we all realized this is something we enjoyed and would really like to pursue further. And what am I talking about here? You guessed it, becoming student entrepreneurs.
The one skill we completely lacked in our team? BUSINESS EXPERIENCE. Yes, you read that right…so how could we start a business with no experience?
We found our solution quite easily. The VentureLab North which is supported by the center of entrepreneurship at the University of Groningen has a one-year business accelerator program where you get a chance to learn all the business aspects you are lacking. Fast forward to right now: my team and I are towards the end of the VentureLab North accelerator program, we have founded our start-up Aletta Solutions at the beginning of 2022 and participated in a few start-up competitions. I love talking about what we do with Aletta Solutions, but what I really want to share is what becoming a student entrepreneur meant to me on a personal level.
In this entire journey, I learned many lessons that helped me both as a student and as an entrepreneur. These are lessons that I consider every day and I hope that you will keep them in mind as well, not only for your future career, but also throughout your studies. So here they are:
1. Be coachable
What does that mean? Being coachable is all about being open to feedback. From my personal experience, that means learning to actively listen to the feedback and what can be improved. So, instead of getting defensive when someone is giving valuable advice, I learned to listen with an open mind and then try to implement that piece of feedback. Why am I telling you all this? Well, because I would've liked to learn this as early as possible in my career. First of all, listening to and implementing feedback early on saves you quite a bit of time. Secondly, professors, coaches, trainers will enjoy working with you much more if they see that you value their input.
2. Never stop learning
This one is self-explanatory, but I cannot emphasize enough how important learning is. With this, I want you to think about learning in a broad sense. If that means learning a new language, discovering how to manage social media accounts or broadening your skills in Microsoft PowerPoint, all of these will help you at some point in your personal life or your career. How exactly? That will be your pleasure to find out.
3. Trust the journey
Things will not always be easy. The road to success is usually bumpy, but with perseverance (and a bit of trust) you will get over all the bumps along the way. In entrepreneurship, you stumble upon challenges quite often, but these are the moments where you refine your idea and your plan, make it better and prepare yourself to face the new situations that will come up. Working with my team through these challenges has been the hardest and the most enjoyable part of our journey. So keep in mind that when something does not go exactly how you expect it to, a better opportunity is awaiting.
I always knew I wanted to make an impact, to do good. While on a large scale, I am not there yet, I am on road to achieve my dream. How? By being coachable, never stopping learning new things and trusting the journey. And last, but not least, being grateful for moments of serendipity like meeting my team.
If you are curious to learn more about being a student entrepreneur and what opportunities for entrepreneurship are available in the Groningen ecosystem, I would be happy to talk more about this. You can contact me with any questions you may have through my personal page.
About the author
Alexandra Matei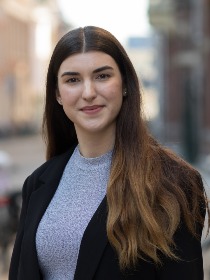 My name is Alexandra Matei and I am an Alumni Ambassador representing Romania. I am originally from Bucharest, and while I love my home country, I knew early on that I wanted to study abroad. This led me to the United States, where I finished my BA in Biochemistry at Bryn Mawr College in Pennsylvania. This experience far away from home taught me the importance of learning about new cultures and meeting people from diverse backgrounds. With the goal to continue my adventure abroad and my passion for chemistry, I started looking for master opportunities in Europe. The University of Groningen caught my attention because it aligned with my academic interests, offering me the opportunity to follow a master's program which was challenging and exciting.