Gewoon, de eerste taal
Tonko Ufkes, winnaar Freudenthalpreis, over schrijven in streektaal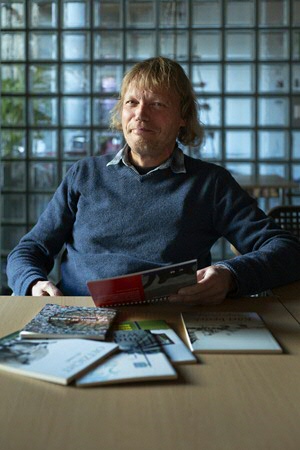 Schrijver en dichter Tonko Ufkes (1958) alumnus geschiedenis 1984, kreeg in september 2019 de Freudenthalpreis, de belangrijkste literaire prijs van het Nedersaksische taalgebied, voor zijn in het Westerkwartiers geschreven verhaal De bonte vliegenvanger. Hieronder vertelt hij, speciaal voor de RUG-alumni over het schrijven in streektaal.
tekst: Tonko Ufkes
Lezen en schrijven doen wij in het Nederlands, zo hebben wij het op school geleerd, maar eigenlijk zou het in het Engels moeten, want die taal heeft de toekomst. Hooguit een enkele zonderling schrijft in het Fries; daarvoor moet je echt heel fanatiek of misschien juist heel ouderwets zijn. En schrijven in het Gronings of in het Drents, eh, kan dat eigenlijk wel?
Zelf groeide ik op in het dorpje Zevenhuizen en ook al werkten mijn ouders in het onderwijs, wij spraken thuis Gronings. Trouwens, alle kinderen op het schoolplein praatten toen, in de jaren `60, Gronings. Gewoon, de eerste taal werd het Gronings, net zoals bij de volwassenen om ons heen. Op de middelbare school veranderde de spreektaal, met veel kinderen uit Leek en Roden in de klas, werd de voertaal Nederlands.
Tijdens de studie helemaal; tijdens mijn studententijd - 1977 tot 1984 - verdween de Streektaal en slechts op bezoek bij mijn ouders kwam het weer even naar boven.
Tot het terugkwam. Tot ik geschiedenisles ging geven in Friesland en merkte hoe soepel de collega's wisselden tussen het Fries en het Nederlands. Tot ik vanaf 1989 historisch onderzoek deed in Polen en vanuit Gdańsk brieven schreef aan mijn ouders, nee, niet in het Nederlands want dat was onze taal niet. Als vanzelf werd het Gronings, de eerste taal.
Weer in Nederland bleken er tijdschriften in het Gronings en in het Drents te bestaan, tijdschriften die graag een artikel in Streektaal publiceren en altijd op zoek zijn naar verhalen en gedichten. Ook daarvan kwam een onverwachte stroom op gang: vorig jaar verscheen mijn derde verhalenbundel en in november komt mijn zesde dichtbundel uit.
Taal van thuis en verder
Wie van huis uit een andere taal meekrijgt dan de standaardtaal wordt zich vaak pas later bewust van dit eigene. Juist omdat lezen, schrijven, rekenen en wat niet al op de lagere school in het Nederlands wordt gegeven, blijft die taal dominant in het hoofd zitten. Dus schrijven de meeste Groningers, Drenten en ook veel Friezen uitsluitend in het Nederlands: van boodschappenbriefje of whatsapp-berichtjes tot aan artikelen of literatuur.
Iets dergelijks gebeurt ook bij het lezen, er moet moeite gedaan worden om een tekst te begrijpen en dus hoor je ook Groningers snel zeggen, bij een tekst in hun eigen taal: "ik kin t ja nait lezen."
Zelf schrijf ik verhalen, gedichten en columns in het Gronings omdat ik mij in die taal het beste uit kan drukken, zeker wanneer het om gevoelige zaken gaat. Het is mijn eerste taal, daarna komt het Nederlands en daarna een reeks andere talen. Misschien zoals bij iemand anders eerst het Fries, het Papiamento, het Engels of welke taal dan ook komt.
Toch wordt aan elke schrijver in een Streektaal vrijwel meteen gevraagd naar het waarom, want die taal is immers zinloos en achterhaald. Op deze vraag heb ik ongeveer vijf standaardantwoorden paraat, van serieus tot grappig. Want die vraag komt altijd. Standaard.
| | |
| --- | --- |
| Laatst gewijzigd: | 10 oktober 2019 13:43 |