Cosiest Corner at the Cornelians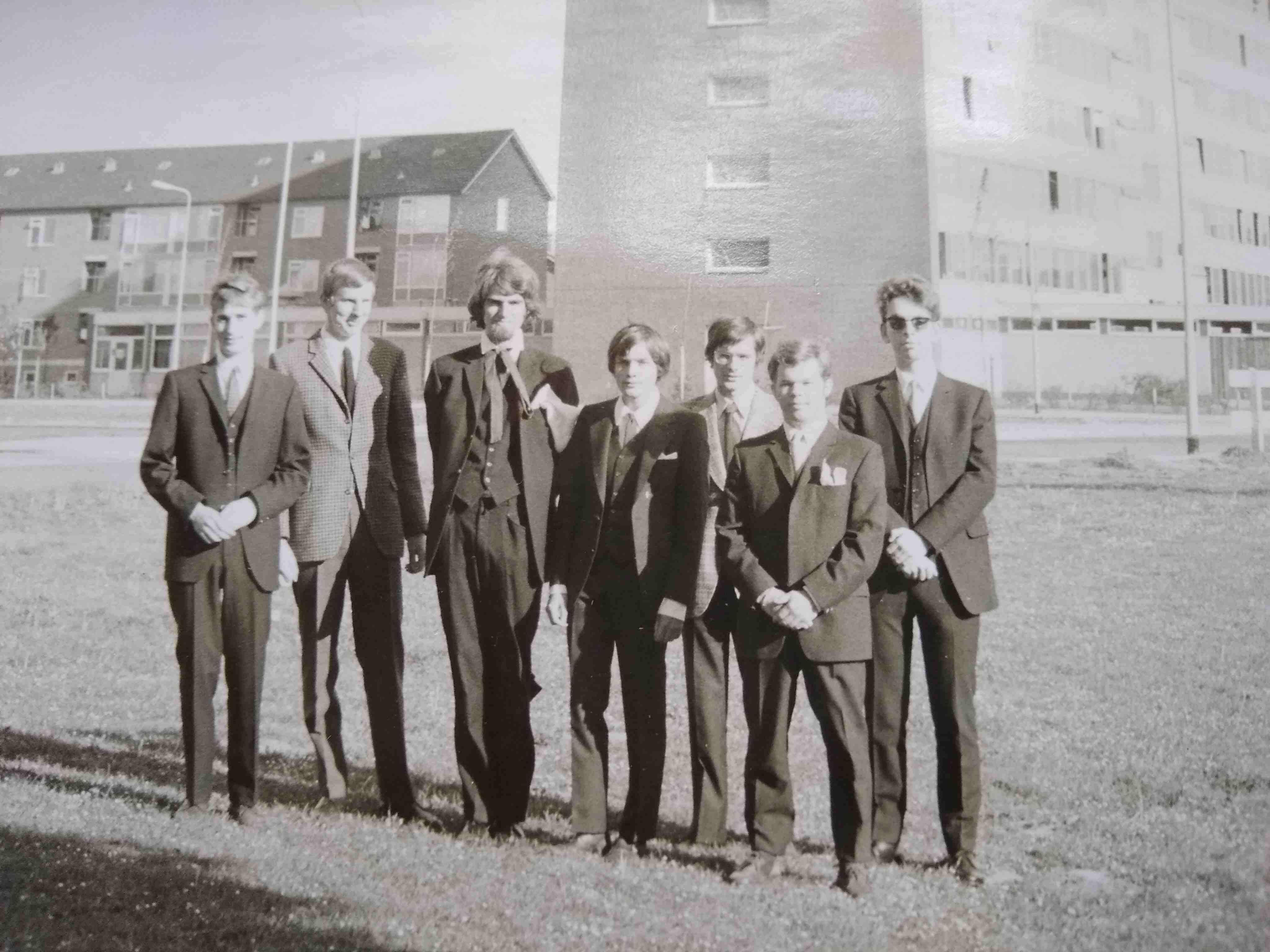 Ik zag een nostalgische foto van de 3 Selwerd flats in de laatste Broerstraat 5 met een oproep voor anecdotes en foto´s.
De foto bracht als vanzelf herinneringen boven aan mijn studententijd in Selwerd 1, waar ik op de 2de verdieping van 1969-1974 een kamer had.

Selwerd 1 was toen echt het uiteinde van Groningen, en als medisch student fietste ik dan naar de medische fakulteit/Academisch Ziekenhuis.
Onze vleugel op de 2de verdieping was herdoopt als de "Cosiest Corner at the Cornelians" (dat laatste was een verbastering van de Kornoeljestraat, waar de flat staat).
Een bewijs van de studentikoze sfeer van die tijd vormt de foto (hoewel vanaf de Maagdenhuis perikelen in 1969 het studentenleven best wel veranderd was) . Volgens mij was het een nationale feestdag (Koninginnedag?) toen wij afspraken om in vol ornaat (pak, jasje, dasje) uit eten te gaan. Ons doel was de stationsrestauratie van het NS Hoofdstation in Groningen. Maar de route er naar toe was niet met de fiets, auto of bus, maar met de trein vanaf het station Groningen Noord, waar we in strakke pas naar toe liepen.
We trokken ongetwijfeld veel bekijks. De wel zeer korte treinreis bracht ons in de juiste hongerige sfeer om een "eenvoudige doch voedzame" maaltijd te nuttigen in het Hoofdstation.
Ik herinner me niet meer of de foto van te voren of achteraf gemaakt is.........
PS. Ik weet niet hoe iedereen van deze foto terecht gekomen is. Maar ik ontwaar nog wel het hoofd van de latere hoogleraar Douwe Jan Elzinga?

Medio 1974 vertrok ik voor mijn coschappen naar Curacao. In 1975 kreeg ik de Artsenbul in het Academiegebouw. Daarna ben ik 30 jaar als arts in dienst geweest bij de Koninklijke Marine. Sinds mijn leeftijdsontslag werk ik als ZZP-er voor diverse hulpverleningsorganisatie (NGO;s)s in het buitenland (o.a. Artsen Zonder Grenzen).

Maarten J.J.Hoejenbos, MPH, arts niet praktiserend, KTZAR bd., geneeskunde 1975
| | |
| --- | --- |
| Laatst gewijzigd: | 09 oktober 2019 12:28 |