Victoria Tetrault, USA
Alumna, Master International Relations, 2017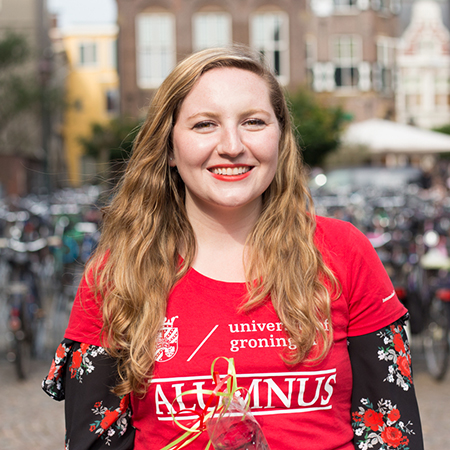 Why I chose Groningen:
My exchange semester at the University of Groningen during my bachelors at SUNY Geneseo, allowed me to fall in love with the Netherlands and Dutch culture. I chose Groningen for my master's program because it is a great value for a top-notch education. The master's program is also one year – which is the perfect amount of time, not too long or too short. It's a hands-on master with the ability to pursue an internship during the second semester. The education did not just end in the classroom. I also learned much about Dutch culture and experienced a very friendly and international environment.
Why you should choose Groningen:
The city has everything that a student could hope for: a great university, vibrant nightlife, lots of cafes, and many student events. The best part of Groningen was that everything is close and the city is truly our campus. Through RUG's international programs you can meet lifelong friends from around the world. Learning about other cultures, and integrating into Dutch culture is one of the reasons which makes the University of Groningen, a unique experience.
International Relations Master Program
Being from the United States, the International Relations Master's program at the University of Groningen is a great deal compared to many U.S Master's Programs, even when paying the non-EU tuition fees. It is affordable, with small classes, approachable professors, and the ability to participate in many activities. The International Relation master gives students the choice to choose various specialties including International Security, East Asian Studies, European Integration, Global Governance, International Relations and International Organization, and the International Political Economy. This allows each student to specialize in a particular area of International Relations, which adds to the overall master's program. The program goes beyond that, allowing students to make lasting connections with professors as well as fellow students.
Biography:
Victoria R. Tetrault graduated from the State University of New York at Geneseo with a Bachelor's Degree in International Relations and a concentration in the Global Political Economy in 2014. After pursuing an exchange semester at the University of Groningen in the fall of 2014 for her bachelors, she decided to apply for a Master's Degree at RUG. In fall of 2016, Victoria started the International Relations Master's program with a specialty in International Security. In her spare time, she enjoys painting, reading, and traveling.
| | |
| --- | --- |
| Last modified: | 11 July 2019 12.57 p.m. |