Laura Marcela Palma Medina, Colombia
PhD Medical Sciences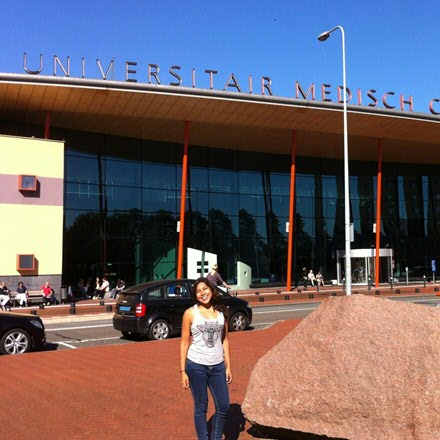 Groningen, the dream that became reality
I remember my first day in Groningen clearly. After a 16 hours trip from my home country, I was walking in a park in the north of Groningen. I was watching at the first purple flowers of the early spring and the university students rushing to class on their bikes. And then, it hit me. I was living one of my biggest dreams: I was studying a the Rijksuniversiteit Groningen, the University of Groningen (UG).
This dream was seeded many years in advance, during my bachelor studies. At that moment, I knew about the excellent academic profile of the University, being one of the Top 100 in the world. My desire to come here intensified after I personally met a student form Groningen. She told me about the Dutch culture and the amazing city she was living in. Years after, when I decided to pursue a Ph.D., I had the opportunity to start it in Groningen, and there was no doubt in my mind as I accepted this offer.
Nothing of what I heard about this city could have prepared me for how it would be to actually live here. Although it is a small city (~200.000 habitats), it has the soul of a real capital. Groningen is a very dynamic town, probably because a fifth of its population is students. This city vibrates day and night, every day of the week. From the farmers' market to the bars and clubs pounding music all night long, there is always something to do, and there are always new places to discover. Moreover, Groningen is a very welcoming city for internationals. A proof of that is the number of languages that you can hear in the streets every day.

During the past years, the UG has offered me excellent infrastructure and mentors to help me work on my research project. I have also benefited immensely from the different courses and workshops available, which have allowed me to grow as a researcher. In particular, I love the academic environment in Groningen. The professors are approachable and always willing to help. This promotes rich scientific discussions and stimulates creativity.
I invite all prospective students to come and experience the city and the university for yourselves. Groningen is the perfect scenario for academic and personal growth.
Biography
My name is Laura Marcela Palma, and I'm currently finishing my Ph.D. in the faculty of medical sciences. Previous to my doctoral studies I studied Chemical engineering, bachelor and masters, in my home country Colombia. I am part of a dual Ph.D. agreement with Germany and, therefore, my Ph.D. was full of multicultural experiences in both countries. After I obtain my degree from Groningen I will pursue a career in science, starting with a post-doctoral position in Scandinavia.
| | |
| --- | --- |
| Last modified: | 11 July 2019 12.58 p.m. |