Paula Rubart, Germany
Bachelor in American Studies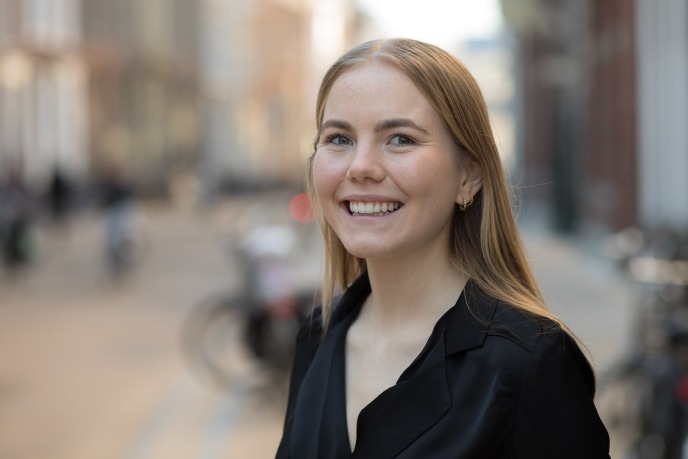 Why Groningen?
For me, it is hard to pinpoint one factor why I choose the city of Groningen. I believe my attachment to this city, and the country started when my family and I started to go sailing in Friesland nearly every weekend when I was 12. I grew to love the friendliness and openness of the Dutch culture. If you go to a shop in Groningen you will be (most often) greeted with a "Hoi" and if you speak a bit Dutch, find yourself in a chit chat with the salesperson.
It is the ease and laid-back mentality that I enjoy. You will meet professors and fellow students on a Tuesday evening having an afternoon biertje and just having a good time, enjoying the, for once, sunny weather.
Groningen is not only the spot to be because of the Dutch mentality and culture. In my opinion, it has just the perfect size that a student city should have. It is small enough that you will randomly cross paths with people that you know from your studies or a party you went to last weekend. This might happen at the farmers market, the library, or the city beach in the summer. However, it is also big enough that even after living here now for nearly 3 years, I still meet new people all the time and discover new bars, restaurants, and spots around the city.
It is a very dynamic city where something is always happening, and even though the population size might seem small, I can assure you that you will be able to find 'your' people here. The student body at the RUG consists of 120 different nationalities, and the interests of the 50.000 students in Groningen are just as vast, all the way from Jazz Trumpet to black hole evaporation!
Why the University of Groningen?
After spending a year in the United States as a High School student I developed an interest in American culture and its many dimensions, such as diversity, the institutional structure, the history, and the external political and economic relations. After I obtained my Abitur in Germany, I applied for the B.A. in American Studies at the RUG. What made me choose this program is that it is fully English-taught and unique in its interdisciplinary approach in the Netherlands. It is a freestanding program, which means that it is not part of the History or English department, and the program is designed to look at America, which includes Latin America, from multiple angles such as politics, culture, economics, and law. Over the course of my Bachelor's degree, I have discovered that the goal of the program is for every student to develop their own ideas and perspective on not only America but the world, and it has enabled me to become a critical but also open-minded world citizen. I am aware of how this might sound, but you will experience something similar if you decide to come here. It is not only your chosen study that will shape you but also the highly ambitious students and expert professors that you will be surrounded by at the University of Groningen. In the beginning, the reputation of the University and the demanding curriculum might seem intimidating, however through the study association of each study at the RUG you will get to know your fellow students and you will struggle through it together and individually, you will not only discover your weaknesses and how to overcome them but also your strengths and new interests.
Biography
My name is Paula, and I grew up in Germany. I moved to Groningen to start my B.A. in American Studies in the summer of 2019. I was in luck since I was able to experience at least half a year of the 'normal' student life in Groningen before the pandemic broke loose. To get to know more people and expand my academic horizon I decided to become an Honours College student. Besides the opportunity to take different courses from multiple faculties and attend a summer or winter school, Honours College students also have the privilege to have their own study tower! Since I am currently writing my Bachelor's thesis, you will find me either in the Honours College tower of the Academy Building, the UB (University Library), or the Harmonie cantine enjoying a delicious soup with my friends and fellow students. To blow off some steam and clear my head from all that studying, I can be found on the soccer field with my amazing Dames 9 team at the G.S.V.V. The Knickerbockers or at the clubhouse celebrating another win of a match.
If you have any questions or concerns, please do not hesitate to reach out. I am happy to help!
| | |
| --- | --- |
| Last modified: | 05 April 2022 1.59 p.m. |