Chioma Vivian Basil, Nigeria
Master in Energy and Climate Law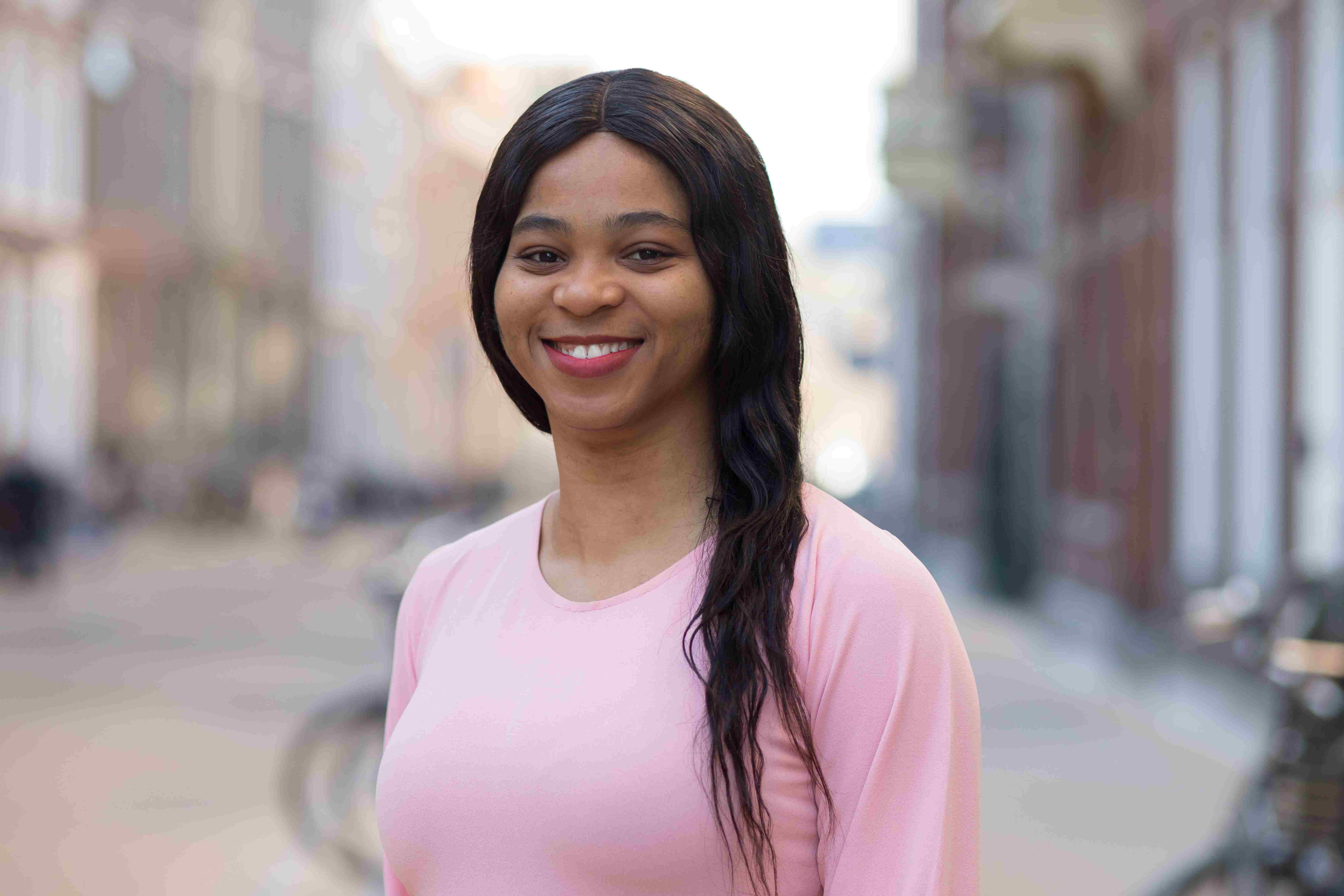 Why did you choose Groningen?
Groningen is a student city and for the most part a lovely town for everyone. The flair of the city is enriched with the international exuberance and character which automatically dispels the fear of language barrier. It is a city with several restaurants, bars, cycle paths (which was especially intriguing for me), lakes and the lovely markets. The city is calm and charming, with so much attractions that guarantees that something will certainly capture your attention and interest. For example, the historical and monumental buildings – the martini tower, the Groningen museum, which is a beauty and definitely a worthwhile manner of spending a day of sightseeing, plus is free entry for students…
Groningen is an active city, like my friends would say, 'there is no dull moment in Groningen'. You can decide to cycle around or head straight to the to the ACLO centre to keep your heart pumped up by engaging in one of the multiple sports courses, like dancing, volleyball, swimming, yoga etc. If you enjoy spending time reading, then the University library has got you covered, if you would prefer somewhere less tense and relaxing, then the Forum Groningen is just at the city centre, there are lots of options for you. Gradually the city sips into your skin and soon becomes your home away from home.
Why the University of Groningen?
During my bachelor's program, I hadn't the opportunity to specialise in a particular field of law because our system was tailored to train a general purpose lawyer, knowledgeable with the applicable skills. However, I developed an interest in the energy field due to the negative impact caused by unsustainable practices in the energy sector on the lives of children and young people. I desired the ability to design and monitor the implementation of policies that can address these problems, especially with regards to the exploitation of the abundant renewable energy sources. In order to achieve this, I sought further education in my desired specialization. Upon my research, I discovered that the University of Groningen is ranked as the best school for energy law in Europe and top 10 in the world, and the program content was suitable for my interest. Additionally, it is the most international university in the Netherlands with most of its programs taught in English, comfortably accommodating a lot of foreigners. I know for a fact that the European Union is leading the fight against climate change. Unfortunately, this is a discussion that is not perceived as a priority 'yet' in Nigeria, or Africa as a continent, but it ought to be. I concluded that I had to learn from the best, and I certainly was not wrong in that decision, because my program is tasking and exhaustive, but is definitely worth it with every passing experience, and a clear justification of the global ranking in energy law.
Alumni Ambassador's Profile
I am Chioma Vivian Basil, born and raised in Nigeria. I am a Legal practitioner called to the Nigerian Bar in 2019 after successfully completing my bachelor's programme in Law and subsequently law school. I love travelling/exploring new places, listening to music, watching movies and volunteering my time to service. Presently, I am a masters student of Energy and Climate law at the University of Groningen. My interest in energy law was spurred by my concern about the unsustainable maximization of renewable energy compounds, inadequate regulations, and the lack of efficient energy practices towards a better society.
If you have any questions on application and living in Groningen, feel free to reach out, I will be glad to be of assistance. Cheers...
| | |
| --- | --- |
| Last modified: | 29 March 2022 11.45 a.m. |