Ariana Valdelomar, Costa Rica
Bachelor in Media Studies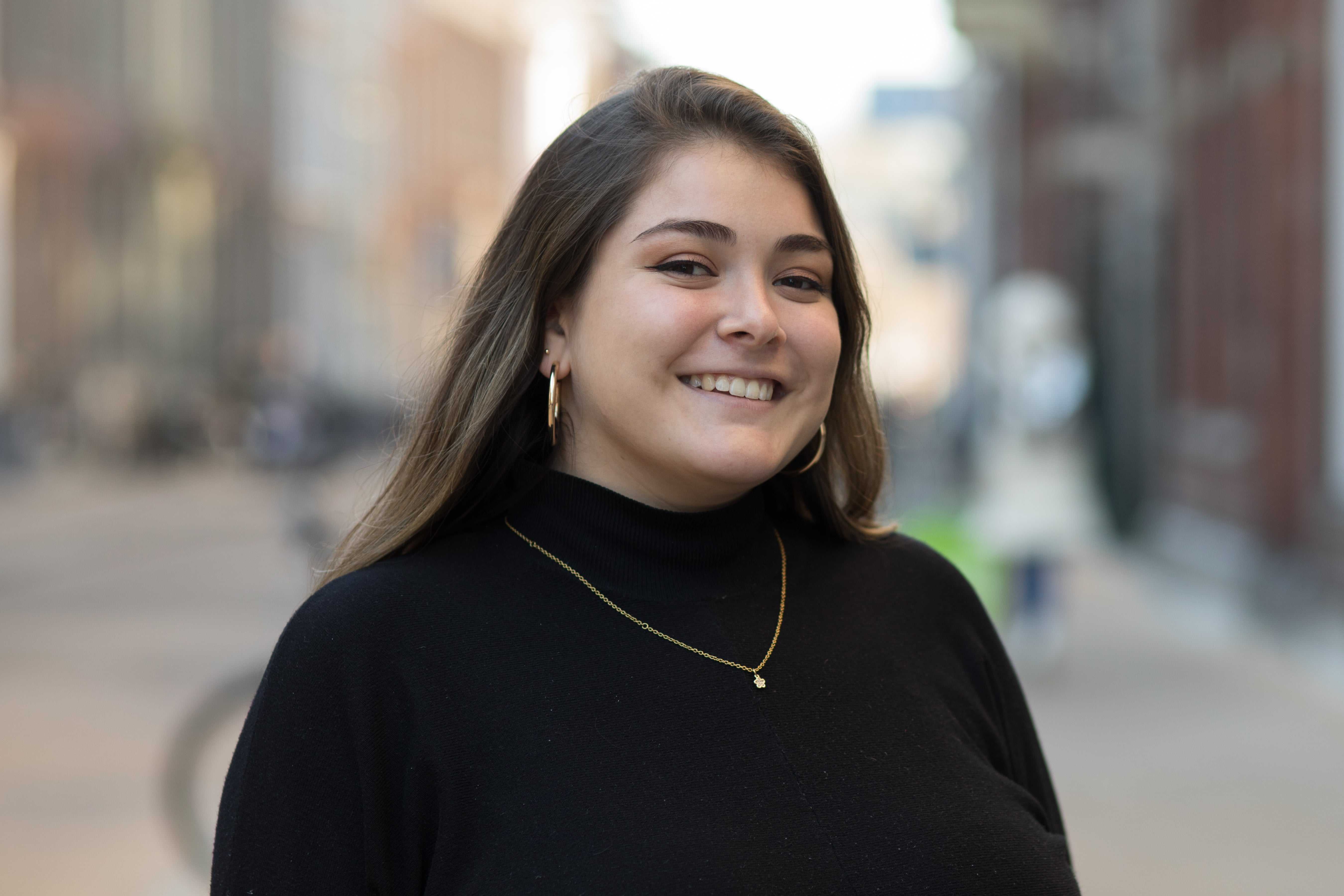 Why Groningen?
Choosing to study in Groningen was a split-second decision – but boy was it the best one of my life. I was initially drawn to the Netherlands for its multilingual, top-rated, and affordable higher education. But what really sold me on coming to Groningen over any other city was its young, vibrant life. And no, I'm not necessarily referring to partying – although Groningen's got plenty of that – but rather to its multicultural, close-knit, and dynamic student community. When people ask me why I love Groningen I simply answer: "it's the perfect city for a student". And each year that passes, I become even more convinced about it. To anyone who studies here, Groningen becomes a home away from home. It's big enough to expand your horizons, but small enough to feel cozy and familiar. It can be calm and quiet, but brimming with life too. And best of all – it's great knowing that your friends and favorite spots will always be one short bike ride away. I particularly also love that the city's got something for everyone, no matter their preferences or their background. Groningers are open-minded, friendly, and kind, and the city reflects that more and more each day. There's a popular saying that goes "nothing beats Groningen", and trust me, after experiencing the magic that this city's got to offer, you'll be certain of it too.
Why University of Groningen?
My journey to the UG was a bit unconventional, as I initially started at the Hanze UAS. However, once I was actually here, I instantly knew I wanted to switch for many reasons. First and foremost, the university's reputation as a top-100 institution and the level of its English-taught programmes really appealed to me. As an international student, moving to study abroad is a big choice – personally and financially – so I wanted to make the most out of my time here. I also knew the UG's Media Studies programme would further challenge me to critically reflect on media and society and provide me with invaluable tools to understand and interpret the world around me, beyond just teaching me practical things. Second, I was drawn to the university's history and rich academic trajectory. Groundbreaking scientific contributions to various fields, 400-year-old traditions, and – let's be honest – mesmerizing historic buildings that look straight out of a movie; who could say no? And third, but certainly not least, I was excited to learn in an international environment. I wanted to share courses with people who, despite different backgrounds, share traits of open-mindedness and curiosity. After three years, I can certainly say that in all areas, the UG delivered. I met people from all corners of the planet, shared our cultures, and made friends for life. I learned first-hand from incredible researchers and challenged myself academically, all while also creating incredible memories studying against the beautiful backdrop that is this city. On top of all that, I was even able to combine my studies with plenty of other activities: study associations, a fantastic university job, the Honours College, and, of course, a busy social life. It feels cheesy to say it, but I genuinely believe that the UG and Groningen make a perfect combination: a place filled with resources where students can accomplish anything they set their minds to.
Biography
My name is Ariana, and I was born and raised in Costa Rica. After spending the first 18 years of my life there, I wanted a change of scenery. That's why in 2017, I made an impulse decision to move to Groningen. I first completed my propedeuse at the Hanze UAS, in International Communication. Later, in 2018, I began the BA Media Studies programme at the University of Groningen. I chose a concentration in Audiovisual Culture, and later completed a Minor in Music, Theatre and Performance Studies. I also had the wonderful opportunity to join the Honours College for three years and take courses from fields such as Biology, Law, and International Relations. Besides my studies, I also worked as a student assistant at the UG's International Marketing department. If my face seems familiar, that's because you might've seen me on their social media! During my time as a student I was also a member of several student and study associations, which allowed me to meet loads of people and create amazing memories. After managing all that alongside a pandemic, I proudly graduated in late 2021. Having spent the most amazing years as a student at the UG, I'm even more excited to become an Alumni Ambassador! It's my way of giving back to the community that has already given me so much.
Please feel free to reach out if you have any questions about the application procedure, or about studying and living in Groningen! I'm always around and more than happy to help.
| | |
| --- | --- |
| Last modified: | 29 March 2022 11.46 a.m. |