Stacey Lamptey, Ghana
Bachelor LLB International & European Law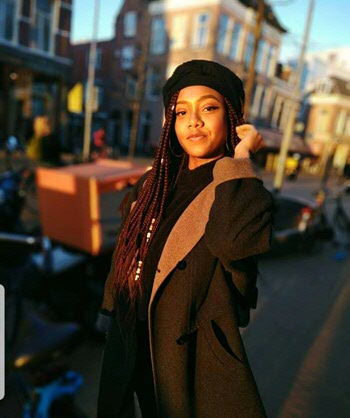 Why the University of Groningen?
The law programme offered at the University of Groningen is one of the best in the country. It is broad enough to give you knowledge in all the traditional areas of law, yet disciplined enough for anyone seeking to pursue a career in an international organization or the EU. Who wouldn't want to pursue a top tier degree programme in, not only one of the top 100 universities in the world but one of the best cities in the Netherlands?
Why Groningen?
Coming from Belgium, I sought to study somewhere that was not too close yet far enough and not too different yet different enough. As strange as this may sound, Groningen ended up being the perfect place for me. It was everything I wanted and more. It's the type of city you fall in love with the second you arrive. From the little picturesque streets to the fact that pretty much everything is five minutes away. Groningen is the perfect student city. There's a certain beauty in knowing that everyone around you relates to you in some way, whether it is through being a student, or feeling exam stress, or celebrating the end of a block. There's a certain understanding and connection between students here, which is why it is so easy to get along with everyone here. It may not be a big city, but it genuinely has everything a student could ask for: bars and clubs, the every so popular university library (UB), sports facilities, museums etc, and the beauty of it is that everything is in the heart of the city. Things you may find odd upon arrival- such as the unpredictable weather, the number of bicycles and canals everywhere - are things you will come to cherish by the end of your programme.
Biography
I am currently in the final year of pursuing my bachelor's degree in International & European Law. In order to expand my knowledge beyond my regular academic curriculum, I have engaged in a plethora of extracurricular activities and work experience throughout my three years at UG. These range from founding the inclusivity initiative B.L.O.G to becoming Ambassador of the Groningen Journal of International Law and Board Member of the ASC, to President of the Nexus Activities Committee. I also acquired several student jobs and spent hours performing volunteer work. After graduation, I intend to take a year off from academics to put the skills I gain from these experiences into practice. I intend to secure a graduate role within a law or real estate firm in the United Kingdom during that year and then pursue a master's degree afterwards.
| | |
| --- | --- |
| Last modified: | 11 July 2019 12.56 p.m. |