Sabina Gjocaj, Kosovo
Master LLM Global Criminal Law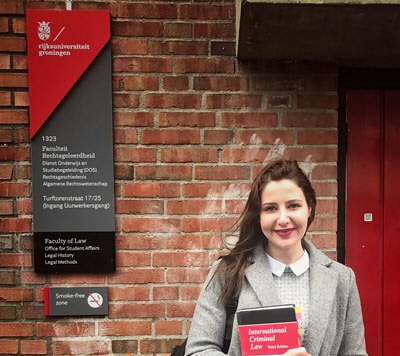 Why Groningen?
Having shortly visited the Netherlands in 2015, I couldn't stop thinking about how great it would be to live in such a developed, multi-cultural and tolerant country. Three years later, here I was... excitedly rushing through Groningen's Central Station while carrying two big suitcases, headed to a year of adventures! But I did not choose Groningen because of the city itself. In fact, I have never heard of Groningen before until I found the master's programme at the UG, in which I am currently enrolled. Since this programme met all the requirements I had, I did not give it a second thought and I do not regret my decision at all!
From an outsider's perspective, a small city like Groningen might not seem appealing enough for young international students. Its location in the very North of the Netherlands gives the false impression of having a slower pace of life than other big cities. Do not be tricked by these perceptions. In fact, Groningen is like the hidden treasure of the North. It is almost impossible to feel alone or bored in such a vibrant city, surrounded by international students everywhere. Freely cycling around, even when it is rainy and windy, reading a book at Prinsentuin while enjoying the sunshine, studying in a cozy cafe located near the University, having a picnic at the scenic Reitdiephaven or roaming around Vismarkt to buy fresh fruits and vegetables, will surely make your study experience delightful!
Why the University of Groningen?
The University of Groningen (UG) is the second oldest Dutch university, which means that it has a long tradition in education. The lectures are very interactive and you have to be prepared beforehand, as the professors use challenging, but interesting activities to establish and maintain an academically robust learning environment. The programme I follow is undoubtedly the best option for a criminal lawyer, who wants to explore the international aspect of criminal law in depth. Nowadays, crime is borderless and its interstate nature presents a major challenge for law enforcement agencies, especially in developing countries, like the Republic of Kosovo (where I come from). The knowledge I gained by studying different foreign legal systems will certainly be beneficial in terms of my future career.
Biography
My name is Sabina Gjocaj and I am a young lawyer from the Republic of Kosovo, specializing in criminal law. After I graduated top of my class with a bachelor's degree in Law at the University of Prishtina, I started working as a legal associate in a distinguished law firm in Prishtina. At the same time, I pursued a master's degree in National Criminal Law. In 2018, I was granted a scholarship from the Young Cell Scheme, an EU funded project, which gave me the opportunity to study at the UG. Right before moving to Groningen, I was assigned as a legal officer in the Basic Prosecution of Prishtina. Upon completion of my studies, I plan to return to my job in Kosovo with a vision to improve the current state of criminal law in my country.
| | |
| --- | --- |
| Last modified: | 11 July 2019 12.56 p.m. |