Rachel Elliot, United Kingdom
MSc Supply Chain Management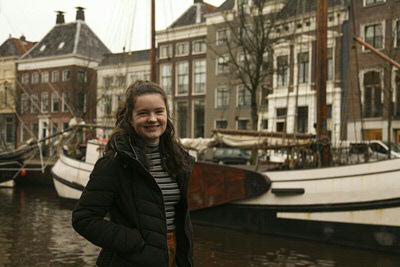 Why the University of Groningen?
As I was approaching the end of my bachelor's degree in spring 2017, I knew that I wanted to work for a large company, but was not quite ready to leave the student life behind and become a "real adult" yet. In the UK where I am from, it is not very common to go straight into a master's degree after graduation since most top graduate traineeships only require a bachelor's degree. Therefore, gaining an extra qualification would have to add significant value to my personal development and I was only going to choose somewhere that would fit my long list of criteria. After much research, the University of Groningen was the only institution that made the cut.
I was impressed by the high-quality degree programmes, the emphasis on research, and the unique opportunity to specialize in healthcare, which is my field of interest within Supply Chain Management. I was also drawn to the array of extra-curricular activities such as joining a committee, playing a sport, and getting a part-time job through the University without speaking any Dutch. While a master's degree requires a lot of hard work, I was still looking for opportunities to develop my skills set beyond the classroom.
Why Groningen?
Groningen is a very special city with a distinct atmosphere that I haven't found anywhere else. I was immediately taken by the charming architecture, beautiful parks, and never-ending selection of cafes and restaurants. Throughout my time here, I have continuously discovered new sides of life here: cycling through the snow; buying spring tulips at the market; barbecuing in the Noorderplantsoen. Now that I am coming to the end of my programme, I can certainly say that I have gained much professional knowledge and additional skills that have gone beyond my expectations. I will always hold very fond memories of my time studying in the beautiful northern Netherlands.
Biography
After obtaining a bachelor's degree in Scotland, I moved to the Netherlands to pursue a master's degree in Supply Chain Management. My studies at the University of Groningen were complemented by being part of a committee at the Economics and Business Faculty study association (EBF) and working part-time for the faculty exchange office. After graduation in summer 2019, I will move to London to begin a graduate traineeship in purchasing for a large multinational company.
| | |
| --- | --- |
| Last modified: | 11 July 2019 12.56 p.m. |