Filiz Uzuner, Germany/Turkey
BSc Psychology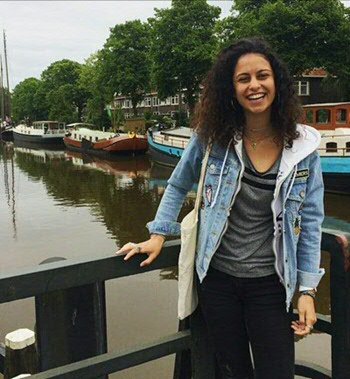 Groningen – a small city with much to do
Before I started studying in Groningen, I have only visited the city once and immediately liked its charming atmosphere. In Groningen, the bike is the most important and best friend of a student since it is very convenient to cycle everywhere. In the three years I've spent here I have never used the bus within the city. Groningen is a rather small town, but it is fascinating how culturally rich, full of student activities, festivals, and nightlife it can be. In addition, you can commit to several study associations or nonprofit organizations. Every day there is a new activity and there is never a dull moment.
Why the University of Groningen?
The University of Groningen (UG) is highly acknowledged and scores high on several rankings. The education is of high quality and technologically advanced. The most amazing thing about the University is that everyone seems to care about you. Even though the University has about 31.000 students, the professors and lecturers are easily approachable. They care about your grades and your study progress and give you great advice for your future. In addition, you can be very involved in designing the course programme and contribute to the research of several departments.
Biography
I was born in Bremen, Germany, in 1997. I came to Groningen in 2016 to pursue a bachelor's degree in Psychology. During my studies, I was an active member of the study organization for psychology, VIP. Next to that, I was the chair of a committee within the UNICEF - Student team Groningen, which raises awareness and money for the organization. In my senior year, I worked as a tutor and taught a class for first-year bachelor students. I will graduate in 2019 and will move back to Germany to pursue a master's degree in the field of Industrial and Organizational Psychology.
| | |
| --- | --- |
| Last modified: | 11 July 2019 12.56 p.m. |