Alexandros Balatsoukas, Greece
MA Multilingualism, Honours: Leadership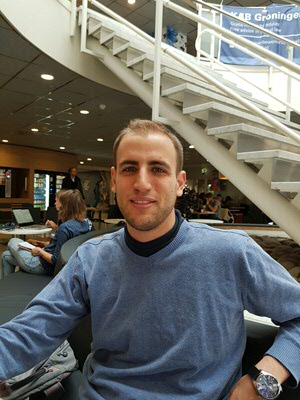 Why Groningen?
Groningen is an amazing city to study in. It offers everything a student needs during their academic years; libraries, modern facilities, associations, cultural events, activities and a lot of fun. First, the student body is very open minded, multicultural and promotes diversity, so do not hesitate to be yourself here. I also find it wonderful to meet new people around my age from all over the world, to make new friends and realize that we have a lot in common. If you have hobbies or want to try new things, Groningen has a lot to offer. There are different events or concerts or you can attend a workshop to improve existing or gain new skills. You can try to learn a new instrument, play some sports in ACLO or enjoy the nightlife. How can you save time to do whatever you want? Get a bicycle because in Groningen it is definitely faster than a car. This town has no uphills and you can go anywhere - so go for it. As for the Dutch people, they are calm, kind, always willing to help and love to smile. If you do not know Dutch, don't worry – everyone speaks English.
Tip: The University offers free courses for students in 13 languages (including Dutch) – apply early!
Why Campus Fryslân?
My program was taught at Campus Fryslân, but I lived in Groningen due to the Honour's Master. It is a faculty of the UG based in Leeuwarden; a small, affordable and cozy city, half an hour away from Groningen by train. From the train station, you have to walk about 10 minutes to reach the University. That's why most of the students that study there choose to stay in Leeuwarden. Everything is reachable within 10 minutes by bike. The study programs of the Campus focus on finding solutions in a local or community level, and aim to apply it to "real-world global challenges". Lastly, It offers innovative and interactive ways of teaching.
Fun fact: Most of sightseeing and activities are concentrated at the center, plus the central road of Leeuwarden is full of shopping stores.
Why University of Groningen?
First things first, the University of Groningen (UG) is literally in the heart of this city. There is almost no distracting noise coming from busy streets no matter what part of the day it is, a fact that facilitates the work of the students in the well-equipped libraries, which are open from early morning to late at night. Plus, all kinds of books can be found either in the library or in digital catalogues. Amongst scholars, it is commonly said that this University promotes multicultural environments, interdisciplinarity and creative ideas and researches. Hence, professors are always approachable and friendly, respond immediately to mails, give useful feedback and are willing to help their students to improve and innovate. Of course, studying at the UG requires a lot of effort and hard work; nevertheless, the reward is definitely worth it. Last but not least, the University offers an extra Honours diploma on top of their regular one, for those who truly desire to test their limits and potential.
Biography
I was born in the bright city of Athens in 1993. Before my studies in Groningen, I obtained a bachelor's in Spanish Studies and a research master's degree in Intercultural Education. Since 2011, I volunteer as a teacher to migrants, people with disabilities and children from disadvantaged backgrounds. I have also participated in numerous research programmes. I am also head coach of a student basketball team at the University.
Currently, I am pursuing a master's degree in Multilingualism and Leadership. I will graduate in August 2019.
| | |
| --- | --- |
| Last modified: | 11 July 2019 12.56 p.m. |