Ximena Rosas Plaza, Mexico
PhD Medical Sciences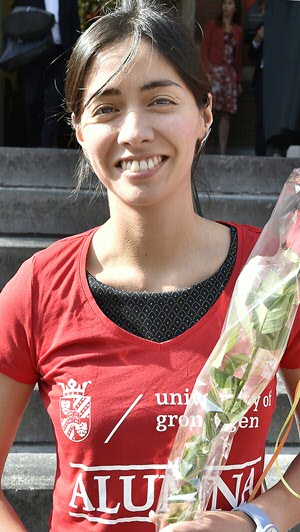 Testimonial Ximena Rosas
Serendipity brought me to Groningen the first time. My University in Mexico was offering us the opportunity to study one semester abroad and this far up north city was not my first choice. Positions were decided by the internal affairs office and I ended up coming here. What was my first encounter with this city on a cold day of January in 2012? I arrived late at night and after receiving the keys to my room I noticed that it was very cold. Perhaps you will not be surprised by the fact that I had never had to turn on a heater before in my life. I come from a city that has an average temperature of 25C all year long. So I ended up curling up in my bed freezing the whole night and I took the courage next day to ask someone how this demoniac thing worked. After that experience it all became brighter. I had my first encounter with the snow, bike lanes and outdoor barbeques among other new things. I had a great time doing my research internship where I learnt a lot and that helped me take the decision of studying a PhD. So the second time I came it was everything but serendipity. I was determined to get my degree from a University that would provide high educational standards and a good working environment, therefore Groningen became the obvious choice. The international environment of Groningen is very stimulating and it's University is a place where professionalism and good guidance of the student are the rule, making this place the perfect environment to develop yourself not only as a professional , but also as a human being.
Getting the best out of Groningen
If you want to live in a place that is safe and where you can get anywhere within 15 min by bike, then you will love this city. As a PhD student with a lot of responsibilities, doing things efficiently is very, very important. You can go to the University, to the supermarket and the gym in one day, and still be home relatively early. This also gives you some extra time to participate in other activities like joining a theater or reading club or even taking rowing lessons, for example. This brings me to the next bright side of living here: if you don't mind the cold weather for almost half year, you can find a lot of possibilities for outdoor sports. I love running here; in Groningen you can always find a calm, green space to go for a run in the morning.
Biography
Ximena studied Medicine in the National Autonomous University of Mexico, where she participated in several research projects as an undergraduate student. In 2012 she did an internship for 6 months in the Department of Medical Oncology at the UMCG thanks to a scholarship given by the International Affairs Office of her university in Mexico. In 2014 she was awarded with a CONCACYT grant funded by the Mexican government to study her PhD at the University of Groningen as part of the Graduate School of Medical Sciences PhD program.
| | |
| --- | --- |
| Last modified: | 11 July 2019 12.58 p.m. |