Katri Pärna, Estonia
Research Master Clinical and Psychosocial Epidemiology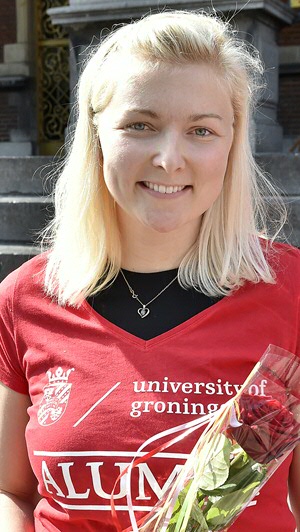 Story of Groningen
When I first got an idea to study in Groningen a Dutch man asked me: "What will you do there? It is the most separated and quiet city in the Netherlands." I will tell you why he was wrong. Groningen is one of the liveliest cities I have ever seen! Yes, it is quite small, but the international student vibe makes it BIG.
Should it be early in the morning or late at night, life in Groningen never stops. In the early hours, you could see people stopping by from bakeries to grab their fresh bread for lunch (as locals love their sandwiches) on the way to lecture or to work. Yes, that's right, in this city the word STUDY comes before WORK due to the high percentages of students (about the fifth) from the whole city population. Narrow streets with beautiful old-fashioned houses are packed with pedestrians and with cyclists in the daytime. Vismarkt is in the heart of the city with friendly farmers on a market day jelling their best offers for delicious fresh fruits and vegetables. Cozy cafes and lovely restaurants are packed with people. Late in the evening pubs come alive with socializing students and live music and it won't stop before the sunrise! Do you still have any questions why to experience Groningen life?
Of course, the University of Groningen- this is the place, where Dutch culture mixes with other cultures from over the world. Local professors with their friendly attitude and the unique opportunity to learn from the top scientists in the field motivate you to study even harder. In every sense, student life is supported by long library weekends, great sporting opportunities (to stay healthy during studies) and by the best co-students you could ever wish! For me, it has been the greatest opportunity to receive a high-quality education, to learn about Dutch culture, to get lifetime friends and network of possible future colleagues all over the world. I think now I have convinced you well enough why you should come and have a look, how is life over here!
Biography
Before current studies in Groningen Katri pursued MSc in Molecular- and Cell Biology (specialization in antibiotic resistance in humans) and in Zoology- and Hydrobiology at the University of Tartu, Estonia. Her diverse educational background and later practical work experience in the field of scientific research have led her to the top rated research master program Clinical and Psychosocial Epidemiology at the University of Groningen (specialization in genetic epidemiology). She will graduate in summer 2018, and her continuous interest in research leads her towards next academic step- doctoral studies.
| | |
| --- | --- |
| Last modified: | 11 July 2019 12.58 p.m. |