Juan Cantos, Spain
Master Supply Chain Management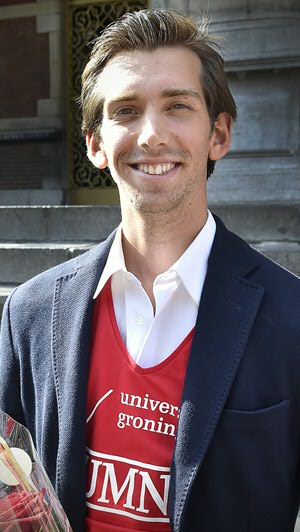 Why the University of Groningen
As many of my colleagues share, the University of Groningen (UG) is well known for being open, tolerant and multicultural. Professors are down to earth, reachable and friendly. It is easy to make friends, and you will meet people from all around the world... Yes, all of that is right. What I personally like the most about this university is that is really cutting-edge in what we are taught. Some of the professors are leading world-wide in their fields, as it happens, one of them was recently awarded a Nobel prize (Prof. Dr. Feringa). They will bring the most recent theories to the class, techniques and views, and will teach them in an understandable manner. There are close relationships with large companies, research institutes and international organizations. And there is pioneering equipment and technology.
Furthermore, as a big fan of sports myself, the amenities and sports culture here are a dream. It is possible to play nearly any sport you can imagine, with active competitions, the facilities are great and modern and there are dozens of different courses every day. It is almost a sin not to make use of them!
That said, I also believe it is important to mention that if you are considering studying at the UG, being ready to be constantly challenged and pushed to your limits (academically speaking, obviously). Being a student at the UG will not be easy and will require lots of efforts and motivation. However, I can assure you it will also be an extremely enriching experience that will shape you personally, academically and professionally!
Why Groningen
I believe the city of Groningen has everything to offer for a student and even more. On the one hand it is an old small city, with an elegant character, beautiful architecture, brimming with history and culture, and on the other full of students and internationals, a hectic downtown with dozens of cafés, bars and pubs, and always something going on. From sports competitions to jazz concerts or improvisation comedy, no excuse to stay at home! After two years I can say there are still spots I haven't discovered, or activities that I still haven't done. Because the influence of the university on the city is so large, the city renews itself every new academic year, and that means new people to meet, new ideas and new fun things to do.

Locals are open and hospitable, always willing to help, and it is easy to move around since practically every step outside is taken on your bike. And needless to say, but it is also a big advantage to be in the Netherlands and so close to Germany, having so many cities around to visit just a few hours away by train.
Biography
Juan Cantos was born and raised in the most beautiful city of Spain, Gijón (1992). Between 2012 and 2016, he studied his Bachelor´s degree in Economics at the University of Oviedo. During this time, he was granted with three exchange scholarships: one year at the Ege University in Turkey, one semester at the San Sebastián University in Chile and one last semester at the Adolfo Ibáñez Business School, as well Chile. After his studies he lived in Switzerland and in Germany as an Aupair and moved later on to the Netherlands to work as a logistics trainee for a Startup in Groningen. Finally in 2017, after falling in love with the city, he decided to conclude his studies with a MSc degree in Supply Chain Management at the University of Groningen.
| | |
| --- | --- |
| Last modified: | 11 July 2019 12.58 p.m. |