Holly-Jane Shaddock, England
BA European Languages and Cultures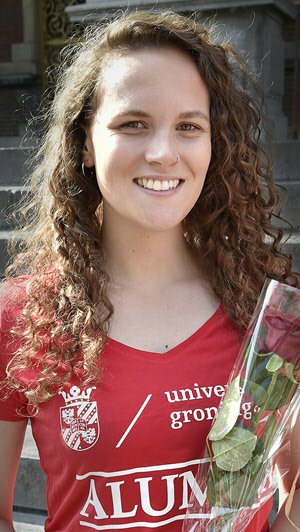 Groningen - the perfect city
The first time I ever visited Groningen it was a grey and rainy day, and I was sure that I would not be able to spend three years living here. I could not have been more wrong! My time studying here has been absolutely incredible, filled with amazing memories that I will never forget and friendships that will last for a lifetime.
For me, Groningen is the perfect city - it's big enough that there is always something interesting to do, yet small enough to feel cosy and safe - truly 'gezellig'! There are always events happening - from music to culture to food, you will certainly never get bored here. Groningen has a huge student population, and the feeling of the city definitely reflects that. It is lovely to cycle to the market in the city centre to enjoy the busy atmosphere and see how friendly everyone is.
The University of Groningen (UG) is the ideal university for international students, as everyone is so welcoming and open. Everyone speaks English, so there is no need to speak Dutch, although there are plenty of opportunities to learn the language if you wish. I am so happy that I chose to study European Languages and Cultures, as the programme is very broad, and the options available mean that you are able to shape your own study according to what interests you the most. My language skills have improved greatly, and the chance to study abroad for a semester was fantastic! The staff here always encourages you to try new things and help you to achieve your goals. I feel very lucky to have had such supportive professors during my time studying here, and my confidence has grown hugely throughout my time in Groningen.
I feel truly lucky to be able to consider Groningen as my home, and I hope that you will also choose to have an amazing time here too! One word of advice: invest in a good bike lock - you will definitely need it!
Biography
Holly-Jane is originally from England, and has lived in France, Belgium, and the Netherlands. She is currently finishing her BA in European Languages and Cultures with a minor in International Relations. After graduation, she is aiming to study a master's degree in European Studies.
| | |
| --- | --- |
| Last modified: | 11 July 2019 12.58 p.m. |